In the age of COVID-church, we're rediscovering Jesus's astonishing truth: God's house has many rooms. Or, in this case, God's house has many Zoom rooms!

Texts: 1 Peter 2:2-10; John 14:1-14
Some churches are gearing up to return to in-person worship. We know that for our church, it may be quite a while until we feel comfortable coming back to the church building for services. A significant portion of our membership is in the vulnerable age-range for the coronavirus. But even our younger members are at risk, because the virus doesn't care about age. When Governor Beshear read the ages of people who have tested positive for COVID-19, the numbers were sobering. A 16-year-old (my daughter's age). A 13-year-old (my son's age).
So we know that the most loving thing to do right now is to continue with our online worship services.
Loving our neighbor means protecting each other from the spread of a virus that has killed hundreds of people in our state and nearly 80,000 people in the U.S. Close to 4 million people on this planet have been diagnosed with the virus that wreaks havoc on our bodies.
Even when we eventually come back together, there are so many things we will not be able to do.
We won't be able to shake hands or hug. We won't be able to celebrate communion right away, or even the same way as we did before. Our seating arrangements will place us far apart from each other. There will be no fellowship after the service. Our time together will not be the easy-going, free expression of Christian affection we were used to. We won't even be allowed to sing together because it would aerosolize the virus.
As one of my pastoral colleagues asked at our weekly text study, "Is it even worship when these restrictions strip worship of so many essentials?" This prompts me to ask:
What is essential for Christian worship?
As a seminary professor who teaches preaching and worship, this question has been on my mind for quite a while. Ever since the virus meant closing houses of worship, I've struggled to answer this basic question.
I must admit to feeling a kind of spiritual lethargy at times. While our household routine has settled into somewhat of a new daily pattern, the weekly ritual of getting up on Sunday morning and actually going to worship is temporarily gone. It has definitely affected our religious discipline.
So if you're feeling guilty that you have not felt like worshiping over these last few months, don't beat yourself up. I'm an ordained minister and even I haven't felt consistently motivated to worship in these strange times.
Why is that? What's going on at a deeper level that is causing this spiritual unease and religious sluggishness?
The religious scholar Mircea Eliade said that the intuition of the sacred for human beings is universal. Religious rituals are things that people do, actions they perform, particular behaviors they do in certain ways that enable them to transcend the ordinary and enter into the realm of the divine. Traditionally, it has been religion that enables this experience.
But now our traditions and certainties are challenged at every turn. What we used to hold as central in our worship and our faith is being shaken to its core.
How do we know what is sacred when the sacred place where we did sacred things is no longer available to us?
Even as an experienced worship leader, I'm finding that I am having to learn about worshiping God in a different way. Maybe you have, too. And maybe that's not a bad thing.
Peter's words in his letter are an apt description of where we find ourselves. "Like newborn infants, long for the pure, spiritual milk, so that by it you may grow into salvation— if indeed you have tasted that the Lord is good."
I sometimes feel like a newborn infant since the birth of the Covid-church just eight weeks ago. I'm longing for the "pure, spiritual milk," and wondering where it is and how to find it when the place I used to experience it is not open for the time being.
There is a Greek word that can help us understand what is happening here. The word is Kairos, which means "opportune time" in Greek.
Chronos is human time—profane, linear time. But Kairos for Christians is sacred time. It's when God's time and human time intersect. This means that what we do in the liturgy is part of Kairos time. Kairos is like time out of time, an eternal moment connecting with the past and future in a timeless experience of divine presence. As we read in Psalm 31, "My times are in your hands," (v. 15). Our sacred time is in God's hands.
Some churches are learning how to experience this Kairos time in a new way through online worship in real time like we do on Zoom. But even those who watch pre-recorded worship services have shared with me that despite the limitations of the screen, they feel they have worshiped. They sing along with the hymns. They read or listen to the scripture read. The time of prayers is meaningful and deep for them. The bread and wine are set out and they partake of the sacrament.
In fact, some people are worshiping more than they ever did. Churches are putting their worship services on Youtube or Facebook live and seeing views in the hundreds, sometimes thousands – more than they ever have in church on a Sunday morning. Some people watch more than one service throughout the week.
When we talk about sacred time, then, worship services proclaim the in-breaking of God's realm into this world, bringing the fullness of time upon us. This means that the liturgy situates us in that liminal, in-between time – transcending past and future, but also very much a part of this time right now.
So I wonder, can we think of worship not just as a destination, a place we will go in the future, but as God's action with us right now?
Instead of thinking about a big building to house our faith, can we think about experiencing the presence of God in the small spaces of our homes? It's about building an interior space, an inner sanctuary to house the presence of God in our hearts and minds. It's about rediscovering a life of prayer, reading Scripture, forgiving one another, and proclaiming God's love. And it means providing mutual care for one another, as well as speaking for justice on behalf of those who suffering and oppressed.
We are being challenged to find or create that sacred space outside of our shared sacred space of the church building. We might think of it as setting up a kind of "tabernacle" like the Jewish people did when they wandered in the wilderness. The tabernacle was a movable sacred space that they took with them and set up when they settled for a period of time.
You can create your own "tabernacle" in simple ways.
At church, we lay a clean, white linen over the table. You can set a clean tablecloth underneath your screen to delineate it as a space set apart for worship during this time.
At church, we light candles on the altar. You, too, can light a candle next to the screen.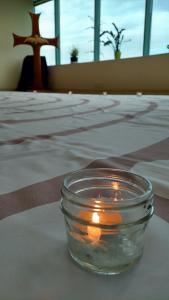 At church, the baptismal font is visible in our chancel. You, too, can set out water – perhaps in a clear glass bowl – to remind you of your baptism.
At church, the cross is the central symbol of our faith in the crucified and resurrected Christ. You can find or make a cross for your sacred space at home. It doesn't need to be fancy. After all, the cross on Calvary was just two planks of ordinary wood.
1 Peter invites us: "Come to him, a living stone, though rejected by mortals yet chosen and precious in God's sight. And like living stones, let yourselves be built into a spiritual house, to be a holy priesthood, to offer spiritual sacrifices acceptable to God through Jesus Christ" (1 Peter 2:4-5).
We are these living stones! In our own unique way, we are letting ourselves be built into a spiritual house – even when our physical house of worship is temporarily off-limits. Our decision to physically distance ourselves in order to save lives is the kind of spiritual sacrifice that is absolutely acceptable to God through Jesus Christ.
We might say that through our worship spaces in our individual homes, God is not only creating Kairos time, but also Kairos space.
The cornerstone of our faith, chosen and precious, is Jesus Christ who walked through locked doors to find the disciples in the upper room. Don't you think Jesus can find us in these rooms? Those who insist that the only way to worship God in a time of pandemic is through gathering in church buildings severely underestimates the power of the risen Christ.
I would like to suggest that one of the reasons our church is not rushing back to in-building worship is because we're discovering an astonishing truth.
This truth is what Jesus taught us: God's house has many rooms. Or, in this case, God's house has many Zoom rooms!
In fact, we can see this in our own worship services. Look at all these neatly arranged picture windows in our Zoom room.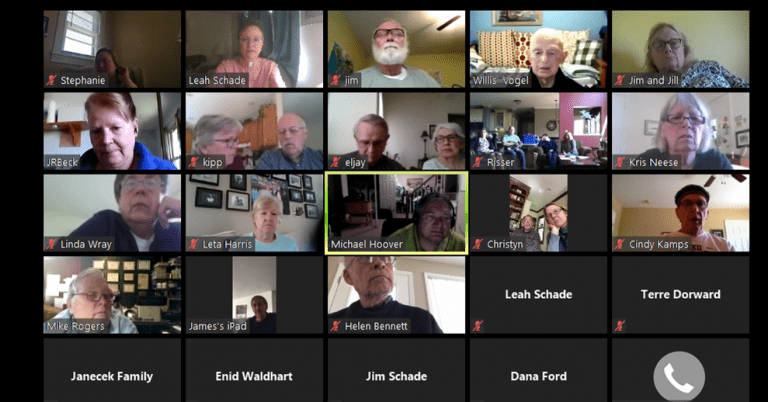 Each of us is occupying a certain space at a certain time together. We're in our ordinary houses with our everyday lives plainly in view. The picture on the wall that brings us beauty. The family pet who companions us. The kitchen cupboard that holds our dishes for our meals. The couch draped with the prayer shawl someone made for us once when we were sick.
It might not seem like it at first glance, but all these ordinary spaces are stitched together for us on this screen like the patches of a holy quilt sewn together by the Spirit of Christ.
This means that we are, indeed, God's own chosen people, in order that we may proclaim the mighty acts of him who called us out of darkness into his marvelous light (v. 9). Peter tells these newborn Christians the same words we need to hear: "Once you were not a people, but now you are God's people; once you had not received mercy, but now you have received mercy" (v. 10).
Yes, we are going to have to figure out what it means to be God's people when God's people cannot gather the way we used to. But we can be sure that we will receive God's mercy no matter where we are or how we make our way with this tabernacle of faith.
Amen.
Read also:
Governor Andy Beshear Takes Us to Church: 5 Lessons from COVID-19 Briefings
Jesus, Mother Hen: This is the God I Want to Worship
6 Tips for Avoiding Zoom Fatigue in the Age of COVID-19
---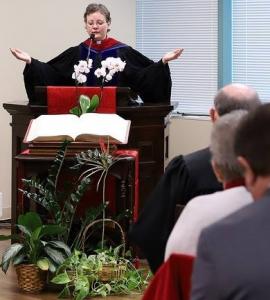 Leah D. Schade is the Assistant Professor of Preaching and Worship at Lexington Theological Seminary in Kentucky and ordained in the ELCA. Dr. Schade does not speak for LTS or the ELCA; her opinions are her own. She is the author of Preaching in the Purple Zone: Ministry in the Red-Blue Divide (Rowman & Littlefield, 2019), Rooted and Rising: Voices of Courage in a Time of Climate Crisis (Rowman & Littlefield, 2019), and Creation-Crisis Preaching: Ecology, Theology, and the Pulpit (Chalice Press, 2015).
Twitter: @LeahSchade
Facebook: https://www.facebook.com/LeahDSchade