Ever heard of Green Ramadan?  How about Green Muslims?  Meet Huda Alkaff, a champion for environmental justice whose Islamic faith informs her activism.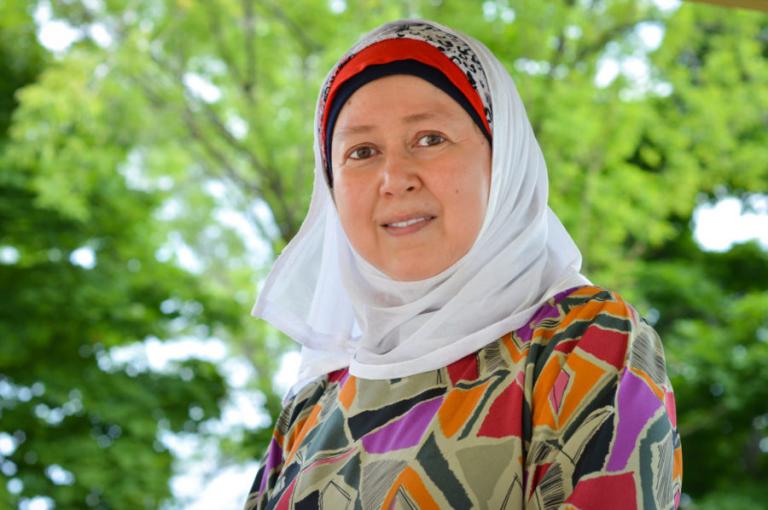 This article is part of an ongoing series highlighting authors from Rooted and Rising: Voices of Courage in a Time of Climate Crisis (Rowman & Littlefield, 2019).  Co-edited with my colleague, Margaret Bullitt-Jonas, Rooted and Rising is a collection of 21 chapters from religious environmental activists who reflect on their faith journeys amidst the climate crisis. In this segment, we meet Huda Alkaff, founder and director of Wisconsin Green Muslims, a grassroots environmental justice group formed in 2005.
Meet Huda Alkaff, founder and director of Wisconsin Green Muslims
An ecologist with higher education degrees in conservation ecology, sustainable development, and science/environmental education from the University of Georgia, Huda taught environmental studies courses at the University of Wisconsin-Oshkosh. She spent two decades working as an advocate for environmental justice, initiating Muslim and interfaith programs focused on energy and water conservation.
Huda serves on the national Greening Ramadan Team and received the 2015 White House Champions of Change for Faith Climate Leaders recognition.  She also received the 2018 Wisconsin Association for Environmental Education Eco-Justice Award.
I first met Huda when we were both keynote speakers at Hartford Seminary in 2018 for the annual Luce-Hartford Conference in Christian-Muslim Relations. That year's conference focused on the theme: "God's Creation and Human Responsibility."  Inspired by her speech, I invited Huda to contribute a chapter to our book, Rooted and Rising.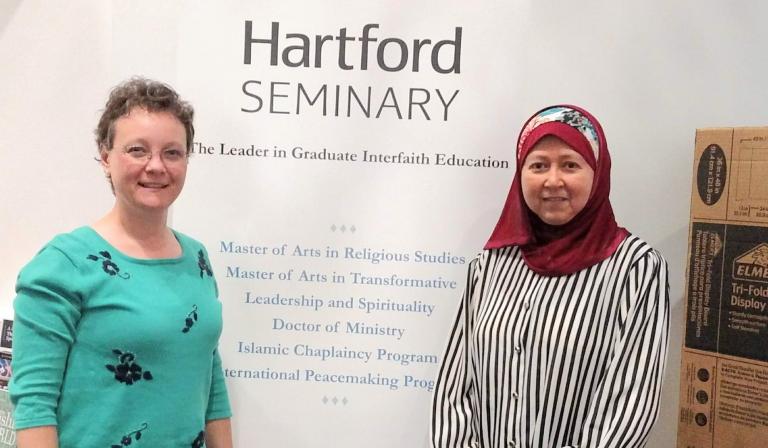 In her chapter, Huda reflects on the way nature and her Islamic faith are naturally and inextricably intertwined. 
"Joyful moments of observing the new crescent moon or the sunrise are spiritually rich and fulfilling for me," she writes. "They are precious times of awe, wonder, and reflection. Sighting the new crescent always provides a fresh opportunity to celebrate the movement of the moon in its phases (new moon through full moon to new crescent) for the Islamic lunar Hijri calendar. Likewise, we follow the movement of the sun for the Islamic schedule of five daily prayers (Fajr/dawn, Dhuhr/noon, Asr/afternoon, Maghrib/sunset, and Isha'/evening prayers).  Guided by prayer we can be in a continuous state of Hijra – migration from the bad to the good, and toward better conditions for all humanity."
Most people are unaware that Islam has deep roots in the natural world.     
Huda notes that it is a duty and obligation for Muslims to care for Earth, our common home. God states in the Qur'an, the Holy Book for Muslims, "It is God who has made you viceroys on earth" (6:165).  The earth is mentioned more than 450 times in the Qur'an. There are approximately 1,500 environmental messages in the Qur'an and the Hadith (reports on the sayings and traditions of Prophet Muhammad [PBUH]) that guide Muslims toward care for all God's creatures and for sacred gifts and natural resources such as water, air, food, light, and land.  In Islam, there are clear teachings and signs about the important, beautiful and intricate balance of creation. "Prophet Muhammad (PBUH) forbade a person to waste water even in washing for prayer on the bank of an abundantly flowing river," Alkaff writes.
At a time when environmental and climate injustices disproportionately affect those the most vulnerable, including current and future generations, it can be tempting to give up hope.  Nevertheless, Huda draws strength and inspiration from Prophet Mohammed (PBUH), who is reported to have said: "If doomsday is about to take place while anyone of us has a tree sapling in our hand, which we can cultivate, then cultivate it for we will be rewarded."
"This message of active hope inspires me," says Huda.  "Personally, I strive to seek the light in the midst of every dark and difficult situation, including this time of climate disruption."
Yet it's not easy for Muslims to find acceptance when they seek to be allies and partners in environmental activism.
Huda recalls being rebuffed by an interfaith environmental group back in 2000 because they did not accept Muslims.  "That was a painful time for me, and I feel that same sharp pain now with the rise in Islamophobia around us," she recalls.
Undeterred, Huda dedicated her life to building interfaith relationships and collaborations. In 2005, she founded Wisconsin Green Muslims, a state-wide grassroots environmental justice volunteer group, connecting faith and sustainability through education and service. It seeks to educate the Muslim community and the general public about Islamic environmental teachings, to apply these teachings in daily life, and to form coalitions with others working toward a just, healthy, peaceful and sustainable future.
"The effort to uncover and establish connections and to understand the world holistically drives my ongoing work," says Huda. "I strive to build strong and sustainable bridges between the environmental teachings in Islam (and other faiths and spiritualities) and my academic training in ecology."
Wisconsin Green Muslims
Wisconsin Green Muslims has worked on environmental justice issues related to climate change, clean air, pure water, healthy food, solar energy and energy efficiency, waste reduction, and transportation equity. Green Ramadan is one of their successful campaigns, where they celebrate the holy month of the Qur'an and daily fasting from dawn till dusk with daily actions to reduce ecological footprints and consumption impacts.
"I am pleased with our budding national Greening Ramadan campaign with over sixty Mosques participating – a number that grows each year," says Huda. "Recently the largest Muslim organization in the U.S., the Islamic Society of North America, announced its decision to divest from fossil fuels, a decision that other faith communities have made, as well."
Currently, Wisconsin Green Muslims has two interfaith initiatives: "Wisconsin Faith and Solar" and "Faithful Rainwater Harvesting," or FaRaH, which means joy in Arabic. These initiatives connect faith communities with the unifying powers of sunlight and rainwater as sacred trusts and gifts.  They also provide valuable peer-learning and education, assessments, and collaborative benefits to advance equitable solar energy and to provide solutions to flooding.
"Islamic teachings are rich with environmental messages," says Huda.
"The true practice of Islam means living simply, treading lightly on Earth, caring for our neighbors and all creatures, standing up for justice, and collaborating with others for the common good. People of faith, Muslims included, have a great responsibility to stand up for environmental justice and to address the concerns and calamities of poor and marginalized communities.  This is especially the case regarding those with the lowest ecological footprints who are, ironically and tragically, the very people most affected by environmental and climate disasters. Different faith traditions standing united for environmental justice and care of creation are mobilizing the faithful for the common good."
To learn more about Huda's work and reflections on Greening Ramadan and Green Muslims, check out her chapter in Rooted and Rising: Voices of Courage in a Time of Climate Crisis.
Read also:
Auschwitz is the Teacher: Holocaust Lessons for the Climate Crisis
Is Your Dream Too Small? Or Too Big? A Rabbi, MLK, and a Revelation of Love
Birds, Church, and Climate Change: Spotlight on Corina Newsome
Climate Issues are Public Health Issues: Spotlight on Dr. Natasha DeJarnett
Race, Faith, and the Climate Movement: Interview with Rev. Lennox Yearwood, Jr.
"Green" Black History Month: Spotlight on Rev. Dr. Gerald Durley
---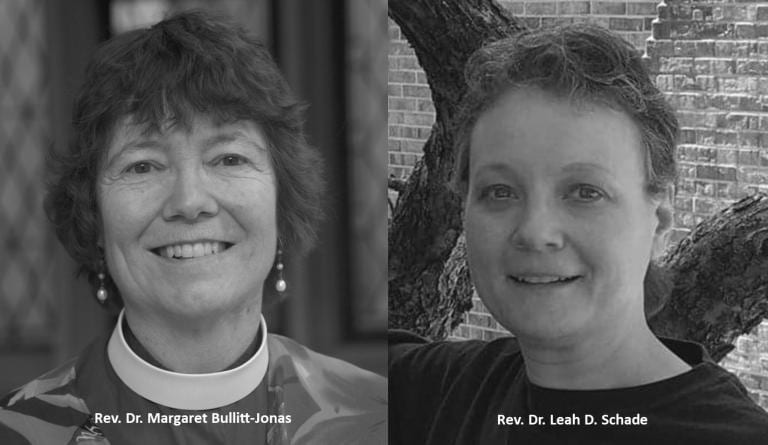 Leah D. Schade is the Assistant Professor of Preaching and Worship at Lexington Theological Seminary in Kentucky and ordained in the ELCA. Dr. Schade does not speak for LTS or the ELCA; her opinions are her own.  She is the author of Preaching in the Purple Zone: Ministry in the Red-Blue Divide (Rowman & Littlefield, 2019) and Creation-Crisis Preaching: Ecology, Theology, and the Pulpit (Chalice Press, 2015). She is also the co-editor of Rooted and Rising: Voices of Courage in a Time of Climate Crisis (Rowman & Littlefield, 2019).
Twitter: @LeahSchade
Facebook: https://www.facebook.com/LeahDSchade/