The Wall Street Journal published an op-ed by one Joseph Epstein entitled, "Is There a Doctor in the House? Not If You Need an M.D." on Dec. 11, 2020. Epstein begins: "Madame First Lady—Mrs. Biden—Jill—kiddo: a bit of advice on what may seem like a small but I think is a not unimportant matter. Any chance you might drop the 'Dr.' before your name? 'Dr. Jill Biden' sounds and feels fraudulent, not to say a touch comic."
Here is my response to Epstein.
Mr. Epstein – Not Dr. – Joseph – Joey – kiddo: a bit of advice on what may seem like a small but I think is a not unimportant matter. Any chance you might drop your misogynistic mansplaining about Dr. Jill Biden's honorific? Your opinion piece in the Wall Street Journal sounds and feels fraudulent, not to say a touch comic – if one enjoys watching a man diminish himself before an educated woman.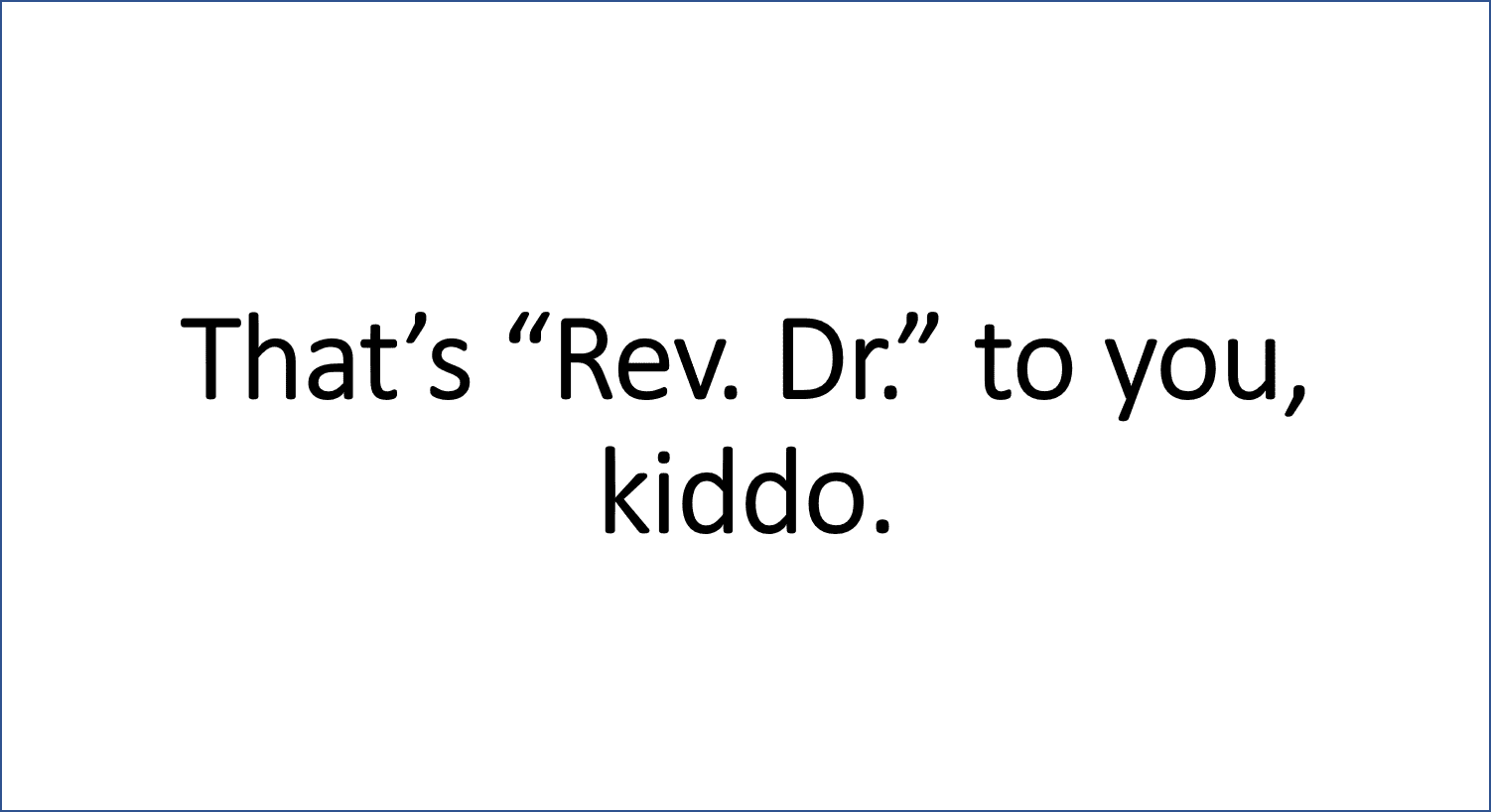 Kiddo, your degree is, I believe (checks notes) . . . oh wait. You don't have a doctoral degree.
According to Wikipedia, your highest academic achievement is graduating high school and attending the University of Illinois. You maintain that you earned a B.A. from the University of Chicago – in absentia. Beyond that, not even a master's degree.
Your claim to relevancy is having served 24 years as the editor of the American Scholar, the quarterly magazine of Phi Beta Kappa, until you were voted out by the PBK senate. (How embarrassing.) They hired you even after your 1970 article for Harper's magazine that used the N-word to describe being gay and said that homosexuality is "a curse, in the literal sense." Apparently, it takes two decades worth of offensive, anti-gay, anti-anything-but-white-male opinions to finally get a white man removed from his post.
The fact that you criticize anyone, let alone First Lady Dr. Jill Biden, for using their academic title strikes me as pathetic.
Lambasting someone's doctorate is "bush league" (a term you seem to enjoy flinging about). It means "inferior" and "lacking in sophistication" – an apt description of your op-ed. A wise person once said that no one should snipe at a person's degree especially if they themselves have not earned their own degree. Think about it, Joey, and forthwith drop the belittling. It makes you look so small and petulant.
As you note, Dr. Biden's degree is an EdD, a doctor of education, earned at the University of Delaware with her dissertation, "Student Retention at the Community College Level: Meeting Students' Needs." With stunning, sulky peevishness you call her dissertation title "unpromising." Son, I suggest you humbly request Dr. Biden to share her dissertation with you so that you might read it. After you have apologized for your insulting essay, of course.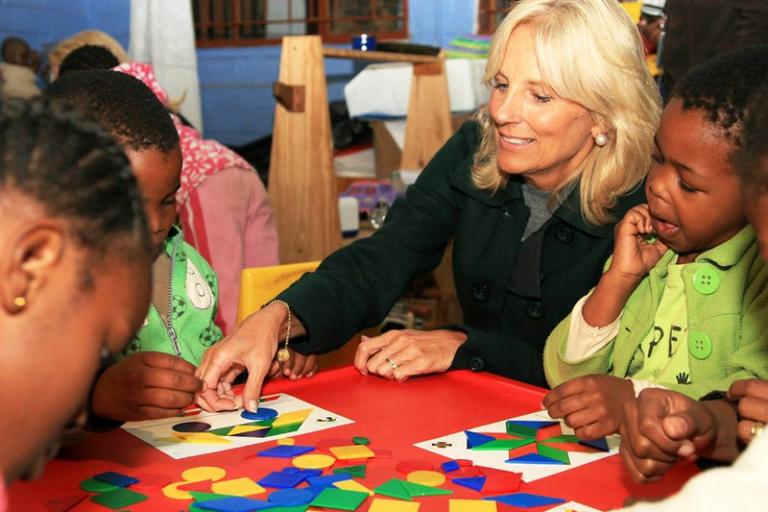 I also urge you to register for a class at your local community college and meet the students who fill those seats.
Odds are that many of them are holding down a job, raising a family, and fighting to retain their dignity when dealing with white-supremacist-women-hating men such as yourself. Some of them might even go on to earn their own Ph.D. someday.
Yet, you assert that "the Ph.D. may once have held prestige, but that has been diminished by the erosion of seriousness and the relaxation of standards in university education generally, at any rate outside the sciences." You, my dear boy, are a prime example of which you speak. Somehow, without even a Master's degree, you managed to get a job teaching in the English department at Northwestern University for 30 years (which, I noticed, has disabled the link to your faculty profile page). It's amazing what white male privilege will afford a bitter, back-biting man such as yourself.
As for Dr. Jill Biden's Ed.D., yes, widdle Joey, her degree was hard-earned. So she should in no way consider "stowing it, at least in public, at least for now."
Your feelings of smallness, insecurity, and envy are yours to process, not hers to coddle.
So I suggest you seek a trained doctor of psychiatry, preferably a female one who is skilled in dismantling sexism and misogyny in her clients.
In the meantime, forget the small thrill of having an unearned platform in a conservative newspaper to take pot-shots at Dr. Jill Biden, and settle for the larger thrill of watching for the next four years a woman of intellect, grace, poise, and accomplishment school you and other small-minded Ph.D.-wannabes in how to use one's platform for good.
It is long past time to usher this octogenarian into retirement. To be clear, it is not his age that is the problem. The problem is your enabling of a rasping, crooked-fingered, irrelevant Scrooge who bah-humbugs his way through life with not a whiff of respect for those he secretly envies.
As for Northwestern University that lists you as a professor emeritus, Joey-kiddo, it is clear that your emeritus status must needs be stripped. They have already issued a statement denouncing your opinion, noting that you have not taught for them for twenty years. Their English department has also had to call you out for casting "unmerited aspersion on Dr. Jill Biden's rightful public claiming of her doctoral credentials and expertise. The Department rejects this opinion as well as the diminishment of anyone's duly-earned degrees in any field, from any university." I can only imagine what it must have been like to be a student or fellow professor subjected to a man who so arrogantly displayed his fear and disdain of educated, strong women who are more successful than he ever will be.
I do want to thank you, however, for one positive result of your opinion piece.
Since its publication, thousands of women like me have decided to proudly display our titles on our social media profiles.
We stand in solidarity with Dr. Jill Biden, who also just happens to be our First Lady. And we stand in solidarity with each other as we have faced countless instances of the kind of spiteful malice you have so shamelessly displayed.
The point is that women get to CHOOSE what we are called and what titles we use. Dr. Jill Biden CHOOSES to use her academic title. That is her right. She earned it, and we honor it.
For your information, I earned my Bachelor of Science in Mass Communication from Shenandoah University. And I earned both my Master of Divinity and my Doctor of Philosophy from the Lutheran Theological Seminary at Philadelphia (now United Lutheran Seminary). And just for fun, I'll share with you my dissertation title: "Preaching and Ecofeminist Theology at the Crossroads: Homiletic Theory and Praxis in Dialogue with a Lutheran Ecofeminist Christology." That may sound unpromising to an anti-feminist such as yourself. But I have gone on to write and edit four books, with two more in the works. And I teach at Lexington Theological Seminary where my students call me Dr. Schade.
As for you, kiddo, you may call me Rev. Dr. Schade.
[Author's note: This is not the first time Epstein has written outrageous pieces attacking those in academia. This article by Colleen Flaherty in Inside Higher Ed fact-checks and dismantles Epstein's unfounded claims about faculty salaries and work ethic.]
Epstein's opinion piece is here, but you cannot access the full piece without a subscription.
The Wall Street Journal editor, Paul Gigot doubled down on defending Epstein's op-ed. Here is my response: Wall Street Journal: Your Misogyny Double-Down is Backfiring.
Read also:
Wall Street Journal: Your Misogyny Double-Down is Backfiring
Magnificat: Mary and the Refusal to be Small for Insecure, Fearful Men
Top 10 Things Never to Say to Your Female Pastor
7 Ways Your Church Can Support Your Female Pastor
---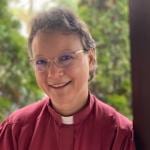 Leah D. Schade is the Assistant Professor of Preaching and Worship at Lexington Theological Seminary in Kentucky and ordained in the ELCA. Dr. Schade does not speak for LTS or the ELCA; her opinions are her own. She is the author of Preaching in the Purple Zone: Ministry in the Red-Blue Divide (Rowman & Littlefield, 2019) and Creation-Crisis Preaching: Ecology, Theology, and the Pulpit (Chalice Press, 2015). She is the co-editor of Rooted and Rising: Voices of Courage in a Time of Climate Crisis (Rowman & Littlefield, 2019). Her latest book, co-written with Jerry Sumney is Apocalypse When?: A Guide to Interpreting and Preaching Apocalyptic Texts (Wipf & Stock, 2020).
Leah is also co-founder of the Clergy Emergency League, a grassroots network of clergy that provides support, accountability, resources, and networking for clergy to prophetically minister in their congregations and the public square in this time of political upheaval, social unrest, and partisan division.
Twitter: @LeahSchade
Facebook: https://www.facebook.com/LeahDSchade/