On April 9, 2021, United Lutheran Seminary held a Public Theology Symposium honoring the academic vocation of the Rev. Dr. Katie Day, Charles A. Schieren Professor Emerita of Church and Society. Recently retired, Dr. Day chose this date because it marked both her ordination and the date in 1945 on which Dietrich Bonhoeffer was executed by the Nazis.

The Rev. Dr. Katie Day
Dr. Katie Day taught at the United Lutheran Seminary for 34 years. During that time, she led the Seminary (then Lutheran Theological Seminary at Philadelphia) in being a founding member of the Global Network for Public Theology. As an academic scholar and teacher, Presbyterian minister, and person, Dr. Day has exemplified the commitments of public theology. Not the least of her contributions has been her work as co-editor of The Brill Companion of Public Theology (2017), the Routledge Handbook of Religion and Cities (2020), her own grounding breaking, Faith on the Avenue (2013), her work writing the position paper on Gun Violence prevention for the PCUSA, and work as the chair of Heeding God's call to end Gun Violence.
As was typical of Dr. Day, instead of the expected "retirement party," Dr. Day asked instead to have a Public Theology symposium, focusing less on herself but the discipline she so passionately embodies.
Organized and moderated by Dr. Storm Swain, the keynote speaker was William Storrar, Ph.D, Director, Center for Theological Inquiry, Princeton, Founding Member, Global Network for Public Theology.
Panelists were Victoria Barnett, Ph.D., Director of the Programs on Ethics, Religion, and the Holocaust at the United States Holocaust Memorial Museum from 2004-2019; Nancy Fuchs Kreimer, Ph.D., Director, Multifaith Studies and Initiatives Program, Reconstructionist Rabbinical College; and two of Dr. Day's students, Charles Howard, Ph.D., Vice President for Social Equity and Community, University of Pennsylvania, and myself.
The quote we were asked to consider was written by Bonhoeffer as he was reflecting with consternation on the movement of the Confessing Church:
"We have been silent witnesses of evil deeds:
we have been drenched by many storms;
we have learnt the arts of equivocation and pretence;
experience has made us suspicious of others
and kept us from being truthful and open;
intolerable conflicts have worn us down
and even made us cynical.
Are we still of any use?"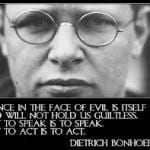 Bonhoeffer, Dietrich. "After Ten Years," in Letters and Papers from Prison. Enlarged Edition, Eberhard Bethge, ed. New York: The Macmillan Company), 1971, 16–17.
So, are we still of any use?
The following is an excerpt of my remarks in response to that question.
The Rev Dr. Katie Day was my Church and Society professor when I was an MDiv student from 1996 – 2000 at what was then The Lutheran Theological Seminary at Philadelphia. When I returned to LTSP as a PhD student in 2009, I took her graduate seminar, Religion and Social Change, which guided the trajectory of my dissertation about preaching and Creation Care. It also inspired my own public theology and activism around social issues such as climate change, environmental justice, racism, LGBTQIA+ issues, white Christian nationalism, and the role of the church in a divided society.
One of the most important things Dr. Day taught me was the value of social movement theory to help organize and study social change.
The other thing I learned from her was the importance of conducting quantitative and qualitative research to gauge the effectiveness of social movements, whether on the local, regional, or national level. I have applied these two key learnings in every aspect of my ministry, from preaching to teaching to research. Katie's influence can be seen in nearly every book I've written, in my Wabash grant studying pedagogies for civil discourse in the church and theological education (for which she was a consultant), in my research in the areas of homiletics, religion and the environmental movement, and the church and politics. I especially drew on what I learned from her classes in my most recent work with the Clergy Emergency League (CEL).

The Clergy Emergency League
Just a word about CEL, because it connects directly to the symposium's focus on the work of Bonhoeffer and the question about whether we – clergy and Christian congregations – are of any use in a society so traumatized by evil and broken by polarization and divisiveness. On June 1, 2020, as protests and riots spread across the nation with renewed outrage about racist violence, especially the murder of George Floyd in Minneapolis, President Donald Trump marched – uninvited – from the White House to St. John's Episcopal Church with a military entourage for a photo op holding a Bible. He was using Christianity to justify a version of "law and order" that is based on white supremacy. He co-opted religious symbols to claim an authority he did not have. Cloaked under the guise of Christianity, he was pushing this country to the brink of authoritarian dictatorship and martial law.
So on my EcoPreacher blog for Patheos (which is one forum for my public theology), I called for clergy to unite in a way similar to what the pastors of the Confessing Church did in Nazi Germany. With my co-founder, the Rev. Stephen Fearing, and a group of intrepid clergy colleagues who saw the necessity of forming this group, we launched the Clergy Emergency League in June of 2020. We now have 2,500 members in the Facebook group who engage with each other on how to resist white Christian nationalism.
The Clergy Emergency League has released statements on the violence in Portland, the 2020 election, the January 6th insurrection, and the Georgia voter suppression laws. We've hosted book studies, author interviews, lectionary text studies, and, most recently, a panel discussion co-hosted with the Wisconsin Council of Churches about pastoring in the age of conspiracies and disinformation. And in our twice-monthly member meetings, we listen to what pastors are facing when they engage social issues. This helps us strategize what would be most helpful for clergy given what is on the horizon in terms of political, social, and religious challenges.
I want to make the case that this kind of support for the ministry of public theology is real and it's making a difference.
Whether it is preaching a bold sermon, or standing alongside others with arms locked in protest; whether it is providing water and rest for protesters, or taking on the work of addressing white supremacy and systemic racism: pastors are stepping up. Granted, resistance is complicated by the pandemic. Many of us have not been able to take to the streets in the way we normally would. But we are finding ways to connect, share resources, hold each other accountable for the justice work that needs to be done, commiserate when we are attacked for exercising our prophetic voice, and equip each other for the ministry to which we have been called.
This is the work I've committed to in my ministry, preaching, activism, teaching, and research. And this is the work Katie Day has done all throughout her ministry of teaching, activism, and research. This is what she has taught her students to do for decades. And this is what she continues to do as a professor emerita. In fact, if all goes according to plan, we will be co-presenting a paper at the Society for the Scientific Study of Religion in the fall entitled "Preaching and Gun Issues: Clergy and Congregation Response."
I am so grateful to Katie Day for all she has taught and continues to teach me. She preached for my ordination service and has encouraged me in my career every step of the way. As we were neighbors on Boyer Street for two years during my PhD program, as her daughter babysat my children (who are now teenagers), as we have roomed together at SSSR meetings, we have become not just colleagues, but friends. I am humbled and honored to be able to celebrate this milestone of academic achievement with all of you.
Are we still of any use? Thanks to the Rev. Dr. Katie Day, the unequivocal answer is: YES!
Read also:
Being Theological in a Political World
---
Find out more about the Clergy Emergency League
If you're a clergy person and would like to join our private FB Group, click here to request membership. Please make sure to answer ALL the questions (including agreeing to our group rules) in order to be welcomed as a member.
Our public Facebook Page is open to any and all persons who would like to follow the work of the Clergy Emergency League. Click here to be directed to our Facebook Page. Make sure to click the 'Like' button!
---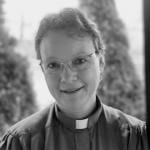 Leah D. Schade is the Assistant Professor of Preaching and Worship at Lexington Theological Seminary in Kentucky and ordained in the ELCA. Dr. Schade does not speak for LTS or the ELCA; her opinions are her own. She is the author of Preaching in the Purple Zone: Ministry in the Red-Blue Divide (Rowman & Littlefield, 2019) and Creation-Crisis Preaching: Ecology, Theology, and the Pulpit (Chalice Press, 2015). She is the co-editor of Rooted and Rising: Voices of Courage in a Time of Climate Crisis (Rowman & Littlefield, 2019). Her latest book, co-written with Jerry Sumney is Apocalypse When?: A Guide to Interpreting and Preaching Apocalyptic Texts (Wipf & Stock, 2020).
Twitter: @LeahSchade
Facebook: https://www.facebook.com/LeahDSchade/