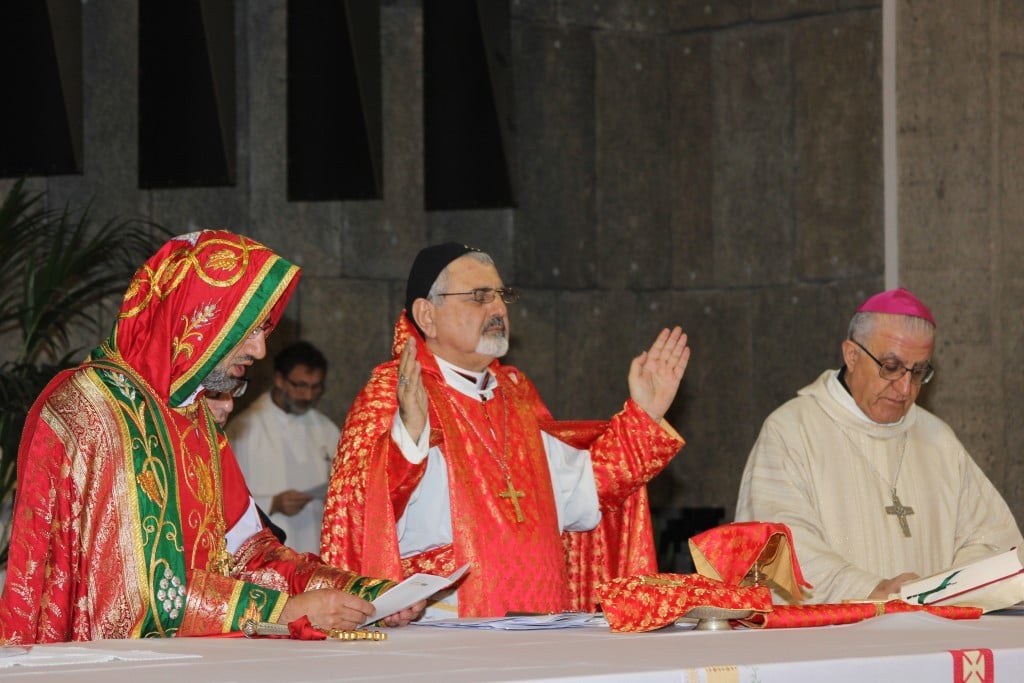 Yesterday, after posting my 3,744-too-many-words on the autonomy of Eastern Catholics in response to Chase Padusniak's primer and quoting the Ethiopian Catholic guy who said to me a few months ago, Catholics on the Eastside, we gotta stick together – I went out to see that guy because he had invited me to the local Ethiopian Catholic mission's Christmas Vigil.
Unfortunately, as I approached Uptown in Chicago, I pulled out my phone and saw that he had messaged me quite a bit. He said that the service had been canceled because someone in the mission had suddenly died, the priest had done a funeral that morning, and he had to leave soon to go out of town.
All the same, he offered me a ride.
I offered him food. There's good Chinese food in Uptown up by Argyle. He told me he had to pass and said he could give me a ride anyway. I said that it was ok, and he asked if I was sure because it was so cold.
So I took him up on it.
Midway through waiting for him, it was so cold that I decided to get takeout. I texted him to say I was jumping into the Cantonese barbecue. He said he was a block away. I said, Never mind then. He said: Are you sure?
By all of these calls to discernment, you shall know that said Ethiopian Catholic is a Jesuit too. Of course, this is again why I think that Eastern Jesuits are normal.
I have all kinds of these stories when it comes to meeting Eastern Catholics, especially the ones outside my church. The honest truth is that the first time I had even heard of Eastern Catholics was through Artur Rosman. Artur has a bit of a reputation among Eastern Catholics as kind of a troll, and I don't blame them for thinking that; in fact, he'd take it as a compliment. We used to live around the corner from each other in Seattle and get $7.99 all-you-can-eat Indian food on Sundays.
The very first time I think I ever saw the term 'Byzantine Catholic' was when Artur posted his blog on the Byzantine Catholic facebook group; I had him on my notifications, and whenever he'd go on a posting blitz of all the groups, that one would show up. I didn't think much of it – of course, I knew what 'Byzantine' meant because I had learned about it all the way back in junior high from the Bob Jones University world history textbook that basically said that Byzantines were nice, had broken communion with Rome (which was very nice for our purposes), called themselves 'Orthodox,' but worshipped idols they called 'icons' (which I later learned were not idols, because why do evangelicals nowadays like them so much?). Of course, I knew about all the schisms too, but I thought it was neat that maybe some Orthodox were calling themselves 'Byzantine Catholic' to emphasize their catholicity. Oh, the little I knew…
A few weeks later, Artur and I had drinks with a Polish Dominican and Artur's friend at a German pub across the street from Artur's home. Under the influence of beer, Artur's friend told us that he and his wife had actually been going to the Byzantine Catholic parish in Seattle. Wait, I remember say, you mean these are not Orthodox who call themselves 'Catholic'? These are actually Catholics who call themselves 'Byzantine'? (Again, oh, such innocence: nowadays, I'd say it's a little bit of both, and some more!)
Yeah, man, he said. We really like the liturgy there. ('Is it really that different?' I thought. So innocent! Such Latin normativity!)
The Polish Dominican then chimed in: That's really cool. You know, I think some of my family members used to be that.
REALLY?! all three of us said at the same time, pounding the table.
Yeah, what's the big deal? he said. You know, it was in the days of Stalin, and they expelled all the Ukrainians from Poland, and we were so close to the border we didn't know what we were.
As you can see, along with disabusing me of my lack of understanding of Eastern Catholicism, Artur and the Polish Dominicans in Seattle are responsible for breaking me in with Eastern European political geography, usually over beers at that German pub.
A few months later, I was in Vancouver at the Art Gallery with a bunch of hipster white evangelicals who thought it would be cool to organize a prayer rally in a public space praying against the Islamic State (hereafter, 'Daesh'). This was 2014, around the time that news was breaking that Christians' homes were being marked with the letter 'n' and Yazidis were also being captured, tortured, killed, and sold.
Unfortunately, the prayer circle I was in had a bunch of ex-military guys who never got around to praying and started complaining about Obama dialing back the amount of troops in Iraq and causing this mess. They kept saying that the best thing to do would be to re-occupy that territory and finish the job they had started in 2003. My Chinese evangelical friends who were in that group looked so confused, especially because this was Canada and they had never been in such a conversation so saturated with American neoconservative ideology.
About an hour into this no-prayer-all-neocon prayer rally, we heard some chanting off from the distance. Into the art gallery square filed an entire parish of Chaldean Catholics, led by their priest, with signs bearing the faces of all their relatives and religious who had been killed by Daesh. Apparently, the parish had sponsored most of its own members from Iraq and was known in immigration circles as a kind of refugee lobbyist. They came prepared with megaphones, signs, and their voices, and they climbed up the steps of the art gallery.
Suddenly, the white neoconservative hipster evangelicals were no longer in control, although for some reason the press kept on pulling the pastors who had organized the event aside for interviews. The Chaldean Catholic priest said that he wanted to clear up the record on a few things. He said that the refugees fleeing from Iraq, including relatives of most of the people in the parish, were fleeing into the winter. The truth is that they would probably freeze and starve, yet the humanitarian aid that most countries were sending were guns. We don't want guns! he said. Send food!
After making such announcements, his congregation would chant a psalm or a hymn or a spiritual song, all in Aramaic. At some points, he had us all kneel, and most of us in the crowd were Protestants. He told us to pray with them as they prayed the ancient language of Jesus which most of us couldn't understand. He told us to look at the pictures of the people who were killed and pray. He kept saying for us to contact our governments to send food, not arms.
All of this happened before I met the Chinese Jesuit at the Umbrella Movement solidarity rally in front of the Chinese Consulate, which precipitated me getting sucked into the Kyivan Church. In fact, by reflecting on this experience, I have discovered that I need to revise my story a bit because I have mistakenly overly privileged Byzantine churches in the Eastern Catholic communion. The truth is that the first Eastern Catholic priest I personally encountered was this Chaldean Catholic priest at the steps of Vancouver's Art Gallery, together with my Chinese evangelical social justice activist friend – we went for coffee later that afternoon with the city's former homelessness advocate, as a matter of fact. I remember him thanking us for our 'holy presence.' We commented on how inspiring his witness was. He said that it didn't matter how inspiring he was, as long as this could get people to contact the government to send food.
The tone was set from these initial encounters for me to see Eastern Catholics as a persecuted, oppressed people, especially in contemporary late modernity. If I might tap into a sort of collective Eastern Catholic memory and experience, we got it from Stalin, we're getting it from Daesh, and the neocons only know how to pontificate about us without actually praying, much less sending sustenance.
And so it was a month before my chrismation that I found myself in Montreal for a conference and looking for a church to go to on Sunday. I contacted the priest who would become my spiritual father, and he said to go check out the Russian Catholic parish at which he had concelebrated once. He said that he remembered that they got taken over by Chaldeans, but maybe I could worship there all the same.
I looked up the Chaldean parish and couldn't find the liturgy times, so I phoned. The priest picked up. Hello?
Hi, I said. Is this the Chaldean parish?
Yes. What do you want?
Well, I said, I'm getting chrismated next month into an Eastern Catholic parish, and my priest says that I should come worship with some Eastern Catholics in Montreal.
He replied: We do not worship in English, sorry.
I said: I know, but my priest just says that it will be an educational experience for me to worship with Eastern Catholics who are in another Eastern Catholic church just to broaden my horizons.
I heard a pause on the phone. Then: You are already chrismated?
No, I said, I will be chrismated next month.
Which church? he asked.
Ukrainian, I said. I wanted to keep things simple.
I heard him pause again. Then: You would be most welcome, then. Liturgy is at 10 am tomorrow.
The next day, I walked into the temple amidst a bunch of very confused stares. The priest greeted me, and then the service started in Aramaic. I was so excited even though I couldn't understand any of it; it actually brought me back to the steps of the Art Gallery. Some of the servers didn't look that excited to be there, though, until the priest had them all say the Our Father in French.
At the end of the service, the priest told me stand up. We have in our midst someone who will be chrismated in the Ukrainian Church! He is here to learn about how other Eastern Catholics worship!
People then gathered around me to welcome me and to say that I didn't look Ukrainian at all. We had coffee and pastries downstairs, and they started telling me about life in Iraq and life in Canada. One woman told me that this was the ancient language of Aramaic, and she liked it, but she said that they had lost some people to the Syrian Catholic parish because (as she said) the younger people understand that one better; no wonder the servers hadn't been that excited. I truly received an Eastern Catholic education that day.
Another time, my spiritual father discovered at a reception at a talk by Sam Rocha we were both at that there were Melkites in our midst. We got so excited because we were in the middle of reading Archbishop Elias Zoghby's Tous schismatiques? They explained to us that they had a little mission in Metro Vancouver and that they'd usually go to the Latin parish in the morning, then the Melkite liturgy in the afternoon. As my spiritual father stepped away to talk to someone else, I mentioned that I was an admirer of Archbishop Zoghby. They quietly stepped away from me.
What happened? my spiritual father said when he got back.
I mentioned Zoghby, and they walked away! I said.
Oh… he mused before reflecting that if you're latinized, you probably won't appreciate Zoghby. Another moment of Eastern Catholic education indeed: don't assume that just because someone is Melkite that they like your favourite Melkite bishop.
Catholics on the Eastside, we gotta stick together. It's so easy indeed to slip into a sort of equivalence between Eastern Catholicism and the Byzantine tradition; I do that all the time. But to do that is to be dishonest about my own experience of Eastern Catholicism. We are a people who are so diverse, with so many different rites, with so many different liturgical sensibilities, with so many different ways of doing things and thinking and feeling. Yet I think the beauty of this is that if you're going to engage in the world inhabited by Eastern Catholics, you're going to have to be a person. Eastern Catholics are not things: we are not going to let anyone put us into boxes and tell us who we are and why our existence is offensive and why we should really belong to this, that, or the other box. Eastern Catholics ourselves may assume too much about each other and even ourselves, which is why we need to engage in the deep work of makrodiakonia and conscientization. We have to stick together because our growth in holiness will likely come through us learning to listen to each other beyond the categories we assume that we are in, to be such churches of the Holy Spirit that these moments of serendipity are just commonplace.
So we are going to stick together, which means I'm looking forward to attending that Ethiopian Catholic liturgy in Chicago when the mission has another one soon.