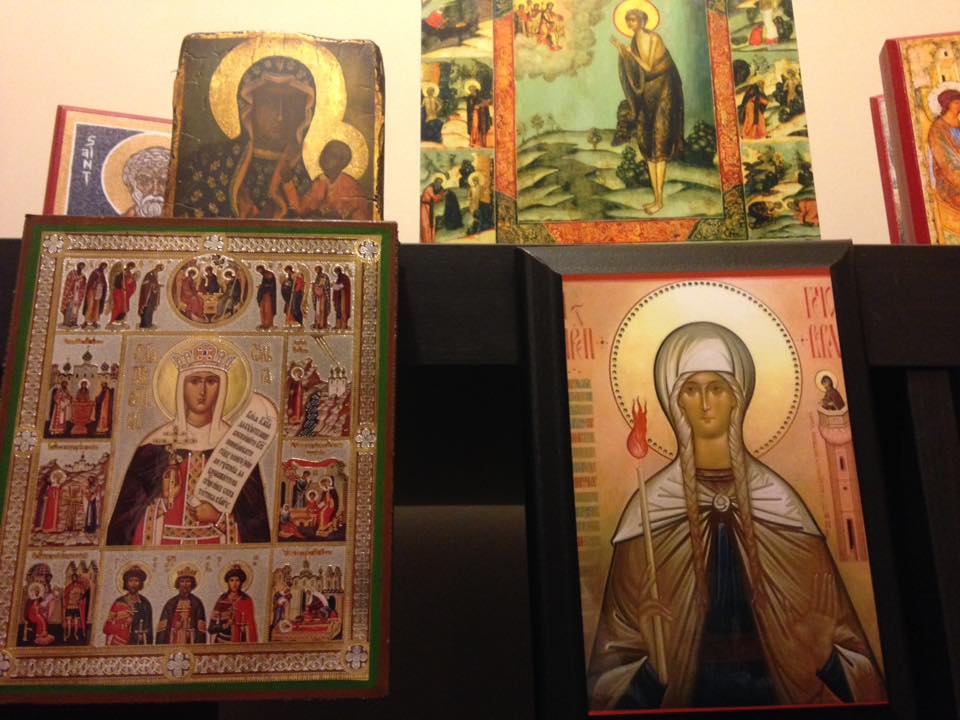 Psychoanalyze me, but I am often given to being taken in by the advice of Wise Older Women. Sometimes, when the advice is good and the person is actually wise, it works out. More often than not, though, I've been failed by such counsel, usually because Wise Older Women are sinners too, and some of them look wiser than they are. Perhaps it can be said that my impulses are born from my very imperfect feminist and womanist sympathies (imperfect because I am not very good at being a womanist), but some of the advice I've gotten hasn't always been empowering for anybody: one time, I found myself parroting Bill Gothard's basic life principles, and the other time, I was stuck in a multi-year conundrum espousing biblical gender roles as the path to true liberation. Another time, as an undergraduate, I got really bad advice about declaring my intentions to a girl I liked; after I was roundly rejected, another Wise Older Woman told me that if I had consulted her, I wouldn't be in the mess in which I was, which made no sense because I was under the impression that the funk of love is not to be avoided.
Much can be said about my many irrationalities, but if I have the right to say anything about myself, perhaps I would voice my hope that my impulses are less oedipal than they sound, although I will admit that they do also read a bit like I'm Dustin Hoffman nervously confessing about Mrs Robinson. Predictably, I could say that when I was a Protestant, it was much easier to be taken in by bad advice just because a Wise Older Woman told me that I should do something, and that developing a relationship with the Most Holy Theotokos solved everything. In fact, I'm more of the opinion that it didn't, but coming to understand that the Theotokos is All-Holy and Ever-Virgin despite being completely human did help me articulate at some points what I was looking for: the Immaculata, as the saint commemorated in the Latin Church yesterday, the Holy Martyr Maximilian Kolbe, would have called her.
But is that true? Is it that simple? Is the immaculate holiness of the Mother of G-d the real draw of the person to her, the primal drive to be sheltered under the wings of perfection?
Maybe not. Mary, after all, is a person, and as much as the Patriarch of the Latin Church wanted once to define her as she from whom original sin was taken at the point of conception, the point is that Mary of Nazareth was purely human. The mystery that lies behind the impulse to define the Immaculate Conception, whatever we in the Eastern churches think (or don't even think) of it, is that a human person could bear the divine in her womb and live. In this, the draw is not her perfection – it is, simply put, her humanity, her person.
As a human person encounters the world, she finds herself in situations. The Holy Evangelist Luke describes her as pondering all these things in her heart – the shepherds visiting her in the cave, the songs of Simeon and Anna, the boy Jesus telling her that he must be in his Father's house. It is easy to focus on the holiness of the Mother of G-d in these situations; we are so often told that it was Mary's yes that brought the Lord into the world, Mary's song that announces liberation from oppression. But the Gospels give much more complicated material to ponder. What is the Theotokos thinking about when those in her synagogue at Nazareth reject her Son? What is she pondering when she tells the Lord that the newly married couple they have no wine and he replies, What is that to you and me? What is in her heart when she hears him tell the crowd that it is not she whose breasts nursed him who is blessed, but they who hear the word of G-d and do it? Why does she go with the other members of her family to restrain Jesus in his public ministry from being a madman, and what must she feel when he responds that those who are listening and putting into practice the proclamation of the kingdom who are his mother, brothers, and sisters?
The truth is that Mary is silent, even when she is told from her Crucified Son that the beloved disciple now beholds her as mother. I have made much in my spirituality of asking her what she is thinking. One time, I thought I heard her tell me to have solidarity with women, but the meaning of this is unclear to me, and for what it's worth, it sounds like Mitt Romney telling the world that he had 'binders full of women.' The deeper truth is that the Most Holy Theotokos is my mother, adopted as she is by the beloved disciple, and as my mother, she is silent.
Yet here perhaps is where the mistake of my impulse is. That I am often uncritical of the advice of Wise Older Women, whatever it is and however unfeminist it can be, may be one to be probed for truth, but that the advice is sometimes bad suggests that it the truest truth of who I am and who they are. Often, the advice of the Wise Older Women is prefaced by their assertions or my assumptions that they have lots of life experience to share. I can thus be them in their lives in a perverse mystical way, and in this is our mistake: I become them, and they see themselves in me. In such transference is found the true fount of terrible counsel.
By contrast, the Most Holy Theotokos is silent, looking instead at me and into me through in her icons. She does not give me advice, and she does not tell me what she is thinking; instead, she invites me to ponder her life with her, drawing myself outside of me. It is like what Holy Mary of Egypt tells Abba Zosimas about her conversion at the Church of the Holy Sepulchre: mysteriously prevented from entry into the church because of her bodily sins, she sees the icon of the Theotokos and realizes that it is she who is refusing her entry into the temple. Before the Theotokos, Mary of Egypt repents; in the sight of the All-Holy and Ever-Virgin, the one who was far from being a virgin is drawn out of her selfhood and her life of pleasure and driven out as an ascetic into the wilderness.
When I heard this part of the story of Holy Mary of Egypt at my first Great Canon of St Andrew of Crete, I whispered to her, Me too. Just as the Theotokos looked at me and loved me, so too did I feel the gaze of Holy Mary of Egypt as fire on my heart. Every prostration my body made became automatic; I was ecstatic, literally standing outside myself.
But as the icon of Holy Mary of Egypt stands before me as the first icon my friends bought me for my chrismation, she also does not give me advice. She did not tell me to adopt Byzantine spirituality, and she did not teach me how to do a prostration. She simply invites me to ponder her life with her, meeting her as in the icon in the desert. I am not her, and she is not me, but she invites me to stay with her.
I did become more serious about Byzantine spirituality, though, and I have prostrated more, and my seriousness led to chrismation. In preparation for chrismation, my spiritual father taught me about the idea of having a patron saint; I did not know that I had one before (Protestants do not know what they are: one time, someone pointed out that Francis Chan should be the 'patron saint of Asian American Christians,' and I replied that patron saints are dead). As I began to realize that I'd share a baptismal name with a patron saint, my spiritual father then impressed on me that my wife, who is baptized but (like me) not in a Byzantine church, also has a patron saint, just because she was baptized with a name. However, because her name does not exactly correlate to a saint, we had to do some searching to find out who she was: Holy Genevieve of Paris, we later learned, and I quickly came to like her because she is often displayed holding a candle because of the story of how she miraculously lit candles one night to light a way for her and her troupe to make it to church for vespers. My wife likes candles; I thought it would be a good point of connection for her.
The truth, though, is that it is I who have developed the relationship with Holy Genevieve of Paris, and it is not because I have inexplicably developed a love and fascination for the service of Great Vespers on Saturday night. Perhaps her liturgical politics were a bit of an inspiration: the story goes that she warded off a barbarian invasion with her presence of prayer and fasting. But as much as I am inspired by the political efficacy of her prayer and as much as I have come to love Great Vespers, the story that really got me is about the letter that Holy Symeon the Stylite, the monk who lived on top of a tower whom I always made fun of as a Protestant as everything wrong with monastic life, apparently wrote to her, commending her holiness after seeing her in a vision. It can be said that in this we learn that in Christ there is no east or west, but the bigger point here is that it seems like there is no actual purpose of getting to know Holy Genevieve of Paris except for the fact that she is a person. She gazes on me in her icon like she gazed on the Stylite in his vision, but she doesn't tell us anything, much as we know and admire about her life. In relating to Holy Genevieve of Paris, there can only be pure love.
I have a similar relationship with Holy Olha of Kyiv Equal-to-the-Apostles. I didn't know any of Olha's more colorful stories when I started out in the Kyivan Church; I only learned that she was Holy Volodymyr's grandmother when my spiritual father first explained the story of how the Kyivans became Christian by going through the characters on our temple's iconostas. I spent a good deal of time since that moment standing in front of her icon in the temple, and part of me was a little tickled to learn that the Kyivan Church could claim some feminist street cred by saying that it was her baptism that started us down the course of being Christian. But it was not until shortly after my chrismation that I discovered that her feast day coincides with my birthday on the Old Calendar. I wrote at the time on my Facebook:
Thank you, friends, for all of your kind birthday wishes. It has been a wonderful day, spent first partaking in communion with the risen Lord and then eating lots with my wife.

I also learned several cool things today. It turns out that July 24 is also when my bishop was first ordained to the episcopate nine years ago. I then discovered, quite to my surprise while browsing my various news feeds, that some celebrate July 24 as the Feast Day of St Olha Equal-to-the-Apostles. St Olha was Princess of Kyiv in the tenth century and was the first of her ruling house of Kyivan Rus' to be baptized as a Christian; her grandson St Volodymyr Equal-to-the-Apostles eventually brought Christianity to Kyivan Rus' in 989, beginning the tradition of Kyivan Christianity into which I have now been received. Because others of us celebrate the Feast of St Olha on July 11, the Divine Liturgy Anthology of the Ukrainian Greco-Catholic Church that I have at home says that July 24 is the Feast of the Passion-Bearers Borys and Hlib, the sons of Volodymyr who were murdered by a conniving older brother who sought the throne for himself – a death for which they offered themselves willingly, as the story goes, for they refused to contend for power and were killed by the powerful for it. As Bishop Kallistos Ware says, these characters embody 'some of the most attractive features in Kyivan Christianity'; they are important to commemorate because they display some of the key hallmarks of our tradition.

There is something special about sharing a birthday with these important events in our church; it is even more touching that my first time sharing my birthday with these important events in the Kyivan Church happened on a milestone of a birthday.

Glory to Jesus Christ!
The thing is, I am still not sure exactly what her birthday coinciding with mine means. It is, after all, not my name day, and as much as I have prayed to her for a double portion of both her earthly cunning and heavenly wisdom, the truth is that what I love about her has much more to do with the icon in our temple: in both, she is cradling the church in her arms, and every time I see that icon, I realize time and again that I am in that church, and her eyes meet mine.
Wanting to find some significance in my devotion to Holy Olha, though – shallow Christian that I am – I asked my spiritual father recently about whether saints coinciding with one's birthday are really venerated in the Byzantine churches. He pointed out that, really, the day of baptism is more important. As I began to scour my records for my day of baptism when I was a kid, I got another message from my spiritual father, telling me not to bother if it was too difficult, as for my case as a convert to the Kyivan Church, the date of chrismation – the Feast of the Holy Apostles Peter and Paul – was probably more important. But I had already found the date – it coincides with the feast of the Holy Martyrs Sophia and her daughters Faith, Hope, and Love on the New Calendar, as well as with the Holy Prophet Moses on the Old. My spiritual father replied that that was 'kinda cool,' so we will remember them too.
But there is something about Holy Sophia and her daughters that has some recent significance to me too. Recently, I was in Boston for a conference, and as the Saturday I was there coincided with the Vigil of Palm Sunday, I decided to go to the local Orthodox church. As I found my place on the side of the church – as a newcomer, I wanted to look as inconspicuous as possible, although the truth is that I started tearing up inexplicably during the lytia downstairs when the congregation, led by women who seemed wiser and older than me, burst into the Greek chant of Kyrie eleison – I noticed the icons around me. Holy Mary of Egypt was next to me; I was very happy about that, as she is special to me. But my gaze was also drawn to one next to her, one of Holy Sophia and her daughters. I didn't know anything about them; in fact, I mistakenly thought that it was a symbolic depiction of the virtues of wisdom, faith, hope, and love as a family and that perhaps the Hagia Sophia was named for the mother. I found myself staring in silence as the Vigil went on.
Now I know them a little bit better: the martyrdom of the Holy Martyrs Sophia and her daughters Faith, Hope, and Love was a truly horrific act, agonizing to read (it makes parts of Shusaku Endō's Silence sound tame). But to know that their feast day coincides with my baptism on the one hand concretizes my devotion to them while making me unsure of what the significance of all this is. Their gaze upon me in the temple in Boston, after all, was silent. Icons do not give advice.
In the encounter with the icons of the holy women whose presence surround me, I am silent, but so are they. I realized as I was writing this that something interesting has happened: I don't have many Wise Older Women in my life giving me bad advice anymore, but I have quite a few icons who look at me, and I am friends with a lot more people too, including women who are wiser and older than me. In all of these icons, sometimes the invitation is into contemplating the events of their lives, but oftentimes, it is just a gaze, one that can even described as meaningless, except perhaps for love. But love is a big word, and to say that my conversion to the Kyivan Church has eliminated the Big (M)other for me in a psychoanalytic sense is a bit grandiose. And yet, maybe this is what I heard when the Theotokos whispered to me to develop 'solidarity with women,' to meet the Wise Older Women in my life not as maternal archetypes, but as persons, peer to peer, eye to eye, face to face.