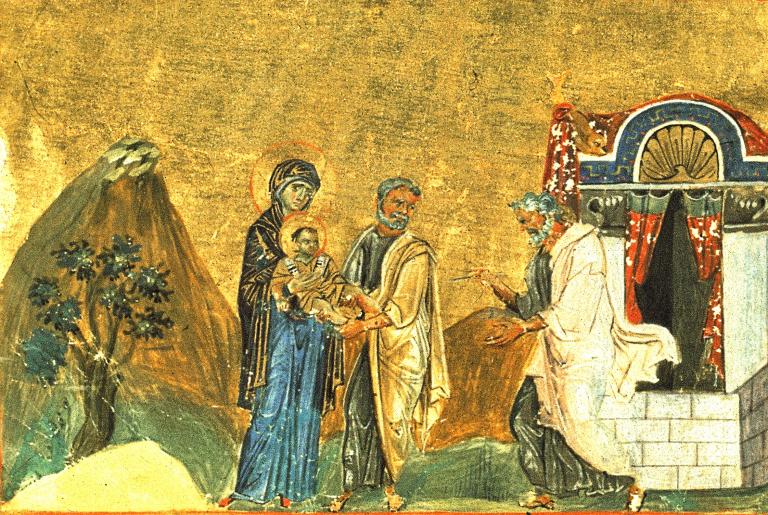 Last night, I decided on a whim, though it was late, to have a Reader's Vespers for the Feast of the Circumcision of our Lord and our Father among the Saints Basil the Great.
I don't have much by way of reflection in a formal sense, but I did want to address why I do these services and record them as part of the work of our mission in Chicago. Someone, for example, asked me why I don't bother to do them in Church Slavonic the way that he thought they should be properly done. I suppose part of the implication is that my usage of English is a little vulgar, as are my circumcision jokes. Christ is circumcised! I am often tempted to say. Put a bandaid on him!
There are three reasons for our reader's services offered in English. First, the Kyivan Church is not an ethnic Ukrainian church; we are the local Church of Kyiv in global form, which means that we try to sing in the local vernacular. Second, liturgy as such is not a 'performance'; it is prayer, so it's best to stick with the language that I'm most comfortable praying in. Third, there is a reason I have to do reader's services here in Chicago and not in Richmond, and it is because the mentality here is that the church is about the ethnic community and not the people of God gathered under the omophor of our bishops. As such, I do not have services that I can attend usually, and if I do, my parish is far away, and I cannot get down there on weekdays. But I am part of this church, and our bishop has called us to pray in our families and in our parishes.
Therefore, reader's services are better done than none, and I record them with the hope that something will be done, either by us or by the powers that be (or hopefully with synergy) to rectify this anomalous situation, which is not simply that services are not being offered in English, but rather that the church here in Chicago does not really seem interested in being church and therefore does not seem very interested in praying with people around the world who are praying under the omophor of our bishops who call us to pray. However, I have faith that just as our church rose from the dead after being liquidated and centers Christ Our Pascha as our central theological claim, we will be able to overcome this irregular situation of ecclesial devastation. Until then, my prayers, which I pray under the shepherding mantle of our beloved hierarchs, are offered with hope that our eparchy here in Chicago will double down on the prayerful, ecumenical, and diaconal spirituality that has marked its history, especially as it is the place from which the Kyivan Church Study Group, the Metropolitan Andriy Sheptytsky Institute of Eastern Christian Studies, and even our 'much ballyhooed' and 'growing number' in the Kyivan Psychoanalysis Study Group and St Mary of Egypt Social Justice Fellowship have been born.
In fact, I am pretty sure we'll be fine in the end, and the reader's services are a foretaste of what is to come. We are named for the Great and Holy Wonderworker Nicholas of Myra. Stories of him moved me deeply when I was in the catechumenate, especially as I learned that there is a special devotion to him in China. The story that I love the most is one that the Holy Hierarch Philaret of New York tells about how a man in Harbin who was driving over thin ice and fell through suddenly remembered that St Nicholas's icon was in the train station. He was probably not Orthodox, whether in communion with Rome or not, but he did remember the image, and he cried out as he was drowning, Old Man from the train station, save me! And there, he was, suddenly transported to the train station before the icon, drenched but safe.
Is this not, I reflect, the same cry that comes from my heart every Vespers, including in the reader's service I prayed last night, at which the lamps are lit? O Lord, I cry to you, the cantor announces along with the tone. And thus it is, after we introduce the lamp-lighting psalms, the congregation resonates over and over as the entire psalm is read, Hear me, O Lord.