The same was in the beginning with God.
God is born a man today in Bethlehem and no pagan or atheist or any other religion has managed a feast so glorious and Christmas is just a warmup to Easter if you are a Christian!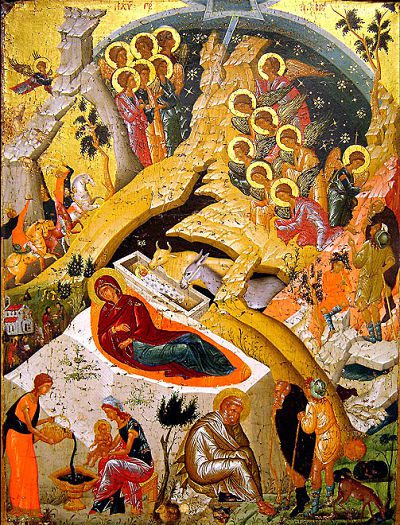 Advent (with a dispensation for Americans on Thanksgiving) had us fasting, but now the feast is commanded. We need a little Christmas and so we are about to get twelve days of feasting. The Church is gloriously practical that way. Nobody can squeeze all the jollification needed to celebrate God, GOD become human, a real MAN, into one day. We get twelve every year and that is not really enough.
This party is just a warm up to eternity.
The Word was there, essentially the same as He was in Bethlehem. He created and gave the crown of His creation, us, liberty. The Word of God would do nothing without our consent. We rebelled and faced the consequences.
We can whine and wheedle, but if we are to have liberty, then we must get what we choose. If we choose badly, then bad will come. Once our life is unraveled there is no going back. We are part of the problem and need the Mind that sees all contingencies to bring healing to our hurt and the pain we have caused.
This is possible, God is very great, the cosmos will be saved. All of it. Every disjointed action caused by our bad choices will be given a deeper meaning. The sin will never be good in itself, but the consequences will be mitigated and a greater good will enfold the painful details.
The totality will be good.
We can be redeemed, made perfect, if we agree. All we must do is consent to the solution God has for us. God came to Mary and she said "yes." As a result, She became the Mother of God and on Christmas Day, earthlings could see the Word made flesh. Shepherds were in the fields doing their job and they beheld glory in the sky and then greater glory in a manger. Wise men will come on the Twelfth Night of Christmas and see His truth symbolized in gifts of gold, frankincense, and myrrh.
The Day will come when He says "It is finished." Today the job has begun and the God-man in his humanity will consent and so conquer. Eternity limited Himself and so brought pure being into the world of change. The result was dynamic power that could defeat pain, suffering, and come back from the dead. When His work was finished, He returned to wait for the last of us to be born, to choose, and to become like Him. As He is, we can be and when we are, then the City of God will come.
We will feast at the great table: Christmas, Epiphany, Easter, Pentecost, every feast with no fast forever and ever.
Christ is born!
Glorify Him!
————————————
A Christmas series on John 1: 1-14 (Links will not be active until the piece is published. All active by January 5, 2019).
Part 1, 2, 3, 4, 5, 6, 7, 8, 9, 10, 11, 12, 13, 14.