David Russell Mosley
http://elflandletters.wordpress.com/
16 July 2013
Commemoration of Osmund, Bishop of Salisbury, 1099
Beeston, Nottinghamshire
Dear Friends and Family,
I can hardly believe I've been at this for a year. I've had many blogs in the past. I believe it all started with Xanga for me. Then I moved to a Myspace blog, then a Facebook blog. After that I discovered blogger and used it to create several different blogs. I was never able to keep one going, so this is kind of a big deal for me.
To celebrate, I want first to thank everyone who reads or has read my blog. Here is screen-shot I took of density map that shows every country in which my blog has been read.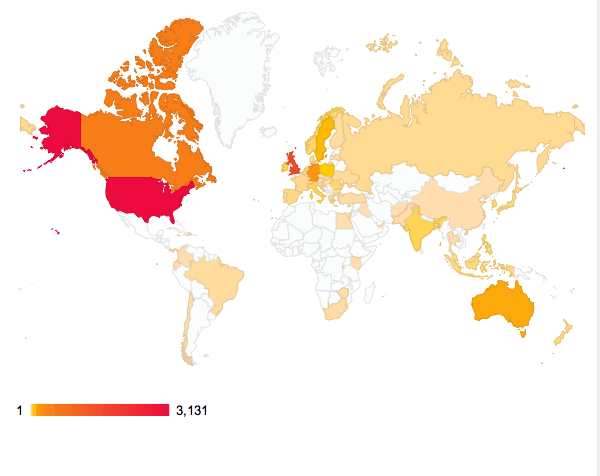 I'm overwhelmed both by the number of people who have read my blog and the diversity of people who have read it. So again I say to everyone who has read my blog, thank you.
Top Ten Most Popular Posts
Since this is a year in review, I thought I would start by listing off the top ten most popular posts I've done over the past year:
A Day in the Life of PhD in Theology
Celebrating Theology Faculty from the University of Nottingham: John Milbank
Faeriean Metaphysics: Seeing the Soul and the Perilous Realm
Celebrating Theology Faculty from the University of Nottingham: Conor Cunningham
A Day in the Life of a PhD in Theology Part 2: The Differences between and American and British PhD
Celebrating Theology Faculty from the University of Nottingham: Simon Oliver
Why Edmund isn't Judas: The Chronicles of Narnia, Allegory or Supposition?
Celebrating Theology Faculty from the University of Nottingham: Philip Goodchild
Celebrating Theology Faculty from the University of Nottingham: Alison Milbank
Honourable Mention
Here are a few post who didn't make the top ten cut, but were pretty darn close.
In Defence of Harry Potter, Or Harry Potter and the Magic of Christianity
"God, Gods, and Fairies" by David Bentley Hart
Is Evolution Anti-Christian? Conor Cunningham, Charles Darwin, and the God who Creates
Top Ten Favourite Blogs
Finally, here are some of my favourite blogs and websites I've encountered since I started blogging.
First is my wife's blog:
My Homespun Haven
. She always has great recipes that I get to eat. One of my favourites is her
Brown Butter Blondies with Maple Icing and Bacon Sprinkles
. Make them and eat them, now.
Second is a blog from one of my best friends, Peter Stevens and his blog, Life, the Universe and Everything. Peter primarily does book reviews now, but also posts on particular saints in the Christian past, and many other things besides. Pete's blog has been going since 2008. One of my favourite posts from Peter is Thoughts on the new Pope and Christian Leadership.
Next up is a blog I've featured before, it is The Flame Imperishable from Jonathan S. McIntosh. Jonathan is a theologian, philosopher, and Tolkien scholar and he brings all these things together in his blog. One of my favourite posts of his is From Fairy-Story to Evangelion.
Then there are the infrequent, but excellent posts from friend and fellow pipe smoker Colin Nicolle. Many of his posts centre around his home in Halifax, his training to be a vicar, and his love of the Latin Verse & a Pipe and listen to the dulcet tones of his voice as he reads ancient poetry to you.
From infrequency to incredible frequency we move to Father Aidan Kimel and his blog Ecletic Orthodoxy. Father Aidan is priest in the Orthodox church and many of his posts are commentaries based on very close readings of specific texts by the Church fathers. Check out his post, The Fifth Theological Oration: The Spirit Teaches his Divinity which deals with topics near and dear to my heart, namely, the Spirit and deification.
Another blogger I want to highlight is Jarrod Longbons over at The Art of the Good Life. Jarrod writes about anything from interviews with theologians, to commentaries on popular or contemporary culture, to how ecology and theology work together (which is, broadly, the topic of his dissertation at the University of Nottingham). Check out his post Review of the CoTP's International Conference: "The Soul".
The last blog I want to highlight is written by a former preacher of mine, Craig Cottongim. Craig's blog focuses more on how we are to live life with splashes of social commentary. His blog is always uplifting and helpful. Check out his post: Distracted by DOMA.
Now I want to move to a few websites I've come to really enjoy.
The first is the Centre of Theology and Philosophy. This is your go to place for all things theology and philosophy, often, but not exclusively, related to Radical Orthodoxy. This website is frequently updated with forthcoming books, upcoming conferences, and also includes drafts of papers written by the members, including John Milbank, Conor Cunnigham, Karen Kilby, and others.
Next there is the Theology Studio, run by Scott Bader-Saye and Tony Baker. This site includes audio, and some video, interviews with prominent theologians, a blog with multiple contributors, long lists of books that are mentioned, and the three (often more) most influential books for each of the theologians they interview. This is a great place to pick up resources if you're interested in theology.
Finally, there is the Radical Orthodoxy: Theology, Philosophy, Politics Journal. This is a primarily online, and therefore free, journal which doesn't simply tow the RO party line, but welcomes any and all articles that are concerned with Theology, Philosophy, or Politics, which is to say, nearly anything. I'm told there are some "staffing" changes being made, so we should definitely be on the look out for another online journal soon. They also do a yearly print version which can be purchased through Wipf and Stock.
I hope you've enjoyed the links. Definitely make sure to go check out the other blogs I linked to above.
Sincerely yours,
David Russell Mosley