David Russell Mosley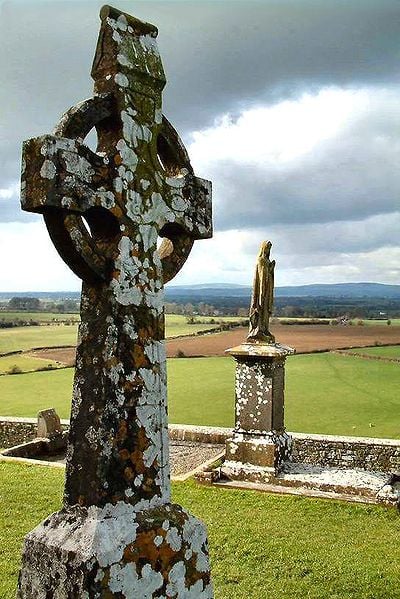 Eastertide
17 May 2017
The Edge of Elfland
Hudson, New Hampshire
Dear Readers,
Over the past two days I finally listened to Dr. Bernard McGinn's lecture on "The Soul of Early Irish Monasticism." It isn't so well known anymore, but for a time, particularly in grad school, I was often associated with Irish or "Celtic" Christianity. Dr. McGinn's lecture (which was wonderful and full of pictures I couldn't see since I listened to it while driving, reminded me that it wasn't just the Church Fathers and it wasn't just British fantasy/fairy-tale authors who helped me enter the Catholic Church. Ireland played its role as well.
Towards the end of college and into grad school I became enamoured, infatuated really, with Irish Christianity. This was partly due to a still as yet unverified belief that I have a decent amount of Irish heritage (it looks more British––whether English, Welsh, or Scottish––everyday). So I read whatever I could. Esther de Waal, Kathleen Hughes, Tom O'Loughlin, and others became my guides as I read the Confession of St. Patrick, the Carmina Gadelica, the Irish Penitentiaries, the Life of St. Columba, and the extant works of Columbanus amongst other things. I even wrote a paper that, I'm told, ought to have won a grad school paper competition called "Wanderlust as Spiritual Discipline: Following the Path of the Celtic Peregrini." I was enraptured by how these ancient Irish men and women (and their romanticizers and even demythologisers) depicted the faith.
As I listened to Dr. McGinn's lectures I was taken back to those days, to that longing I had and still have to visit Ireland and see its holy sites. I was reminded of thin places (a term I have come to eschew and yet am slowly returning to), the notion that some spaces are holier, are numinous, have a closer connection to the spiritual realities that uphold the physical than others. I was reminded of this insular beauty in their manuscript illumination, in their high crosses, in their ways of life.
Being reminded of all of this I can safely say that if weren't the Celtic Peregrini I wouldn't be Catholic today. They served as a gateway to the Church Fathers and the medieval theologians. Without them I might never had encountered Augustine or Aquinas or even Dante. Without them I would not have encountered the wild side of the Catholic Church.
In the end many roads led me to Rome. Some were rolling, English roads. Others were imram journeys into my own soul through the landscape of Ireland. Others were journeys of the mind and soul to the deep places of God. This road is singular and yet not progressive. I did not leave the Irish Road for the English nor either for the Patristic and the Medieval. Instead it is more as if there is only one road that can be read at different levels, some of them simultaneously. This is the road I have journeyed and am still journeying as I wend my way to my homeland.
Sincerely,
David
P.S. Here's the lecture: