Read Part 1 and Part 2 of this series.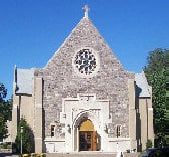 My identity as an Episcopalian stems partly from family history and partly from choice. On this Thanksgiving Eve, I am grateful for how the Episcopal Church has formed and is forming my Christian journey. I am particularly grateful for:
I am a lousy pray-er. When I set aside time to pray, I spend far too much time figuring out what to pray about/for, or what kind of prayer to focus on (thanksgivings, intercessions, confession). When I try centering prayer, I fall asleep. I've finally come up with a twofold strategy that works pretty well. I offer lots of short, spontaneous prayers throughout the day of the Anne Lamott "help, thanks, wow" variety, in response to whatever events or feelings come up. And for set prayer times, whether at home, at church, or in some other communal setting, I rely on words other people have already written, especially the Psalms, the Jesus prayer ("Lord Jesus, Son of God, have mercy on me, a sinner"), and the rich offerings of the Book of Common Prayer. Whether I'm confessing my sins with my congregation on a Sunday morning, using one of the daily devotions to structure my morning or evening prayer at home, or finding a suitable prayer for a specific need in the "Prayers and Thanksgivings" section in the back, I can always count on the BCP to provide authentic, beautiful prayers when I am incapable of coming up with anything on my own (which is most of the time).
A favorite scripture verse is Romans 8:26: "For we do not know what to pray for as we ought, but the Spirit himself intercedes for us with groanings too deep for words." It is comforting to know that even when I am unable to pray, the Holy Spirit prays in me, articulating those things I cannot articulate. The Book of Common Prayer, by giving me words with which to pray, helps make audible the Spirit's silent intercessions.
Sometimes, of course, we Episcopalians get a little too attached to our BCP, a bit uncomfortable with newfangled prayers and liturgies. The down side of having such a rich, beautiful book to guide our prayers and worship is that we become reluctant to see the value in other ways of doing things. I have occasionally penned original, informal liturgies for use during outdoor summer services, and watched as some congregants and visiting clergy have become visibly squirmy when reading words that aren't taken straight from the BCP. But by and large, our Book of Common Prayer deserves a central place in our worshipping life, because it so often uses just the right words for the right occasion. The Church of England's beginnings may have been a mishmash of political and religious impulses, some of them misguided, but Archbishop Cranmer's book has stood the test of time. For me, the liturgies and prayers of the BCP are the language of home, their words reminding me week after week who I am and whose I am.
Sacrament and Liturgy

I wrote yesterday about why the sacrament of baptism is more meaningful to me than a generic infant dedication. Likewise, I have come to find other sacraments indispensable, particularly the practice of weekly Eucharist. Christianity is a religion of the tangible and the material abiding alongside the intangible and the spiritual. God came to us as a hungry, crying baby. He grew into a man who slept and ate and died a brutal death, complete with blood and thirst and pain. After the resurrection, Thomas was able to touch his wounded hands and side.
The Eucharist reminds us, week after week, of the material, corporeal nature of this world, our lives, and God's involvement in both. The Eucharist is not a quaint custom to be done monthly, with little plastic cups of grape juice passed around that make it seem like nothing more important than preschool snack time. The Eucharist, rather, is the act of literally sinking one's teeth into God's lavish love and resurrection promise, an actual meal shared among the broken, beautiful people who make up the body of Christ. And it requires wine, for those who are able to drink wine. Wine is a drink for special occasions and for sharing. Grape juice is a drink for thirsty three-year-olds. A religion that recognizes the tangible nature of human life and God's presence in it needs to get the tangible stuff right.
I am increasingly appreciative of the liturgical language and structure that are common to any Episcopal Church—or any church in the Anglican Communion, really. My husband Daniel traveled to Tanzania 12 years ago, to visit our then-church's partner congregation in the town of Tabora. Although he did not understand much of the Swahili in which they worshipped, he could easily follow the service, because they were using the same exact liturgy we use in the U.S., just in a different language.
I also adore the special liturgies contained in the Book of Common Prayer, like Compline (the service for evening). Several Sundays throughout the year, my church hosts a Sunday evening Compline service, in a darkened church lit only by candles, with no sermon and few or no spoken prayers beyond the psalms and anthems sung by the choir. Surrounded by the gentle darkness, the warmth of mostly silent community, and the comfort of ancient hymns and scriptures, I am able to breathe in God's peace and carry it with me into the week ahead.
"The Big Tent"
I am grateful that every week, the rector of my church finishes up the mid-service announcements by saying, "The most important thing I can tell you is that everyone is welcome to receive communion at this table," as he points back toward the altar and the rail where we kneel to receive bread and wine. I am grateful that in the 13 years that I have been an Episcopalian (again), I have heard sermons and received pastoral council and worked alongside straight married clergy and gay married clergy and single clergy and male clergy and female clergy and clergy with kids and clergy without kids. I am grateful that being an Episcopalian means welcoming everyone, doing lots of outreach, making beautiful music, loving the words that say the right thing for the right occasion, and figuring out how to worship God and what God asks of us in the company of a beautiful variety of God's children.
On this Thanksgiving Eve, what are you most grateful for in your spiritual life?