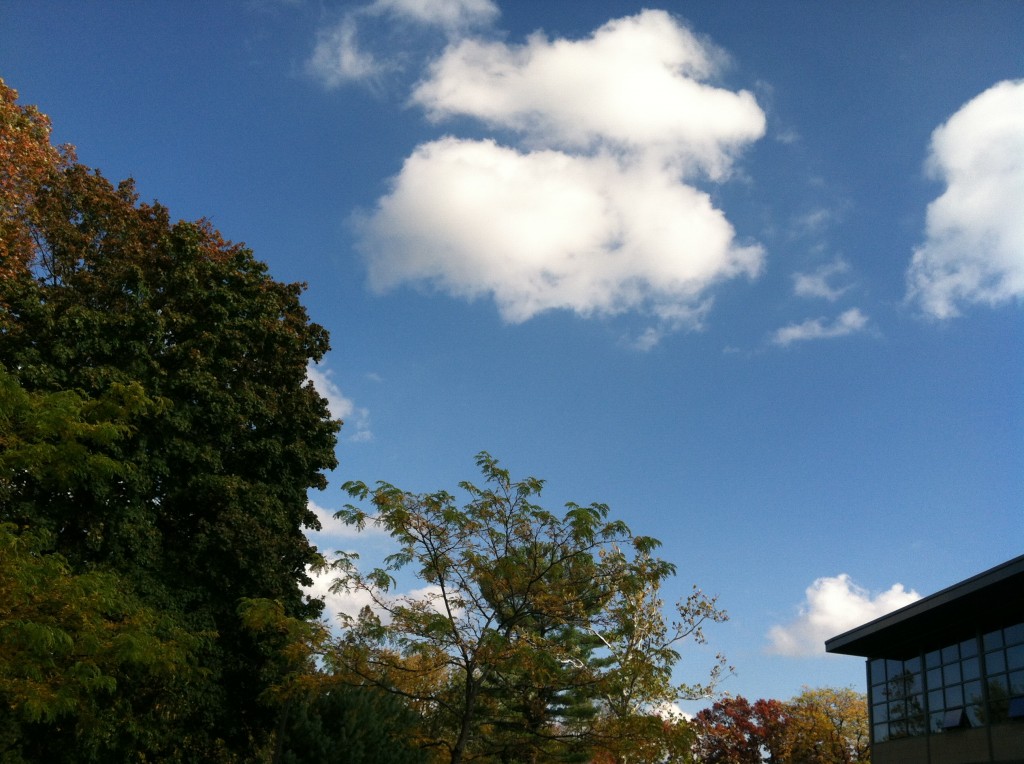 This is a photo of nothing more than the blue sky over my daughter's middle school. I took the photo as I sat waiting to pick her up yesterday. Just before I took it, I looked up to see a huge hawk drifting on the currents right smack in the middle of that patch of blue. I watched the hawk for a few minutes, mesmerized and calmed by its smooth flight, before thinking of snapping a picture. And of course, the hawk immediately flew behind the tall trees to the left. But the sky was still lovely, so I took the photo anyway. And then kept my gaze trained upward, into the blue, instead of reading the book I had brought along to keep me company while waiting for Leah to get out of school. I kept looking up.
Most of the time, as I drive to and fro during our busy after-school hours, I'm only vaguely aware of the slanted autumn light, so unlike the summer sun that beats down from straight above. But now and then, as I drive down the same roads I've gone down so often that I know every bump in the road, I make a point of looking up, at the maples and beeches and other trees towering over my town's 1920s and 30s and 40s colonial homes. And I'm struck by the contrast of bright yellow, blazing orange, and deep red against the blue (or gray) sky. I'm reminded that these glory days in a tree's life are short-lived. Last night's rain brought about the first real downpour of leaves from trees; we woke for the first time this fall to see our lawn dotted with yellow and brown. The exodus will gain momentum, and in just another week or two, bare branches will reach into the sky instead of lush golden caps. As I drive, I remind myself to look up, to take in the dying beauty of autumn before it's gone.
Sometimes I need a reminder to look up, out of my mundane (which is not necessarily to say unimportant) concerns, for a reminder that I dwell in a world of connections and movement and grace. When I do, I'm nearly always captivated, delighted, or moved by what I see.
I never noticed this before, but most of the significant moments in Abraham's story—which is really a larger story of God's grace, providence, and salvation, which makes it our story—are introduced by Abraham looking up from what he's doing.
When Abraham first hears God's promise of unnumbered descendants:
The Lord said to Abram, after Lot had separated from him, "Lift up your eyes, and look from the place where you are, northward and southward and eastward and westward; for all the land which you see I will give to you and to your descendants for ever." (Genesis 13: 14-15)
When Abraham hosts three strangers, who tell him that his elderly, barren wife Sarah will bear a son:
And the Lord appeared to [Abraham] by the oaks of Mamre, as he sat at the door of his tent in the heat of the day. He lifted up his eyes and looked, and behold, three men stood in front of him. (Genesis 18:1-2)
When Abraham brings his son Isaac to the mountaintop, preparing to sacrifice him for God:
And Abraham lifted up his eyes and looked, and behold, behind him was a ram, caught in a thicket by his horns; and Abraham went and took the ram, and offered it up as a burnt offering instead of his son. (Genesis 22:13)
When I looked up from my car yesterday to see the hawk and the blue, blue sky, when I have looked up on my afternoon drives to take in the brilliant autumn foliage, nothing nearly so life-changing has happened to me. No divine voice, no strangers bringing unexpected good news, no last-minute salvation from a terrible fate.
But looking up now and then still feels like one of the more important things I do every day. It's a little mini spiritual discipline, a prayer with no words, a reminder that I belong to a world and its creator, both far bigger than whatever worry, annoyance, or fatigue I'm carrying around.
Just look up. You're bound to see something beautiful, strange, or captivating. And maybe even, like Abraham, hear a message from God.