Next week, we start a major kitchen renovation. I promise this will not morph into a DIY or home improvement blog, but I will occasionally write about our renovation here. So much of what I write focuses on our relationship with the material world—with our bodies, with clutter and Christmas gifts and food—and how material life and our inner lives interact. We're renovating our kitchen because we wanted more attractive fixtures and a more functional layout, but also so that our kitchen will better reflect how we live together as a family, how we care for one another through mundane acts of cooking, eating, working, studying, coming in, and going out.
Also, I adore reading other people's home improvement stories, and especially salivating over photos. So in an effort to provide you with little doses of pleasure when I can, I will offer an occasional renovation story to satisfy those who share my voyeuristic tendencies.
The basic plan: We are gutting our current kitchen and putting in all new cabinets, appliances, flooring, and tile backsplash;, moving our half bath; adding a designated entry area and a small office area for me; and knocking down a wall between the current kitchen and dining room to create one big room. Our major goals for the project were to gain 1) a more functional main entrance to our home and designated places for all the stuff that goes in and out, 2) a more spacious eating area, 3) more light and warmth, 4) accessibility for all family members, and 5) better physical and visual connections/flow between kitchen, dining room, sun porch, and backyard.
1) Entrance and places for stuff
The kitchen is the main door everyone uses to go in and out of the house, but there is not even a closet to reflect this fact. Coats are piled in a narrow broom closet, papers are piled on the non-working side of our electric cooktop (which is both a fire hazard and a great way to lose track of important papers), and backpacks sit on the floor, blocking the back door that leads to our three-season porch. The new kitchen will have three cubbies just inside the door, one for each child, equipped with jacket hooks and places for hats and gloves, backpacks, and shoes. Additional wall hooks will accommodate my and Daniel's coats and the dog's leash. A desk will become the new home for paperwork, outgoing mail, and electronics being charged.While I've come to accept the masses of stuff that come along with three kids, my poorly organized kitchen makes me more frazzled and absent-minded than I'd like to be. A new kitchen is no guarantee that I won't occasionally lose an important paper or that the kids will suddenly start hanging up their coats rather than flinging them onto the table, but it nudges us in the right direction.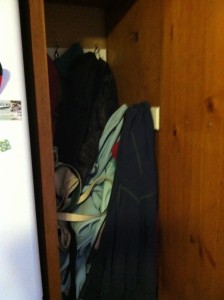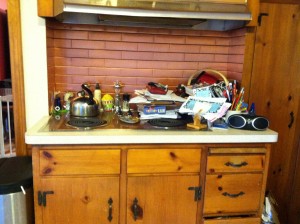 2) Eating area
Our table currently occupies a narrow nook, which requires those sitting on the far end to squeeze themselves behind those sitting on the near end. If we have even one guest for a meal, we have to pull the table out from the wall to add an extra chair. Our dining room, which has a gorgeous bay window overlooking the back yard, is dominated by our piano. We eat there rarely; my gateleg dining room table is too large to leave open all the time, so we leave it closed up and open it only for holiday meals or when we have more than one guest. In the new plan, the dining room will become our primary eating area. A new table will better fit the space and accommodate six people without leaves, up to 10 with them. The piano will move to the living room. A built-in window seat will allow us to enjoy that bay window view not only at meals, but any time one of us feels like sitting in a sunny window. In the main kitchen area, a three-seat breakfast bar will be a convenient spot for quick meals, snacks, or an afternoon cup of tea as I sort through the mail.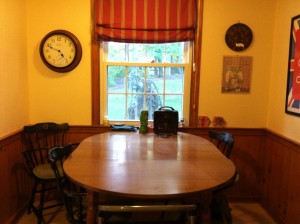 3) Light and warmth
Our kitchen is four or five degrees colder than the rest of the house, and dark, because there is only one window that gets direct light. We will put a larger window on the back wall looking onto our three-season porch, which will also get new windows. Moving our primary eating area to the dining room with its bay window will help us enjoy brighter, warmer mealtimes, as will our color palette—white cabinets and a light grayish-blue paint, with lots of white trim.
4) Accessibility
I am barely 4 feet 8 inches tall, and our kitchen designer asked if I wanted to lower all the counters to be more comfortable for me. I decided not to, as Daniel and Leah also cook and bake, and a highly customized kitchen could be a problem when the time comes to sell the house. So instead, we made a few accommodations for accessibility. There will be a section of counter set lower than standard height and designed for baking, with cabinets underneath to hold my stand mixer, cookie sheets, and other baking necessities. I also chose a farm-style sink; because the countertops only go around the back and sides of the sink, leaving the front open, a farm sink is about an inch-and-a-half lower than a standard sink. Other accessibility considerations include storage for everyday plates and bowls in lower, rather than upper cabinets, and a linoleum floor, which has some "give" (better for my joints) and is less slippery than tile.
5) Connections and flow
We have a beautiful, big backyard, but few places we can see it from inside the house. We have a lovely three-season sun porch, which we rarely use because of the door being blocked by the kids' backpacks, and the nasty old carpet. By sprucing up the porch with new windows and a painted floor, and moving the dining area to the bay windowed dining room, the kitchen will feel visually connected to the backyard. By moving our half-bath, which currently sits between the kitchen and dining room, over to the entrance/mudroom portion of the kitchen, we will have an open flow from the kitchen to the eating area to the rest of the house.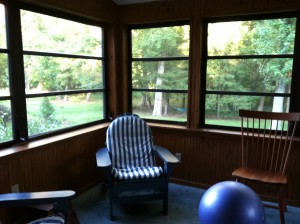 As I've written before, buying, fixing up, and living in this house (which was an uninhabitable wreck when we bought it seven years ago) has been an experience of everyday resurrection. Our new kitchen is a luxury, for sure. We could continue feeding our family out of our current kitchen for many years. But renovating the kitchen is not merely about making it prettier and more functional. It is also about continuing to experience everyday resurrections as we bring this dark and sad house in to the chaotic light of family life. It is about making room, literally, for more comfortable meals eaten together, for better organization to minimize the minor annoyances that can grow to poison our interactions with grumpiness and accusations, for contemplating our backyard gardens in the midst of a regular busy day, for expanding the opportunities for different family members to feed one another, and for more light and more warmth.