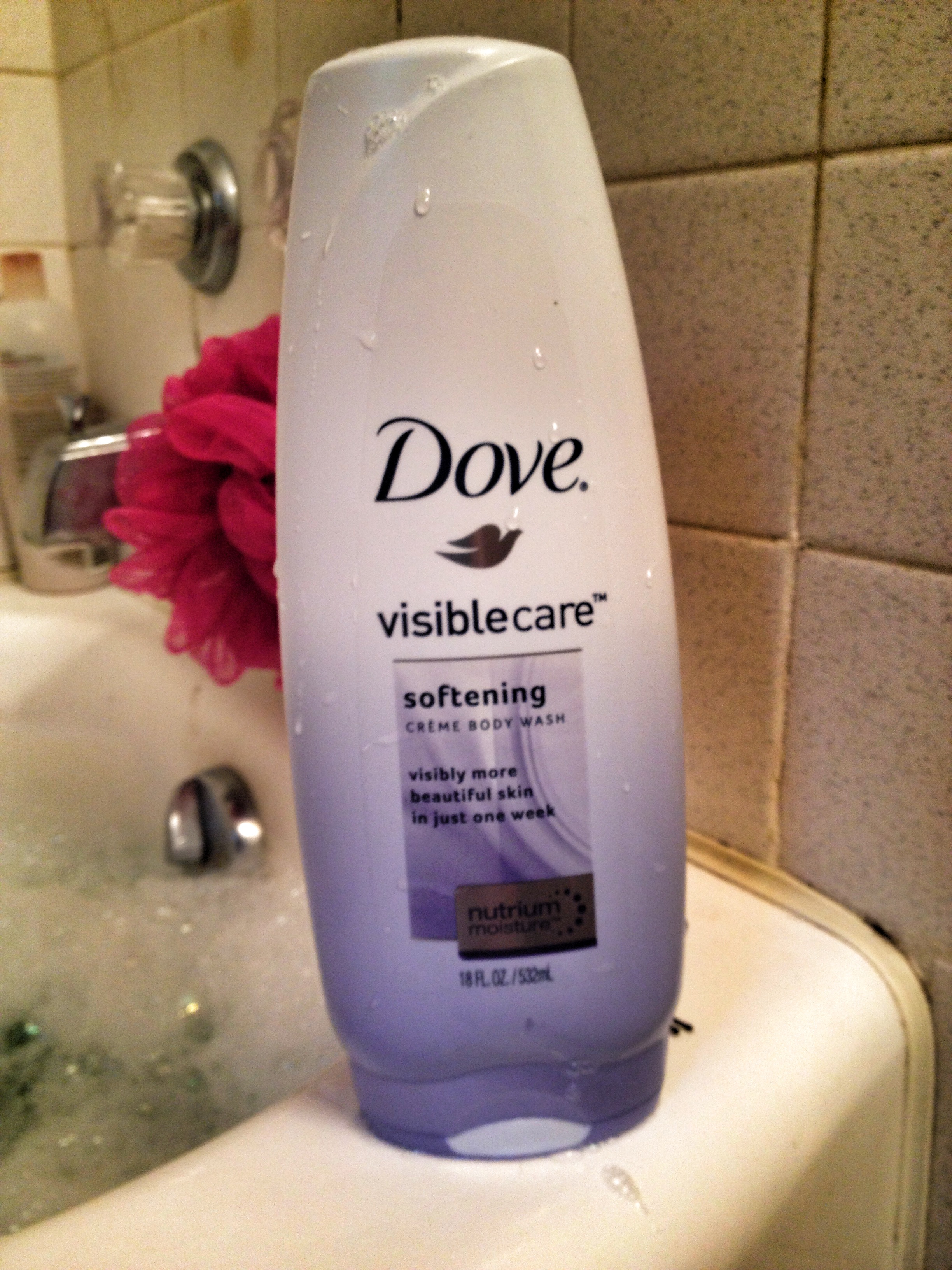 I don't take showers.
You can ask my hubs, I'm so for-real, y'all!  Ever since I was preggo with R2 I simply couldn't manage to stand up for long periods of time being THAT preggo.
And here's the thing: I never went back.  I've been a bubble bath addict ever since.  And I only shower if I absolutely have to.
And do you want to know the truly ghetto side of me?  Last week, I was in such a big hurry I brought the nozzle down & a took shower/bath.  HA!
Okay, so now that your overly informed on my bathing habits, I'm sure you'd love to hear about the actual product…
Because I LOVE my bath times I was a lil' geeked to review Dove's Visible Care Softening Body Wash which claims to give you visibly more beautiful skin from a body wash in just a week.
Now.  That does assume one showers or bathes each day.  For the sake of my readers though, and because I am so totally committed to bringing you a beautiful life, I decided to give this product an honest shot…
…while bathing of course!  Yep, everyday.  =)
I have to say, after a week I am impressed.  I DID see a a difference.  My skin IS actually smoother, softer, and it DOES look healthier. Call me crazy, but I loved how it lathered on my bright pink poof. I officially, love this product!
The way it works its magic is by containing the highest concentration of NutriumMoisture technology across the Dove portfolio.  It uses pearlescent crème format, contains a mild cleanser, smells really good & retails for only $6 buckaroos!  If you want to learn more about the product line you can do so here.
Let's face it ladies, we have to fight to love ourselves, to take care of ourselves and if we manage to do all that AFTER taking care of the house, and the feeding of multiple people, and putting the babies to bed then we probably aren't giving much thought to the care of our skin…
…but here's the thing, it's the only skin we got!  It's worth investing in.  Especially affordably.
**I was provided a bottle of Dove's Body wash, but opinions are my own.**
Visit Dove® VisibleCare® to get a coupon for $1 off!
Okay, y'all time for the giveaway.  You can win one of two $500 Spafinder gift certificates!!!!
Enter to win one of two $500 Spafinder gift certificates!
NO PURCHASE NECESSARY
COMMENTS TO THIS POST ARE NOT SWEEPSTAKES ENTRIES. PLEASE SEE BELOW FOR ENTRY METHODS FOR THIS SWEEPSTAKES.
You may receive (2) total entries by selecting from the following entry methods:
a) Follow this link, and provide your email address and your response to the Promotion prompt: HOW DO YOU LOVE THE SKIN YOUR IN?
b) Tweet (public message) about this promotion; including exactly the following unique term in your tweet message: "#SweepstakesEntry"; and then visit this link to provide your email address and the URL to that Tweet.
c) Blog about this promotion, including a disclosure that you are receiving a sweepstakes entry in exchange for writing the blog post, and then visit this link to provide your email address and the URL to that post.
This giveaway is open to US Residents age
18 or older. Winners will be selected via random draw, and will be notified by e-mail. Winners will have 72 hours to claim the prize, or an alternative winner will be selected.
The Official Rules are available here.
This sweepstakes runs from 7/18/2012 – 8/22/2012
Be sure to visit the Dove® VisibleCare™ Crème Body Wash brand page on BlogHer.com where you can read other bloggers' reviews and find more chances to win!
Here's to our beautiful –and hopefully spa-filled– life! So tell me, how do you love the skin your in?