In late July, I parlayed all over the San Jose Conference Center, soaking up every doggone minute of the Blogher '14 conference which was EVERYTHING. I'd been chosen as A Voice of the Year & asked to read my self-nominated piece, Letting The Stupid Little Nigger Go.  (You can watch my read-through here).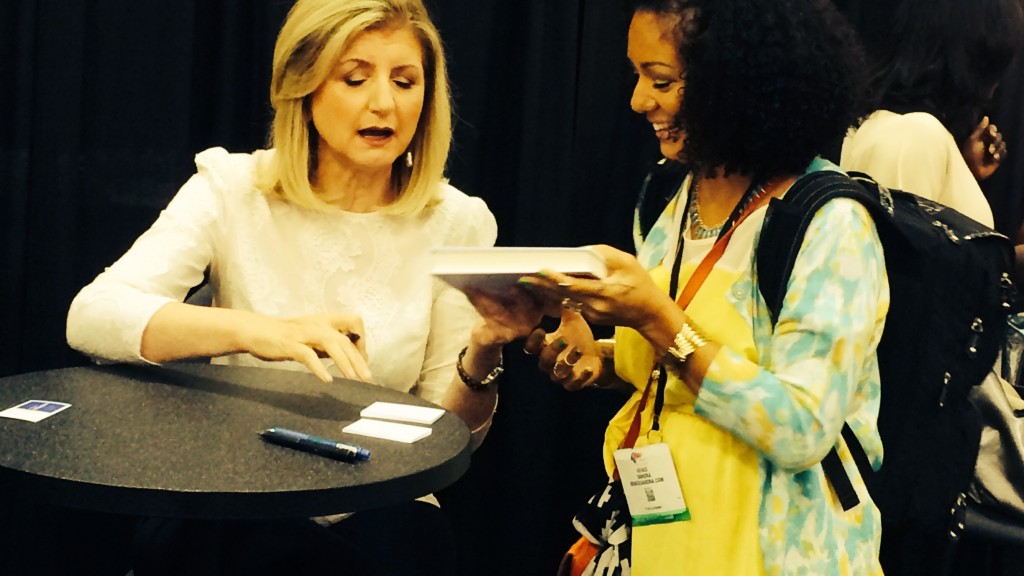 ////
Picture me on the main stage in front of my blogging peers and some of the most powerful voices on the planet: Arianna Huffington.  Guy Kawasaki.  Kerry Washington.  I'm wearing a gorgeous, shimmery gold dress I'd miraculously found 80% off at an consignment store for $4 —> IT FIT ME LIKE A GLOVE.  Makeup: flawless.  Hair: flawless.  Shoe game: tight.  I gracefully take the stage, take a deep breath and mutter: "this is soooo awesome!" before beginning.  I read my piece to raucous applause, twitter mentions aplenty, hugs, tears & verbal affirmations for the next 14 hrs.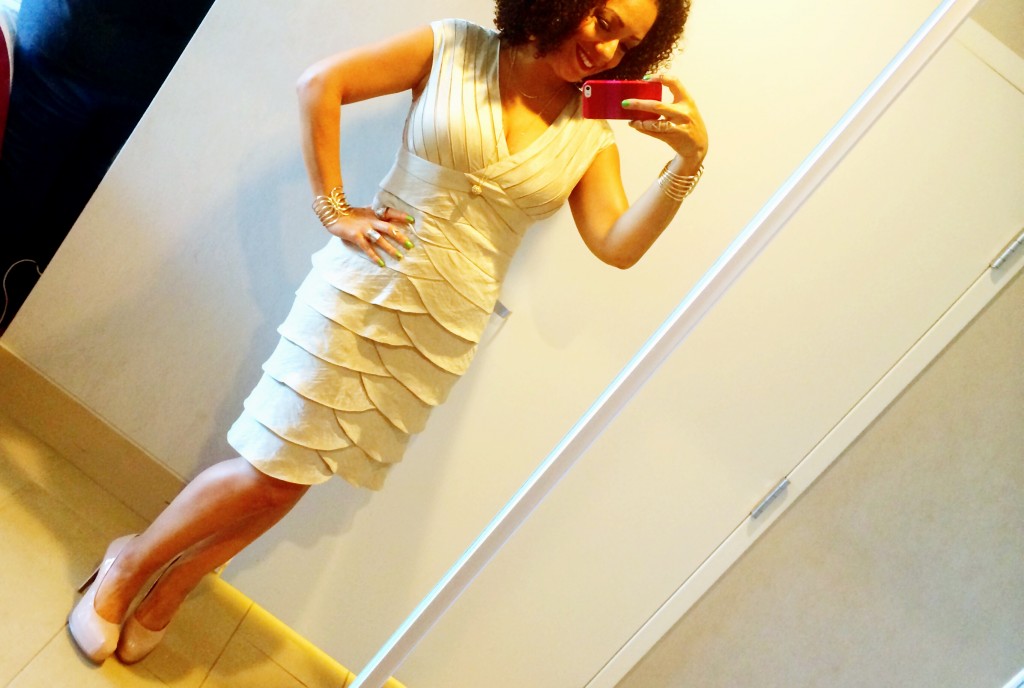 I am the picture of blogging success.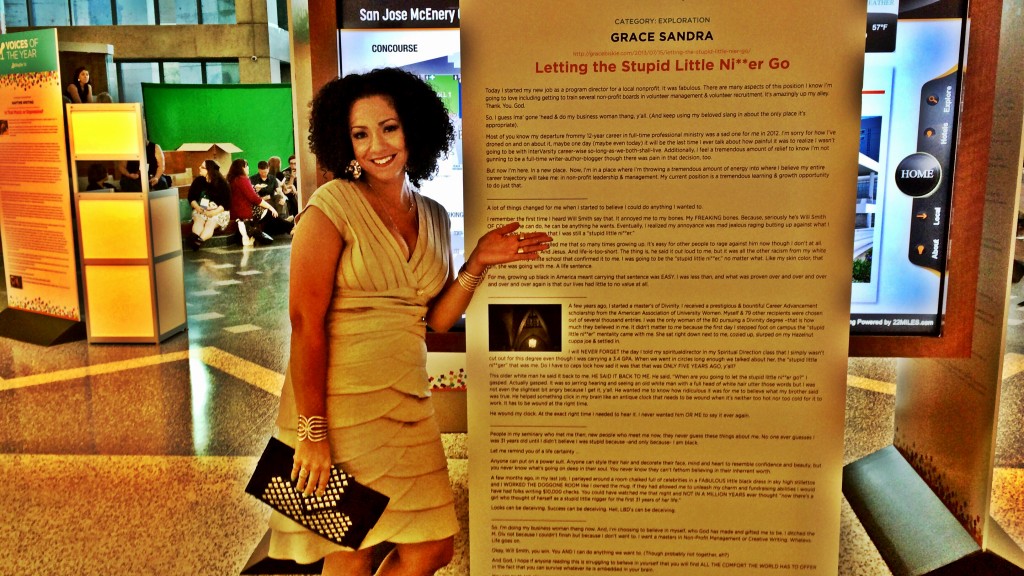 Right?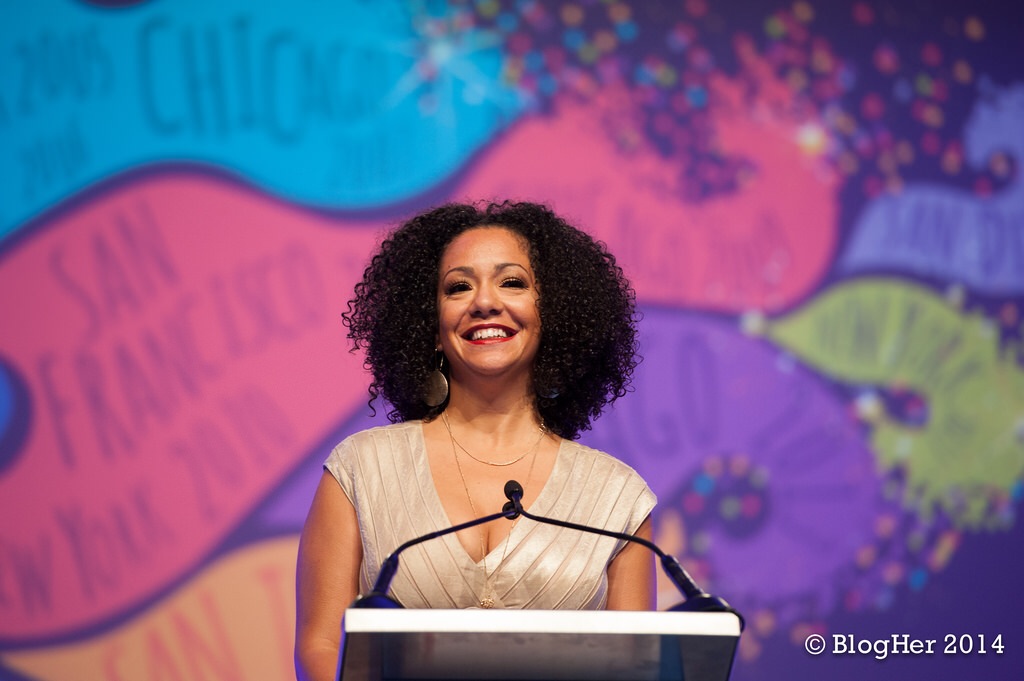 Wrong.
////
Success is a fickle bitch isn't she?  I stood up on that stage, and read through my piece as boldly and confidently as I could muster, yet I cried several times throughout the reading of my article not only because it was about overcoming being repeatedly called a 'stupid little nigger' growing up, but because the weight of my present day failures overtook me.  The words as poignantly & painfully relevant for me as when I wrote them a year ago to the day I stood on that stage.
"Anyone can put on a power suit.  Anyone can style their hair and decorate their face, mind and heart to resemble confidence and beauty, but you never know what's going on deep in their soul.  You never know they can't fathom believing in their inherent worth." -GS
Allow me to explain via a quick bulleted overview of 2014:
In Jan., Feb. & March I'd made some very poor personal choices that hurt myself and others significantly.
In late April, I moved out of the family home.  A week later, I lost my job.
In early May, I finally ended my 14 yr. marriage for good.  Dunzo.  Sad but GOOD.
Just three weeks before Blogher, I was handed papers of why I'm an "unfit mother" in a bid for sole physical custody of my two boys.  (NOTHING on this earth feels more like FAILURE then your husband attaching that label to you.  It is heinous).
Within the same 9 hrs. of being served those papers, I learned my back-logged unemployment was ultimately denied & with zero income, I was facing a possible eviction.
Even though I have 14 yrs. career experience I hadn't found a job in my field after 2.5 months.  With the financial fears of course, came the heart palpitating insecurities that I actually could lose my boys.
Two weeks before Blogher, I'd stepped into a hearing to defend my right to parent my boys, which is as traumatic as it sounds.
A week before Blogher, I wasn't sure I could even attend.  Given the importance of The Voices of the Year Ceremony, a herd of Blogher friends did a quick fundraiser & raised the exact amount I needed.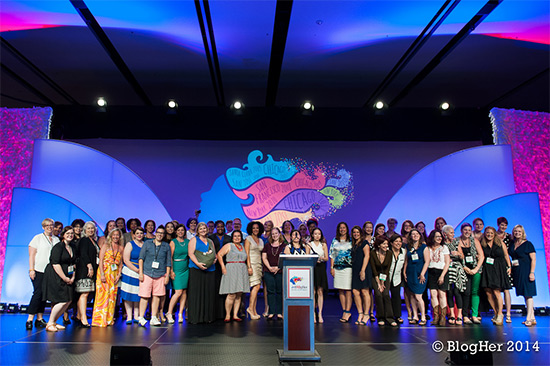 Does that sound like the picture of success AT ALL?  More like ABYSMAL FAILURE.  Yet,  there was my "success" sandwiched right there in the midst of multiple personal failures.
////
 A year earlier, I watched Kelly Wickham read her Voices of the Year post.  I was sitting front row.  Here was this beautiful brown woman, looking a lot like me, reading a powerfully inspiring story of strength & dignity as she described the challenges of pursuing an education while being a responsible teen mother.  I was in awe.
I went home & wrote this goal: "I will read something inspiring, encouraging & hope-filled at the next Voices of the Year ceremony."
A few days later, I wrote what would be -12 months later- my winning post.  I didn't spend a lot of time critiquing the goal or my desire to see myself up on that stage. I just knew I wanted it.  And when I want something I go after it.  I forgot to be sorry that I wanted to #succeed & therefore I didn't distract myself with all of the reasons this particular goal wasn't worth trying for.
I found the words within myself to #succeed.  To #succeed even amidst SUCH HUGE EPIC FAILURES meant CHOOSING to follow through un-afraid.
There's rare moments in life when we are forced to dig deeper and try harder than we ever have to experience to #succeed the way we want.
////
In my piece, I dealt with figuring out my inherrent worth in the midst of getting an education —-a Master's degree no less.  If I hadn't had a good start in my early education, I'm certain I would have never overcame the stereotypes thrust upon me.
My Ma kept an entire series of leather-bound Encyclopedia Brittanica's in our home, which I read when I was bored enough.  Thick books, tiny print, organized alphabetically by subject matter but I devoured those books over the years.
I'm writing today on behalf of Save The Children to highlight the fact that early childhood education can help establish the foundation to learn, grow, and succeed.
I have been able to succeed in big & little ways because despite my mother's poverty. I was given a good education and I had access to Encyclopedia's and a precious few developmentally appropriate books for my age range.  This is not the case for 65% of young kids in need have little or no access to books and the more than two-thirds of poverty-stricken households that do not possess a single book developmentally appropriate for a child under five.  Under these conditions, by age three, children from low-income homes hear on average 30 million fewer words than their peers, putting them 18 months cognitively behind his or her peers when they start school.
 ////
I'm using my words today to help kiddo's #FindTheWords they need to #succeed.  Save The Children is providing kids in need access to books, essential learning support and a literacy-rich environment, setting them up for success in school and a brighter future. Learn more about Save the Children's work in the US and around the world here.
Wanna help spread the word & earn some scrilla?  I'm giving away $100 to the most creative entry.
1. Take a photo of yourself creatively using the word #succeed & post it to Instagram, Facebook or Twitter.  Hashtag the photo #FindTheWords #Succeed & #GraceSandra.
2. Write a post using the following prompts: (hashtag your post shares with #FindTheWords #Succeed & #GraceSandra)
Have you ever had the opportunity to help a young person succeed? What was that experience like?
Has anyone helped you succeed? How did that person impact your life?
Have you recently experienced a success? What factors helped you succeed?
In addition to education, what else can help the young children of the world succeed in their lives?
3. Make a video about the above prompts, post it to YouTube with the hashtags: #FindTheWords #Succeed & #GraceSandra
///
GET CREATIVE, YO!  Post your entry by September 2, 2014 at 11:59pm.  Most creative & inspirational wins $100!
Get artsy, y'all. <3
Don't forget to hashtag all three so I can find your entry: #FindTheWords | #Succeed | #GraceSandra