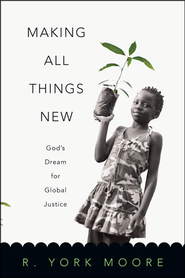 I am reading -and loving- R. York Moore's newest book, Making All Things New: God's Dream For Global Justice.  Because York is my current mentor, married to one of my very bestest friends, my former InterVarsity staff worker & the one who led me to Christ and discipled me, it seemed fitting to mention that outright.  Also, he gave me an advanced copy to read and affiliate links are included.  Full disclosure is really sort of a thing nowadays, eh?  Okay, now that that's out of the way, I feel free to tell you this:
I believe Making All Things New is a special and  important book for the Evangelical Christian community. 
As I tried to explain York's book to my hubby this morning, I was near tears when I told him how the book makes me love God all the more.  It renews my understanding of the Gospel, the price Jesus paid for us and the hope that Christians have toward the future.
"When the great eschatological realities of the Christian faith are ignored or allegorized, we lose the ability to provide a cohesive, comprehensive worldview. As a result, the Christian message itself is compromised. We can't have the great love of God without the great wrath of God."
York addresses that age old evangelical Christian bickering between those that believe the Gospel is most important above all, therefore we should not get sidetracked by justice, poverty & the earth falling apart.  On the other end, those that believe we should focus solely on the poor, the aging earth and the trafficked and allow the Gospel to be "spoken" through our actions.  York shows through extensive explanation that both are key, both vital and both equally important and a part of God's overall plan for global justice.
"This last great command should be understood holistically.  We can't reduce this command to evangelistic preaching. In making disciples of all nations and teaching them to obey everything Christ commanded, we have the basis for anti-trafficking work, care for AIDS and malaria patients, food for the hungry, clothing for the naked, release for the prisoners. All of this is included in global discipleship.  However, the mission of the church is never anything less than the proclamation of the good news of Christ.  This is what we saw the first church do in Acts—they proclaimed Jesus. They also shared meals and property and resources as those among them had need. They challenged political and religious powers. And they set the precedent for all medical mission and humanitarian efforts in their care for the sick and poor.  There is no false dichotomy in the Bible between the preaching of Christ and the practice of justice and compassion.  But in our age, the latter threatens to eclipse the former. We are in danger of repeating the same error that many of the great mainline denominations made: give up on the proclamation of the gospel in exchange for nothing more than human activism."
I also appreciated York's focus on two things throughout the course of the book: marriage & human trafficking.  He talks a lot about his wifey, their engagement and wedding (which I was in!) and how many aspects of their marriage relationship -both the beautiful and the painful- mirror God's work throughout humanity.  While affirming the contract of marriage he shows God's plan for the world -beginning to end- through the lens of marriage which is God's ultimate commitment to us.  It's really beautiful to read the fuller picture of what it means to be "the bride of Christ," the phrase folks endlessly throw around but has to my ears always sounded REALLY weird.
"After over fifteen years of marriage, the process of the journey has changed me in such a foundational way as to make me more fit for marriage, and for heaven as well.  So it is with the dream of God…Divine history ends with the marriage of God's people to himself. In the wedding feast, we see the cessation of separateness, the end of loneliness, the beginning of community and of new life. God is on a mission to make all things new, and on the mountain, at the wedding feast, we see the whole, final fulfillment of his dream—and we are called to live into this dream right now.  We bring the future joy of the wedding feast of God into the lives of the invited guests through Christian mission; mission is nothing less than this. Mission is ultimately the work of inviting the world to be one with God, to join in not as an observer but as the bride in the greatest wedding of all time—God's wedding.
Throughout the book, York paints the sad realities of our world, one of which is the fastest growing, completely repulsive large-scale crimes happening in every major city on our planet: human trafficking. 
What on earth does God have to do with children being raped?  And what is God is going to do about it?  And why does God allow it to happen? 
Yep, York answers that too.  He answers it with wise, in-depth, Biblically astute answers drawing heavily on the book of Revelation and what God says is to come: war, judgement & justice.
When we think of a homeless Black boy in the inner-city of Detroit, an eight-year-old AIDS orphan in sub-Saharan Africa or a fourteen-year-old sex slave in the brothels of Iraq, we have to realize that we don't have the luxury of choosing an either/or Jesus. The suffering and injustice of our broken world demands a solution more significant than what popular Christianity often promises; it demands a solution of power and transformation.
York's writing style is smooth, a bit heady but if you can keep up worth it.  If you have questions about Christianity, a nagging feeling about why God allows evil, a fascination or dread-fear of Revelations or a desire for God to make all things new with your own life this is an excellent book to read.
"Judgment, condemnation, vengeance, wrath—these are the precursors to the great announcement that God's wedding feast is ready because it is the prostitution, the adulteries, the unjust shedding of blood that stand as an affront to the invitation.  God's dream can't come to pass while women, men, boys and girls lie strewn in the dusty alleys of rural villages, while prostitutes sit waiting for give sex tourists, while women are ravaged by AIDS and children continue to die of malaria. Evil and human suffering in this realm must be done away with.  Unfortunately, most evil and suffering are not simple by-products of a world in free fall.  Behind most suffering is a monstrous face: someone profiting from pain. Behind the defeated whimpers of children who cry themselves to sleep are the wealthy and well fed who could have done something but chose to ignore the need. Either through the remote consumption of goods and services that come at the price of human lives or through direct exploitation and victimization, most suffering in the world is our fault. In the end, however, Babylon (both real and figurative) will be destroyed".
I'm telling you, this brotha is DEEP.  So, if your looking for a book to inspire and challenge you in your faith that you can sink your teeth into, here it is.  Your, welcome.
~
I'm thrilled to giveaway a copy as well!  Just leave me a comment below by Nov. 25.  Tweet the post for an extra entry & leave the tweet URL in another comment.
~
 York's Street Cred: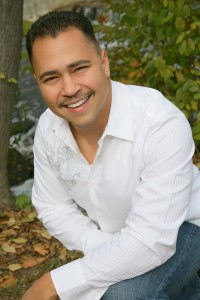 R. York Moore is the National Evangelist for 
InterVarsity Christian Fellowship/USA
. He speaks widely on issues of global social injustice and is particularly passionate about the modern day slave trade.  As a modern day abolitionist, R. York Moore has conducted "justice invitationals" throughout the United States in conjunction with many anti-slavery non-governmental organizations. Working with political leaders, law enforcement, academicians, faith-based communities, business leaders and the medical community, Moore seeks to create sustainable solutions to the growing problem of modern day slavery. Moore has led thousands to faith in Christ through the lens of justice, mobilizing them to follow Jesus into the world to make all things new for his kingdom. He and his wife live in Michigan where he came to faith from atheism as a philosophy student at the University of Michigan.  He blogs
here
.  He tweets
here
.