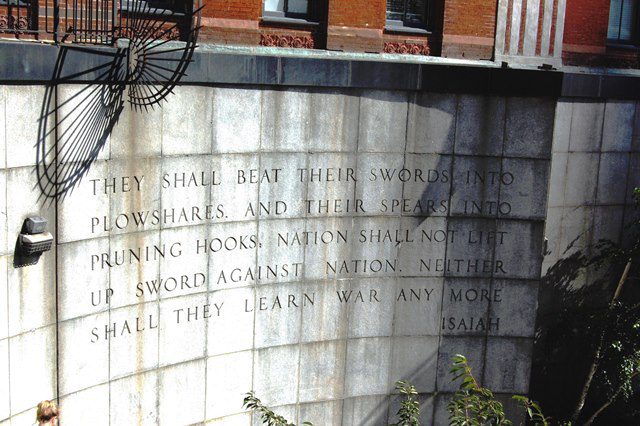 If you happen to be in Manhattan this afternoon, and stroll past Dag Hammarskjold Plaza in front of the UN, you will most likely see dozens of people with signs declaring such slogans as "Arrest Bashir," "#JusticeNOW," and "Stop Rape in Darfur." Or if you are on Twitter or Facebook, you may see the same demands. . . and, hopefully, even participate in some of the action yourself.
The early 2000's called: They want their war criminal arrested. And so do millions of Sudanese and South Sudanese and their supporters all over the world.
It was 7 years ago today, March 4, 2009 that the International Criminal Court (ICC) at The Hague issued its first arrest warrant for the President of Sudan, Omar al Bashir. The warrant was issued on the basis of the evidence collected scrupulously by ICC Prosecutor, Luis Moreno Ocampo over a three year period. The prosecutorial evidence showed that Bashir "bears criminal responsibility in relation to 10 counts of genocide, crimes against humanity and war crimes."
A press release from the Office of the Prosecutor when Ocampo brought his case to the ICC elaborated:
For over 5 years, armed forces and the Militia/Janjaweed, on AL BASHIR orders, have attacked and destroyed villages. They then pursued the survivors in the desert. Those who reached the camps for the displaced people were subjected to conditions calculated to bring about their destruction. AL BASHIR obstructs international assistance. His forces surround the camps. One victim said: "When we see them, we run. Some of us succeed in getting away, and some are caught and taken to be raped — gang-raped. Maybe around 20 men rape one woman. […] These things are normal for us here in Darfur. These things happen all the time. I have seen rapes too. It does not matter who sees them raping the women — they don't care. They rape girls in front of their mothers and fathers".   

For over 5 years, millions of civilians have been uprooted from lands they occupied for centuries, all their means of survival destroyed, their land spoliated and inhabited by new settlers. 'In the camps AL BASHIR's forces kill the men and rape the women. He wants to end the history of the Fur, Masalit and Zaghawa people' said the Prosecutor. 'I don't have the luxury to look away. I have evidence'. 
Ocampo's mandate only included investigating Darfur, but the truth is that Bashir's National Islamic Front regime is the perpetrator of genocide in the Nuba Mountains and Blue Nile State (for the second time) and in South Sudan, as well as Darfur. ICC arrest warrant or not, Bashir is still free, and happily waging jihad against black African Sudanese and participating in the Islamist agenda of global jihad followed by a global Caliphate. Horrifyingly, he and his fellow indictees are still invited abroad — including to events such as the National Prayer Breakfast in Washington, DC.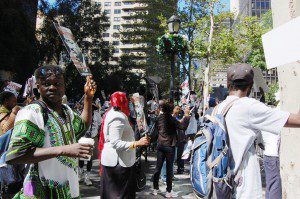 Currently, the government-led violence against ethnic-African Sudanese civilians is as bad — if not worse– than it has ever been. There are deeply disturbing reports of government troops along with Islamist militias (think ISIS) supported by the Bashir government amassing tanks and weapons for spring offensives in Darfur, the Nuba Mountains, and Blue Nile State.
Camps for internally displaced people (IDP's) and refugees are being attacked and dismantled. And in another ploy to displace indigenous African civilians and "colonize" the regions with foreigners from the Arab world who are sympathetic to the regime's ideology, villages in Darfur are being burned and regions of the Nuba Mountains and Blue Nile State are constantly under threat of aerial bombardment.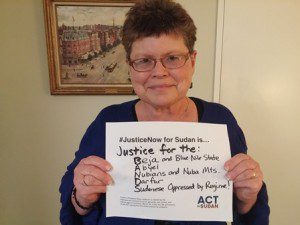 Bashir's National Islamic Front regime has settled on gang rape as a particularly heinous weapon of war, particularly in Darfur. In one such case, some 220 women and girls were raped over a 36 hour period, October 30-November 1, 2014, in Tabit, North Darfur by Sudanese troops by order of their commander. Similar atrocities have occurred in the Nuba Mountains and Blue Nile State. But starvation is another weapon used by Bashir. Not only are citizens' crops burned and livestock taken or slaughtered, but delivery of international humanitarian aid is being restricted or blocked all together.
Not content with destruction in Darfur, Nuba Mountains, and Blue Nile State, the Bashir regime is also attempting to eradicate the culture of the indigneous Beja people of Eastern Sudan, and the Nubians in the far north. Sudan, together with its partner, Saudi Arabia, is building dams on the Nile River in Nubia in locations selected with the purpose of flooding and eliminating ancient Nubian cultural sites.
It is appalling that seven years after the issuance of an arrest warrant for him Omar al Bashir has still not been brought to justice. The good judgment of Prosecutor Ocampo brought such hope to Sudanese people who have been oppressed and persecuted by the regime. But without the cooperation of the international community, particularly the UN member states who have wasted opportunities to detain Bashir, the ICC indictment is just 'sound and fury' and it signifies: nothing.
This is why Dag Hammarskjold Plaza will be crowded with protesters this afternoon. And this is why those protesters will deliver to Angolan diplomat H.E. Ambassador Ismael Abraão Gaspar Martins, the President of the United Nations Security Council, a letter sponsored by the Act for Sudan coalition and signed by over 110 human rights activists and organizations, church leaders, genocide scholars, and others.
If you're not in Manhattan, you can still participate today by raising your voice on social media for an end to impunity for Sudan's war criminal president. Act for Sudan, the organization that believes in action, has provided a page of virtual actions to take for the people of Sudan on Facebook, Twitter, and other social media. It supplies a downloadable PDF that you can hold in a photo to register your solidarity with #JusticeNOW for Sudan. Taking such actions can have a real effect on the situation, but just as importantly, it is extremely encouraging to the Sudanese people, to know that they are not forgotten.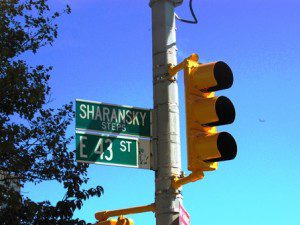 Close to Dag Hammarskjold Plaza are the Natan Sharansky steps. A great icon of freedom, Sharansky
said "In dictatorships you need courage to fight evil; in the free world you need courage to see evil." Our Sudanese brothers and sisters have the courage to fight evil. Do we have the courage to see evil and stand with them?