Super Tuesday is here. Americans in a dozen states will pick their favorite presidential nominee. Who's leading the Republican presidential primary polls? The man we kids of the 90s recognize from a Home Alone 2 cameo and then later reality TV show The Apprentice. Donald "You're fired!" Trump is sprinting in the polls by double digits in some places for the job of Commander and Chief. Apparently, it's we "evangelicals" who've helped him along the trail.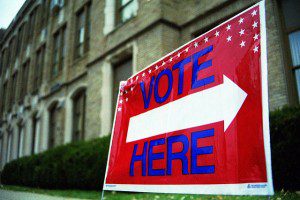 For the past two excruciating hours, I've sat at my kitchen table staring at my computer screen in vain. Copious amounts of coffee since 5:22am haven't helped. It seems words are hard to puzzle together when logical reasoning is missing. And there's little logic available to answer the question, "Despite all the blowback from Christian thought leaders on his candidacy, why are evangelicals still supporting Donald Trump?" The journalist will soon come looking for the comment I promised him, but I've got niente.
For months, prominent leaders within conservative Protestant denominations pushed back against Trump's political platform. They've presented deep, substantial political and theological arguments for why this candidate is unfit for the presidency. But lukewarm (and some faithful) evangelicals aren't listening to them.
Editors over at the Christian Post are so frustrated with Christian voters they've defied tradition of neutrality to tell readers, "Donald Trump is a scam. Evangelical voters should back away."
Poor Dr. Russell Moore, president of the Southern Baptists' Ethics and Religious Liberty Commission, can't even call himself an evangelical right now because he's so disappointed with the politics of possibly mislabeled people.
Political pundits and religious commentators repeat their theories as to why the evangelical voting bloc is enamored with a man who is supportive of Planned Parenthood and says, if elected, he will "open up" libel laws so he can demolish freedom of the press.
Their theories may be right or they may be wrong. Either way, Super Tuesday is here. The problem is out of our hands now. So I'm going to stop trying to figure out the evangelical voting bloc and start praying for God to help us. Will you please join with me?
"If my people who are called by my name humble themselves, and pray and seek my face and turn from their wicked ways, then I will hear from heaven and will forgive their sin and heal their land." – 2 Chronicles 7:14
Dear Heavenly Father,
With humble hearts we thank you for our nation, our political representatives, and our freedoms. We especially thank You for the freedom we have to seek Your face when our hearts are heavy. On this Super Tuesday, many Christian citizens' hearts are heavy.
Too often, Lord, we elect certain political representatives because we misplace all our hopes in personas of strength and empty promises to care for our daily needs rather than place our trust Your capable hands. Forgive us.
Today we pray for Your wisdom today as many of us go to the polls to vote for a presidential nominee. Specifically, we ask for You to help us to make wise, prudent decisions for the sake of our nation. Help us recognize the importance of our choices and also the serious consequences our decision can have on others abroad.
We also lift up President Obama and his family. Please grant the President wisdom and courage to uphold our Constitution. Help him and his family navigate the next several months as they look toward a new season of political and personal life.
Please be with our eight Supreme Court justices as they make complex legal decision that impact the entire nation. We lift up the United States Senate and the House of Representatives. Please help our 535 elected officials to lead with truthfulness and righteousness. We also pray for our state houses, local courtrooms, and public school systems. We specifically pray that our local administrators will acknowledge You and Your authority and goodness.
Finally, Father we thank You for the grace and mercy you've shown in our own lives. Thank You for concerning Yourself with our big problems and our smaller ones. Give us strength and courage to be public witnesses for Your glory this day.
In Jesus precious name,
Amen.