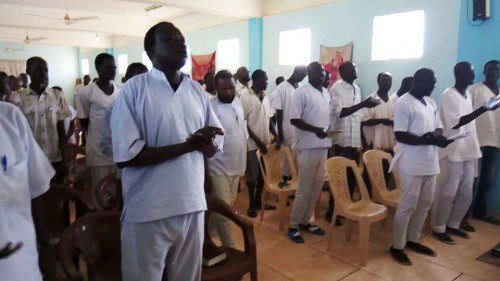 You may have seen the powerful video of the Sudanese man reunited with his wife and children after four years. Everyone witnessing his homecoming is in tears already, and then the man, Dyan, drops to his knees on the floor of the Texas airport in thankfulness to God. It is beautiful, and what a reminder to us at Thanksgiving. A modern day pilgrim coming to America for freedom!
I wish the video had told us from where in Sudan Dyan and his family come instead of just calling him a "Sudanese" refugee. Not everyone is interested in getting into the weeds I know, but as an advocate for Sudan and South Sudan for 23 years, I am interested in the details. One of those details is the genocidal action of the Khartoum regime against the marginalized people of groups of Sudan — the Nuba, the Darfuris, the people of Blue Nile and Beja Land, and the African Nubians.
As we thank God for all the blessings He has given to us this Thanksgiving, please think about some other Sudanese men who are without that blessed freedom. Sudan Church of Christ pastors Kuwa Shamal and Hassan Abduraheem, both from the Nuba Mountains, Darfuri civil rights activist, Abdelmoneim Abdelmoula, and Czech Christian aid worker Petr Jasek have been imprisoned for almost an entire year, threatened with death sentences by the Sudan regime in Khartoum.
Christian Solidarity Worldwide relates that the four face at least seven separate charges including espionage (Article 53 of the Sudanese Criminal Code), waging war against the state (Article 51 of the same code), and provoking hatred among sects — all very serious charges and charges that are frequently invoked against Christians.
Voice of the Martyrs' Prisoner Alert explains:
In November 2015, Rev. Shamal, Rev. Abduraheem and Mr. Jasek attended a conference for Christian leaders where Rev. Abduraheem was a presenter. While speaking on his work as a church leader in Sudan, Rev. Abduraheem showed a picture of a young man from Darfur who had been badly injured during a demonstration. Mr. Jasek later met with the injured man in Khartoum and donated money toward the man's medical treatment. As Mr. Jasek left Sudan, he was searched by the National Intelligence and Security Service (NISS), who discovered a receipt for the donation to the injured man. They then confiscated his personal belongings, including his mobile phone, laptop and camera.

Nine days after arresting Mr. Jasek, NISS officers arrested Rev. Shamal and Rev. Abduraheem, who had signed the receipt. Charges were officially filed in August 2016. At least three court dates have been delayed because a translator failed to appear in court.
The trials of these men have been delayed several times. There have been reports of serious health issues for both Reverend Shamal and Mr. Jasek. My friend, former prisoner of Khartoum Mariam Ibraheem, has described to me the deplorable conditions of the women's prisons in Sudan. I can only imagine how much worse would be the men's prisons.
In spite of all this, the men, and the wider church in Sudan remain faithful! I received word, along with the photo that accompanies this blog post, that one of the pastors had said that so many of the prisoners were coming to Christ that they needed more pastors to be arrested to take care of them all! And a report from Christian Today includes a video of some 100 bold Christians (the majority are women, of course!) holding a hymn-singing protest for the four detainees in a Nuba language outside the courthouse.
I am thankful for these brave Christians singing outside the courthouse, for three compassionate pastors, for a courageous Darfuri who embraced Jesus as his Lord, and for all the advocates, human rights groups, and others that are sharing the story of these men and others oppressed by the Islamist regime of Omar al Bashir.
Remembering how God opened the prison doors for Peter, and for Paul and Silas, we know that He can open the prison doors for Hassan, Kuwa, Abdelmoneim, and Petr.