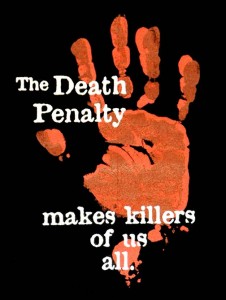 On December 9 2014 despite objections from anti-death penalty activists, a last minute petition to the Supreme Court, and media outcry, the state of Georgia killed Robert Wayne Holsey. Convicted in 1997 for murdering sheriff's deputy William Robinson, Holsey's guilt was never in question. And yet, in the weeks and days leading up to his execution, bolstered by severely negligent representation in his first trial and questions regarding his intellectual capabilities, Mr. Holsey's case garnered significant media attention.
Writing for The Guardian, Ed Pilkington describes the unethical antics of Mr. Holsey's first lawyer: "Every night during the trial he drank the equivalent of more than 20 shots of vodka. He was also under police investigation at the time for having stolen more than $100,000 from a client – a theft for which he was convicted soon after Holsey's trial ended, sentenced to 10 years in prison and disbarred from practising the law."
Perpetually inebriated, Mr. Price failed to provide the jury with any reason to spare his client the death penalty. He neglected to make a compelling case regarding Mr. Holsey's intellectual disability, despite only having an IQ of 70. He did not share with the jury any information regarding his client's difficult childhood.
In the absence of any actual representation it seems the jury was left with but one option: recommending the death penalty.
Given the Supreme Court's ban on executing those with intellectual disabilities, one might assume he would be spared the death penalty, negligent representation notwithstanding. In a blistering op-ed entitled "Georgia's Merciless Push to Kill," The Editorial Board of the New York Times explains why Mr. Holsey was not spared: "But under Georgia law, a defendant is required to prove his intellectual disability beyond a reasonable doubt — the strictest standard in the country and one unmoored from scientific reality." In a state where Mr. Holsey needed the best legal team in order to stand a chance, he was robbed of the right to legal representation—a right granted to all citizens by the constitution.
Yet Mr. Holsey's negligent representation belies one of the primary problems with the whole situation—the reality that in 2014 the United States still engages in state sanctioned killing. To be clear, I mourn with all those who mourn the death of a loved one to a violent crime. William Robinson, the police officer killed by Robert Wayne Holsey, was a beloved child of God and should still be alive today. My objection to the death penalty is nota rejection of accountability. Perpetrators of crime must be punished for their actions. No one should be the victim of a violent crime.  The death penalty, however, does not bring us closer to justice or wholeness.
My own conversion toward an anti-death penalty stance came when I watched my college's theatrical production of Dead Man Walking. I was instantly entranced by the story of
Sister Helen Prejean
, a Catholic Nun from Louisiana, who as a result of her time offering counseling and spiritual support to men on death row, began to see the injustices in our criminal justice system. She is now a leading activist in the United States working for the abolition of the death penalty.
As a Christian, I believe all humans bear the image of God and so all lives are sacred. By adopting the death penalty, redemption and reconciliation is overlooked, and a culture of death and destruction is reinforced.
More so, I am aware of the structural racism and classism inherent in our justice system—a system that failed Mr. Holsey repeatedly. At the launch of a new initiative aimed at mobilizing a diverse coalition to help end the death penalty, evangelical activist Jim Wallis shared, "The single most important factor to who goes on death row is race. We can't accept that anymore. People who are intellectually disabled, indigent, are the ones on death row."
In an interview with The Guardian former President Jimmy Carter spoke directly to the correlation between race and the death penalty: "it is almost inconceivable in these modern days to imagine that a rich white man would be executed if he murdered a black person." Our system is broken and to continue the death penalty is to privilege retribution above creating a safer and more just society.
In his final moments on earth, Robert Wayne Holsey asked for forgiveness. May we all seek forgiveness for our complicity in a system that sees killing as an appropriate form of justice. Perhaps by seeking contrition we can imagine new, more restorative ways, of doing justice and responding to crime.
Kyle Cristofalo received his Master of Divinity from Emory University where he concentrated in Justice, Peacebuilding, and Conflict Transformation. Kyle most recently served as a fellow at the Presbyterian Church (U.S.A.) Office of Public Witness in Washington, DC. working primarily on issues relating to Israel/Palestine, as well as immigration.