Like millions of other Christian environmentalists, I had been eagerly anticipating the release of "Laudato Si" Pope Francis' encyclical on environmental ethics. I have long been an adherent of the notion of Creation Care, or the practice of environmental stewardship as a moral imperative. These are firm convictions and causes close to my heart and which are deeply rooted in my being as a person of faith. I couldn't wait to read what this exciting pontiff whose papacy is still so relatively fresh had to say on these vital matters.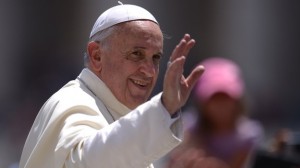 "I urgently appeal…for a new dialogue about how we are shaping the future of our planet. We need a conversation which includes everyone, since the environmental challenge we are undergoing, and its human roots, concern and affect us all…Regrettably, many efforts to seek concrete solutions to the environmental crisis have proved ineffective, not only because of powerful opposition but also because of a more general lack of interest. Obstructionist attitudes, even on the part of believers, can range from denial of the problem to indifference, nonchalant resignation or blind confidence in technical solutions. We require a new and universal solidarity….All of us can cooperate as instruments of God for the care of creation, each according to his or her own culture, experience, involvements and talents," according to the encyclical.
"Laudato Si" was heralded in advance of its release by many of the national progressive Catholic organizations and thinkers I have come to admire (the Franciscan Action Network, NETWORK, Father James Martin, S.J., etc.), and it is still bring promoted and discussed online and in the media. When I attended mass in the weeks following the release of Laudato Si, I was expecting to hear this highly anticipated teaching referred to and passed on to the people from the pulpit. However, I was disappointed when other topics took precedence in the homilies that I heard during those masses. Laudato Si and its pressing message and urgent call to action seemed to be ignored.
Instead of discussion of Laudato Si, I heard homilies about traditional marriage and how families need Christian fathers at the head of them, and much umbrage and gnashing of teeth over the United States Supreme Court's ruling on same sex marriage announced in June.
Also, Pope Francis' poll numbers in America have seem to taken a dip (from the highs of 76% in early 2014 to the 59% baseline approval rating he started out with in the States) since "Laudato Si" was released. Since he began speaking truth to power in an even more amplified manner regarding what he sees, including "an unjust and unsustainable global economy" that is desecrating God's creation and oppressing the poor, and disadvantaged, according to Catholic Church commentator John Allen.
According to Gallup, "The drop in the pope's favorable rating is driven [in large part] by a decline among…political conservatives" and the "drop in favorability is even starker among Americans who identify as conservative — 45% of whom view him favorably, down sharply from 72% last year. This decline may be attributable to the pope's denouncing of "the idolatry of money" and linking climate change partially to human activity, along with his passionate focus on income inequality — all issues that are at odds with many conservatives' beliefs."
Based on this polling, there might reason to believe that propaganda from the powerful interests aligned with the right wing in this country seems to be effecting the perception of the Holy Father and his message. After all, Fox News is trying to gin up negative feelings about the pope and his advocacy for economic and environmental justice by labeling him "The Most Dangerous Man in the World." It is sad if some of the faithful are closing their hearts and minds to reason and morality when it comes to issues of environmental and economic issues because of their susceptibility to this bombastic smear campaign and their allegiance to this indulgent political ideology.
Sabrina McLaughlin is the Secretary/Treasurer of the Mid-Atlantic Region of Young Democrats of America.