Last week President Barack Obama delivered what could become the most significant foreign policy victory of his Presidency: a nuclear peace deal with Iran. Speaking of the historic peace deal, President Obama remarked,  "[A]fter two years of negotiations, the United States, together with our international partners, has achieved something that decades of animosity has not — a comprehensive, long-term deal with Iran that will prevent it from obtaining a nuclear weapon." After several weeks of high profile domestic victories, the President continues to defy traditional "lame duck" expectations. Blessed are the peacemakers.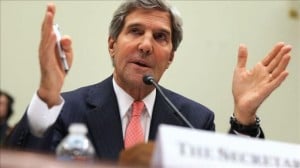 The agreement, which "marks the first success in dealing with Iran since its 1979 revolution," is a testament to the power of determined diplomacy. And while no deal is perfect, the final product significantly curtails Iran's nuclear capacities while increasing nuclear inspections. It is a victory not only for President Obama, Secretary of State John Kerry, and his international partners, but for people in every corner of the world wary of the prospect of yet another war. We are safer today because our leaders pursued peace through diplomacy. After years of living under the strain of economic sanctions and threats of war, the people of Iran were ecstatic, with one Iranian remarking: "Today there is this massive sense of relief, and a release of breath."
As the details of the agreement emerged, power players on Capitol Hill were quick to offer their reactions. Vermont Sen. Bernie Sanders called the deal a "victory for diplomacy over saber-rattling." Former Secretary of State Hillary Clinton, whose tenure at the State Department helped catalyze the negotiations, gave her support for the deal during a meeting on Capitol Hill. In stark contrast, Republicans running for president have been quick to denounce the deal. South Carolina Sen. Lindsey Graham called it "far worse" than he ever dreamed it could be. Florida Sen. Marco Rubio expects a "significant majority" of his colleagues to vote against the agreement when it comes before Congress.  We simply cannot afford for Senator Rubio's prediction to come true. If a majority of his colleagues vote to derail the deal, we have no viable path for peace. Nor will we have any ability to curb Iran's nuclear capabilities or continue sanctions, a point made my Secretary Kerry during an appearance on Face the Nation.
Political opposition to the deal is particularly disappointing as there is significant support for a nuclear deal among American citizens. As Congress considers whether or not to accept the agreement, it is crucial for progressive people of faith to make their voices heard." As members of Congress head home for an August recess, we must share our support for diplomacy and peace. We must continue to work for a world in which all of God's children are free from the threat of war. The nuclear deal with Iran constitutes a significant step in making our world a safer place–a place where the most vulnerable will not merely survive, but thrive. And while we have reason to celebrate, the work is really just beginning.
Born and raised in a suburb of New York City, Kyle Cristofalo is a graduate of Messiah College and Emory University. In both his professional and personal life, he is committed to making this world a more whole and just place for all.