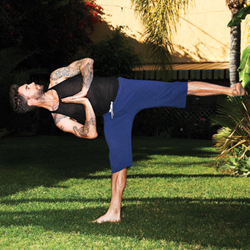 So much for drinking and doing drugs: Maroon 5 frontman Adam Levine says that he can often be found doing yoga before going onstage. "At any Maroon 5 concert, you'll see a room backstage marked yoga," he told Details. "Playing a show before thousands of people is a highly unnatural state, and when I get on the mat to do an hour of yoga before the show, I come out physically relaxed." Does that mean that when he played the Victoria's Secret fashion show (which aired last night, btw) there was a place among the wings and bikinis where he was able to do downward dog?
Though Levine admits he was initially skeptical of yoga and thought it might be "cheesy," he took a class with New York-based instructor
Chad Davis
and was totally sold. In addition to the soothed spirit, Levine likes how yoga leaves him toned, which makes sense considering his love for shirtless photoshoots. He has given up on weight training and other workouts he used to do before adopting yoga.
Also, because I'm 12, I really enjoyed how the Details article mentioned that one of Levine's favorite poses helped with his "chronically tight hips."