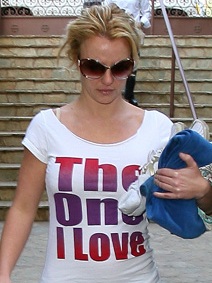 We have a book club here at Patheos, but wouldn't it be fun to have a celebrity-themed one just for FGP? We could start with a recommendation from none other than Britney Spears, whose previous best connection to faith was when she played a Christian chef who hosted a cooking show called "Cruci-fixins" on an episode of Will and Grace.
When asked by People magazine (or by her publicist telling People what to ask) what she's reading these days, Britney said she's reading The Mystery of Love by Don Miguel Ruiz. Ruiz is a Mexican spiritual writer whose most famous book, The Four Agreements, is hugely popular in self-help circles. Here's Britney's book report quote about the book: "It's basically an analysis of love and what it means to love. It goes through all the different aspects of love – who you are as a person, knowing yourself before you even attempt to love anyone else, that sort of thing. It's really well-written and thought-provoking." I guess this means she isn't a Kabbalist anymore?
Early prediction: the next time Britney gets married, People will have the exclusive. You heard it here first.