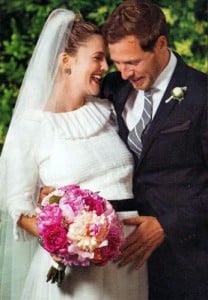 Drew Barrymore had a big year in 2012 – she got married to art consultant Will Kopelman and then gave birth to their daughter Olive. Though Kopelman's family is Jewish, Drew didn't convert. However, she wants to raise her daughter in the faith. On a recent episode of The View, Drew discussed her connection to Judaism:
I'm a shiksa. I do the seders and we do Passover. I haven't converted yet, [but] Olive will be raised traditionally. We had a very traditional wedding ceremony with Rabbi Rubenstein and I did the ketubah. We wore the yarmulkes and we did the chuppah. It's a beautiful faith and I'm so honored to be around it. It's so family-oriented … The stories are so beautiful and it's incredibly enlightening. I'm really happy.
Rock on, Drew. I was raised in an interfaith home (the Jewish parent was also my dad), so I don't think you should convert unless you want to do it for yourself. But I'm glad Judaism is bringing you peace and happiness. Just one thing, though – did you and Will both wear yarmulkes at your wedding? It's feminist and I dig it, but I sure didn't see it in any of your wedding photos.