It sounds like the beginning of a politically incorrect joke.
A Black Nationalist, a psychologist, and a preacher walk into a bar…. In this case, however, they are all the same person. His name is Eric Mason. And he has written a book, Manhood Restored: How the Gospel Makes Men Whole,
drawn from that eclectic background that delivers a much-needed message to men in Christ's church today: Rise up, men. The world is waiting.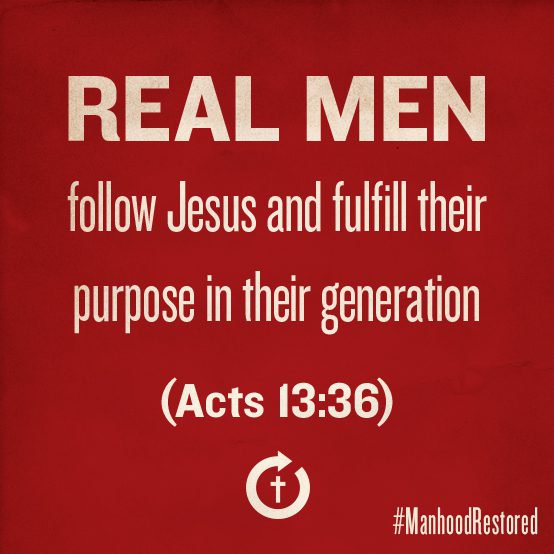 Eric Mason is a former Black Nationalist and holds a degree in psychology. But his focus these days is serving as the founder and lead pastor of Epiphany Fellowship in inner-city Philadelphia. His varied background and experience growing a church that intentionally crosses ethnic lines gives him a unique perspective on the topic of manhood and how the gospel can make men whole.
What He Means by "Restored"
Mason's style is eminently pastoral, the tone of a fatherly teacher, faithfully expounding and applying the Word of God. It isn't overly simplistic, although the message is clear enough. Adult males need to have their perception of themselves restored by understanding God's design for them through the gospel. His image of a sculptor resonates well:
I asked (a sculptor) about his technique and his response stuck with me: "All I'm trying to do is get to the image by removing everything else in the way." That is what God does through the process of restoration. We have been restored already, and yet we are still being restored…. Furthermore, it is the work, particularly in men, that has been neglected. (46)
Where Have All the Men Gone?
One of Mason's core concerns is that the Church today has been feminized to such an extent that restoring men has become extremely difficult. He argues that "the church is still primarily built on engaging issues that are more pertinent to women…. Like it or not, men view the church as irrelevant because much of what concerns men is either not addressed or when it is talked about it is done so in a feminine manner." (47)
In his church, Mason goes so far as to ban plants and flowers from the pulpit area so as not to present a distraction to men coming in to worship. And as for men and the modern worship music service?
Effeminate musicians might be the most visible means by which men are turned off to the church. Perhaps you're thinking this is a little nit-picky on my part, but I would maintain that a man, when leading worship, has the power to distract with his worship expression, conversation, mannerisms, and even dress. It is a pink elephant many times that the church won't deal with. (170. Emphasis mine.)

Do we really think that songs like "hold me," "rock me in your arms," "you are beautiful," and "you are so sweet" appeals to men? Our insistence on these kinds of songs points to the ongoing over-feminizing of the church." (174)
Amen. I like him already. [ See my post Why I've Stopped Singing in Your Church]
From the Inside Out
At the core of Mason's approach is a call to lead men to be transformed from the inside out instead of from the outside in. (78) To that end, he offers insights with teeth in a number of critical areas.
His chapter on restored sexuality is a straightforward truth-telling session that speaks candidly to men about sex — and challenges the church to do the same. Restored vision also encompasses a number of areas neglected in teaching to men, in Mason's view, including Godly decision-making and character.
His chapter on family is one obviously born of years of practical experience in ministry as he gives a clarion call: "Be home, men! Our presence sets the culture of the house…. What should the memory of a father and husband be like for his family? This is the sort of burning question men should think through each day in the home." (143)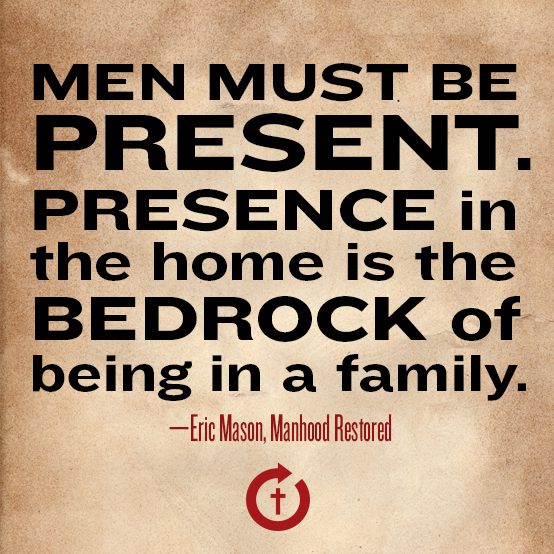 Lest any be concerned that Mason's work is just a rant against what ails the church, I assure you it is packed with practical theology and gospel application. It's terrific book for use in discipleship for men's ministries in the church or even for one-to-one mentoring. It might even make a good read for a father and older teen son to tackle together.
A valued addition to the vital topic of restoring manhood in our culture, families, and the church, Manhood Restored: How the Gospel Makes Men Whole
by Eric Mason will help make you whole.
And that, I think, is one of the best things any author could hope for.
In case you missed it, a related guest post recently from Kendall Lyons — Act Like a Man: A Call to Biblical Manhood.