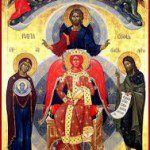 Holy Sophia (Divine Wisdom) is the Holy Spirit.  Belief that Sophia and the Spirit are the same dramatically shifts the Christian paradigm theologically, philosophically, and how we live a Christ centered, Christian driven life.  It challenges us to reassess low and high Christology.  Different ways to do and approach theology are revealed.  Our understanding of the centrality and unifying significance of the Eucharist becomes, if possible, even more mystical.  This specific definition of Christian Sophiology can be for many the beginning of a closer Christian realization in their lives.
Although great minds like Bulgakov, Solovyov, Florensky, Bukharev, and Skovoroda were among those who wrote about and believed in some variation of Sophiology, it is more than an academic, intellectual, theological, or philosophical exploration firmly grounded in Eastern Rite Christian mysticism.  Accepting Holy Sophia as the Holy Spirit has everyday, real world applications that can draw us closer to God.  It changes our relationships with others.  It empowers us individually and collectively as a community of sisters and brothers to meet and successfully address societal needs.  Social justice takes on a different dynamic.  Living with purpose is charged with a different kind of divine fuel for the soul.
Humanity stands at the dawn of a great spiritual awakening despite the chaos, suffering, social changes, and absence of wisdom and knowledge that surround it.  Recognizing this opportunity and seizing it will not be easy.  Humanity's own insecurities and the need to project and act out those limitations keeps it from realizing the beauty and majesty of its own Creation as the Creator intended.  If these fears are to be overcome, if the next Christian reawakening is to occur then the Christian community should consider turning to Holy Sophia who was with God before the heavens were made.
She is our guide, friend, mentor, partner, and guardian.  Holy Sophia, the Holy Spirit, waits with an outreached hand inviting anyone and humanity in general to walk with her into the dawn to benefit from a greater revelation of truth.  Although Sophiology has had enthusiastic believers, there are also gifted theologians who find it heretical.  In the blogs to follow their concerns, observations, and criticisms will be addressed.
This blog will explore the world and the challenges found in it from the lens of one Christian Sophiologist.  Hopefully, it will spark a greater discussion of the central question "What if the Holy Spirit is Divine Wisdom?"  It changes everything and still changes nothing – to love God and one another as Jesus unconditionally loves us.  Sophiology is an untapped gift for spiritual development that provides each person the opportunity to improve the world in a way never thought possible.  Please join in my ongoing personal sojourn with Holy Sophia that is baffling, frustrating, liberating, exhilarating, and at times overwhelming.
© Paul Peter Jesep 2011