Increasingly, I believe free choice is limited. The extent to which free choice impacts one's life may stem from whether an individual reacts to events, challenges, and opportunities or responds in a measured, thoughtful manner. The goal should always be to respond. Often, I fall short.
Events or occurrences, like an encounter that develops into a lifelong romance or good friendship, may be destined or chance happening. I remain unsure. People come into our lives at different times. Some stay. Others move on. Sometimes distant friendships are renewed after many years of losing touch.
In other cases, you may be offered a job causing dramatic, positive change. Dumb luck? The cosmos intended it? Or you may be a victim of identity theft today. Plan as we may, the best laid plans can get derailed easily.
Jesus taught, "The wind blows where it wishes, and you hear the sound of it, but cannot tell where it comes from and
where it goes" (John 3:8). He's referencing the mysterious, unpredictable intervention of Holy Sophia the Holy Spirit. Divine Wisdom moves when and where She wants.
Many years ago I became interested in prison outreach and criminal justice reform. Later while living in Maine I participated in a weekly volunteer program meeting with inmates without supportive family or who had relatives too far to visit. Upon returning to New York, I became involved in a pen pal program (sending birthday and holiday cards and occasional letters affirming a prisoner's personhood).
Corresponding with someone instead of visiting them to sit and listen requires a very different approach. Listening in a letter is not easy. Even if the person you're writing wants to know what "you've been up to," you struggle with talking about a great weekend in New York City or traveling the backroads of the Berkshires or Green Mountains.
I've learned over time that it's Okay to discuss these things because many want to live vicariously through you. It's still important, however, to do it respectfully, being sensitive to the harsh, unforgiving environment that they live in where parole, if they're lucky, is a distant hope.
About two years ago, I read about Sister Mary, a retired Catholic nun. She had been writing to incarcerated men and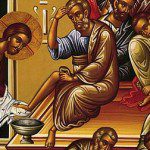 women for well over thirty years. I wrote her asking, "How do you listen in a letter?" She wrote back and gave me some comfort affirming my approach wasn't off the mark.
Sister Mary, who had surpassed 100 years and increasingly sensed her days on earth were numbered, entrusted me with something extraordinarily important. She asked if I would keep writing to George who had ended up with a life sentence at a young age. Sister Mary was concerned he'd have few, if anyone with whom to correspond.
George and I have been exchanging cards and letters ever since, often talking about faith, religion, and contemporary events. He's especially interested in discussing Holy Sophia the Holy Spirit.
This month, George wrote to me and shared that Sister Mary passed away. It was a bitter sweet letter. Sister Mary and George had been writing for many years. George's letter was a celebration of her life and perhaps a recognition Holy Sophia played a role in me seeing an article about Sister Mary in the press, writing to her, and then she asking me to keep in touch with George. Sister Mary changed two lives that will continue to honor her memory, I believe due to the Holy Spirit.
Paul P. Jesep is an attorney, corporate chaplain, and former US Government Relations Director for His Beatitude Metropolitan Myfody of the Ukrainian Autocephalous Orthodox Church of Kyiv and All Rus-Ukraine. He is author of "Lost Sense of Self & the Ethics Crisis" and "Crucifying Jesus and Secularizing America – the Nation of Faith without Wisdom."