Credit cards are a way of life.  Non-profits, faith denominations, and religious stores selling dashboard figurines of Jesus and the Madonna take plastic.  The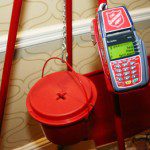 Salvation Army, one of the most efficient charities when it comes to keeping administrative costs down, is testing the use of credit card donations by mobile devices.
Understandably, the Salvation Army needs to keep up with the times.  Most people carry little cash.  In some cases people only carry debit or credit cards.  There's irony for an organization trying to lessen economic hardship while being dependent on and encouraging the use of credit cards that generally charge usurious interest rates.
Religious leaders have been guarded and reluctant to take issue with financial institutions.  Educated, community minded financial service professionals are members of churches.  They often appear to be upstanding citizens and generous donors.
If, as the cliché goes, "Jesus is the reason for the season," then welcoming a Savior of Humankind by enabling and re-enforcing  exploitive policies, practices, and behaviors within and outside the financial services industry seems contrary to Christ's mission.  This doesn't mean that the structural changes needed to address usury and lessen dependence on an industry that causes much hardship under the guise of helping people will be easy.
There's an ethical and spiritual conundrum for those working in the industry and the faith groups using credit and that are dependent on such services.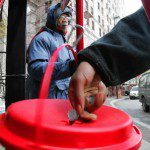 Unfortunately, no one seems to have noticed the irony, the problems, or want to ask the hard questions.  Perhaps this holiday season more Christians will ask the tough questions about fairness, ethical profit, and social responsibility.  Otherwise what is the reason for the season?
Paul is author of Credit Card Usury and the Christian Failure to Stop It – A Call to Social Justice Against the Money Changers.