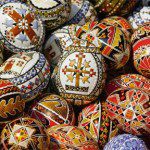 The Eastern Orthodox Church does not celebrate Ash Wednesday.  Preparation for Pascha (Easter) formally begins on "Clean" Monday, February 27th.  It marks the start of Great Lent or the Great Fast in the Orthodox calendar.  During every Great Lent there is hope that the days leading up to Pascha are restorative and transformative.  This year several Eastern Orthodox saints are walking with me known prior to their canonization as "Fools for Christ."
Several Holy Fools have tugged at my soul for weeks.  During Great Lent I plan to get better acquainted with several of them:  St. Basil of Moscow, Venerable Isidore of Rostiv, Blessed Paisius of Kyiv, St. Xenia of St. Petersburg, St. Andrew of Constantinople, and Blessed Pelagia Ivanovna of Diveyevo, among others.
Holy Fools were called to lives that tested the powerful, challenged the self-righteous, nurtured faith among those in want, and called into question the external behavior that had more to do with routine than service to God.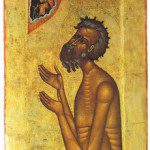 St. Basil of Moscow (1468?-1552?) stole to feed the poor and highlight the stinginess of the wealthy.  He sometimes walked naked weighed down with heavy chains to draw attention to Ivan the Terrible's ruthlessness.
Venerable Isidore of Rostiv, (d. 1474) gave up a life of wealth to pursue ceaseless prayer, sleeping little while living in squalor.  If the Holy Fool wasn't praying then he wandered the streets drawing attention when he rested in manure or garbage.  He prayed for those that mocked or rejected him while mentoring the spiritually hungry in his shabby hut that provided minimal shelter from the wind, rain, snow, and cold.
Blessed Pelagia Ivanovna of Diveyevo (1809-1884) spent her early years enduring the abuse from a husband and other family members who were unable to manage her odd, unruly behavior.  She prayed unceasingly.  She endured beatings, imprisonment, and even being shackled in chains.  Eventually, she was abandoned.  Winter nights were spent sleeping outside a church.
Approximately four years after being abandoned a nun brought her to a monastery.  In some cases she received love and a great deal of patience in other cases verbal and even physical abuse.  She had a habit of bringing dirt and rocks to the cells of many nuns.  After spending a day walking the city she would return to the monastery covered in dirt and mud requiring someone clean her.
In all the cases and others not cited Holy Fools developed and used during their lives spiritual gifts that included healing, prophecy, clairvoyance, and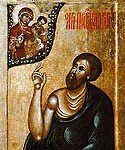 serving as a spiritual father or mother to those with the humility to look beyond their odd behavior and dirty, smelly, bodies.  After their deaths miracles were attributed to them.
They are a reminder to see the face of Christ in everyone.  Their conduct nurtured Christian love and patience, a better understanding that wealth, social class, or church ritual could be superficial, unimportant, and frequently an obstacle to draw nearer to God.
Today, these Holy Fools still invite us to ask ourselves:  "What kind of Christian am I?"  "What self-arrogance have I confused with piety or humility?"  "Have I forgotten that despite my education, my accomplishments, and professional pedigree that God does not love me more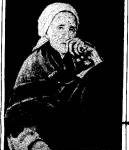 than Venerable Isidore who rested in manure?"  "What makes me think I'm spiritually grounded after reflecting on the lives of Holy Fools?"  "Do I really love God or have I deluded myself into thinking that I love God?"  "Do I give of my time or money to those in need because it's the right thing to do or am I expecting a reward from God?"
Non-Christians and especially Christians during their Lenten reflection may find the film "Ostrov" or "The Island" of much interest.  It's a Russian film with English subtitles available on Netflix.  It's about an Orthodox monk who lives a life of repentance while challenging those, including fellow monks, over their worldly attachments, superficial worship, and exhibitions of false humility.
We often make New Year's Resolutions – lose weight, exercise more, eat healthier, earn or finish a degree, be more responsive to a significant other, etc.  This special time of prayerful reflection and meditation is an opportunity to nurture and conceive Spiritual Resolutions as we prepare for the transformative feast of Pascha.  God's Holy Fools invite us to love more, judge less, and to grow spiritually.
"…we are made a spectacle unto the world, and to angels, and to men.  We are fools for Christ's sake (1 Cor. 4:9 – 10)."