No one has mentioned his name.  Yet Sviatoslav Shevchuk is papal material.  He is the Ukrainian Greek Catholic (UGC) Primate and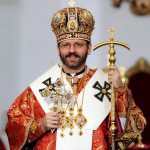 Archbishop-Major of Kyiv-Halych and All Rus-Ukraine.  Although the Ukrainian Greek Catholic Church (UGCC) has been steadfast in its loyalty since swearing allegiance to Rome centuries ago during the Polish occupation of Western Ukraine, Easter Rite Catholics are an oddity causing curiosity among Roman Catholics and friction between the Papacy and the Russian Orthodox Church.
UGCs, who number about 6 million worldwide, comfortably embrace spiritual mysticism.  UGC priests marry and often have children.  They celebrate a slightly modified Eastern Orthodox liturgy and wear ceremonial robes with a distinctly Orthodox feel, though are readily distinguishable from Orthodox clergy.  Many UGC faithful still adhere to the belief Jesus and the Holy Spirit proceed from the Creator.  Subtle Romanization, however, has seen an increased use of a creed professing the Holy Spirit proceeds from both God and Jesus.
There are calls for Rome to permit Shevchuk to officially use the title "patriarch."  It's not likely to happen since the title is comparable to "pope" in status and would no doubt cause further friction between Rome and Moscow.  In the case of Shevchuk, officially according him status as patriarch while he was subordinate to the pope would be insulting to Orthodox leadership. As Machiavelli aptly noted, "It is not titles that honor men, but men that honor titles."
Shevchuk, who earned a doctorate from the Pontifical University of St. Thomas Aquinas in Rome, will never be considered for pope, nor will his successors.  It may raise questions about the status of the Ukrainian Greek Catholic faithful and their leaders within the Roman church.  Perhaps the limited autonomy they enjoy, like married priests and a separate hierarchy, justifies the institutional hesitation to even consider making a UGC prelate the next pope.
It is unfortunate Shevchuk won't be a contender since he and other Eastern Rite Catholic leaders would bring a unique perspective, a much needed breath of fresh air to Rome.  He was elected to his post for administrative skills and, equally important his deft, intuitive political abilities to maneuver around internal and external religious politics.  The UGC has been harassed, persecuted, and for periods of time forced underground due to attacks by the Tsars and Communists.  Today, the UGC thrives in Ukraine, but is condescendingly looked upon as the spiritual step-child by the regime of Viktor Yanukovych and some in the Orthodox religious establishment.
Shevchuk's doctoral thesis on
Pavel Evdokimov
is very telling and distinguishes him from Roman cardinals now being considered.  Evdokimov, an Orthodox theologian and Dostoevskian scholar, was a student of Berdiaev and Bulgakov, both Sophiologists.  Evdokimov developed a strong following among Western theologians and monastics that included Thomas Merton.
In Ages of the Spiritual Life, Evdokimov writes of the "world of black-clad clerics, sinister traditionalists, or fast-paced progressives, whether sincere or ridiculous.  There is moreover, the pious style of rules and restraints with their oppressive seriousness."
He adds, "There is the mediocrity of 'the faithful,' who take themselves far too seriously and impose on others their own mentality, formed by edifying discourse and sermons characterized by empty formulas and verbal excess … the outdated religious person and the modern sophisticate irreligious individual meet back to back in an immanence imprisoned within itself."
The Catholic Church faces challenges someone of Shevchuk's insights could help address.  Some of these problems were identified by Evdokimov over 40 years ago.  Yet despite the obstacles to a thriving Christian witness, Evdokimov had a gift to show the relevance and timelessness of Christianity no matter the social, cultural, or political environment.  In many ways, Christian leaders of different denominations have failed in this area, thus seeing the faithful depart into spiritual wilderness.
Shevchuk's Christian witness as an Eastern Rite priest coupled with his understanding of relevant Orthodox theologians like Evdokimov make him an unconventional choice worthy of consideration.
_______________________________________________________
Paul Peter Jesep, JD, MPS, MA, is a bishop in the Ukrainian Autocephalous Orthodox Church.  He is the appointed U.S. spokesperson of Metropolitan Myfodii of the UAOC.  He is also a New York attorney and author of Lost Sense of Self & the Ethics Crisis.  The views expressed here are personal.