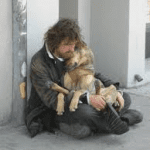 The homeless have much to teach business professionals about ethics, perspective, and sense of self.
Let me introduce you to Sandy, who merits being dubbed San Diego's unofficial ambassador.
This homeless soul had a smile broader than the harbor, warmth that rivaled the sun's rays, eyes as big as the sky's beauty, and good cheer that matched the spirit of "A Christmas Carol" by Charles Dickens.
In late August, business called me to a conference in this idyllic seaport of dry, comfortably warm breezes and carefree tourists.  Like any conference destination, there were several business functions going on and looking at the attendees it was easy to identify degreed, uptight professionals.  These men and women were in a resort town, dressed to impress with too little fiber in their diet.
They were movers-and-shakers with the ambition and dogged determination to move up the organizational ladder.  The expressions on many faces said it all, "Don't get in my way".  Was it ambition or constipation?  I think a little of both.
Sandy sat on a bench on the walkway along the harbor's edge.  She wore a large brimmed hat enthusiastically greeting everyone with "Welcome to San Diego!" "Have a great walk!" and "Happy Sunday!" the day I happened to be going for a lunch time meander.  She spoke deliberately and with determination having survived what appeared to be a stroke.
Although she had a sign designating herself as homeless, she wasn't asking for money.  She merely wanted to experience another perfect day in San Diego and be around humanity believing in its goodness, undeterred by those who uncomfortably ignored her as they stepped up their pace to walk by.
As I sojourned back around for an afternoon session of workshops she said to me, "I hope you had a good walk!"  I went over to introduce myself.  "This is my city," she radiated.  "This is my backyard.  Many of the people aren't from around here.  I am!"
I think she meant the many homeless, not the tourists.  A social worker friend working in San Diego told me that night the city has one of the highest homeless rates in the country, though it is considerably smaller than many US cities.  This stems from the orchestrated efforts to buy homeless folks in other states one way tickets to anywhere else.  Perhaps sending them to San Diego in our throwaway society lessens the guilt because the homeless can't freeze to death in a city that is the land of warmth, sunshine, and plenty, though not for the homeless.
In returning to the hotel, other than a colleague and her husband who accompanied me to the conference, no one, not even the hotel staff at this 5 star venue, greeted me with a happy anything.  And certainly, the conference attendees there for various reasons didn't.  Sandy, a homeless person, brought some joy to my life that day.
Is it any wonder why we have an ethics crisis in business today?  Is it surprising why corporate America is fined for ethical lapses?
Sandy demonstrated the ethics of living.  She didn't have the superficial demands and expectations of societal or professional success, yet Sandy reaffirmed for me the importance not to lose perspective and especially the human factor in everything we do.
The unofficial ambassador of San Diego treated everyone as she wanted to be treated and when it didn't happen she remained true to her Creation by not sending out a negative response.  She remained loving, accepting, and positive.
I sometimes wonder what would happy if senior bankers at one of the institutions causing the national recession took inner city public transportation or spent a month volunteering at a transitional housing facility for families that had fallen on hard times, due in part to misdeeds in the financial sector.
Corporate executives must learn empathy.  Ultimately, this is what determines corporate America's ethical compass – its ability to relate to the flesh and blood impact of their products and services if things go terribly wrong.
In addition to jail time for decision makers, spending time with those who are hurt should be the punishment, not penalties assessed on a corporate entity created on paper and filed with the secretary of state's office.  Sandy, San Diego's unofficial ambassador, is a reminder that everything, ethics and otherwise, is about people.  It's about you, me, and us.
In addition to imposing stiff fines on banks, as one example, make corporate executives who do bad things spend time with the families they hurt to see firsthand the realities of their hubris and greed.  Make MBA students spend time with those negatively impacted by bad corporate decisions as well.
Make ethics real and relevant.
Paul Jesep is an attorney, corporate chaplain, and founder of CorporateChaplaincy.biz, a firm committed to the spiritual wellness of professionals.  He also is author of "Lost Sense of Self & the Ethics Crisis: Learn to Live and Work Ethically".