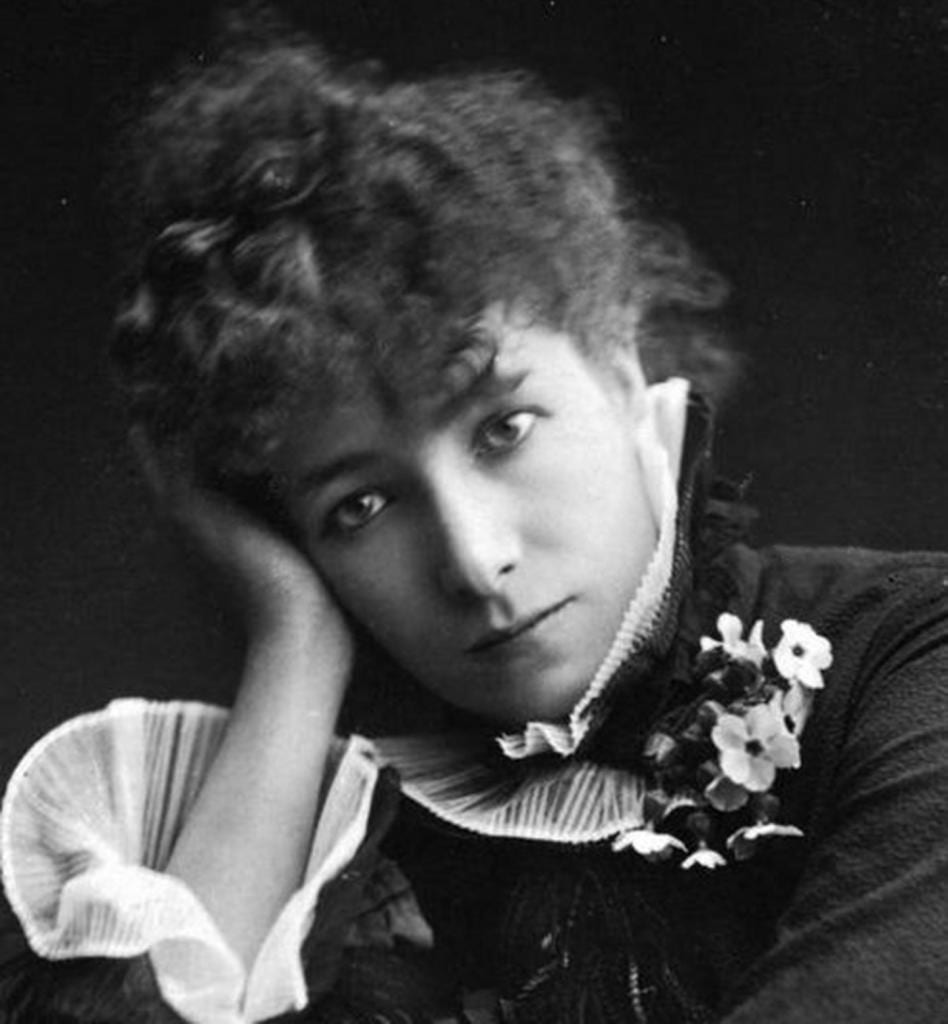 Sarah Bernhardt, also known as The Divine Sarah, was the first modern superstar. The acclaimed actress originated roles in plays by Hugo, Dumas, and Sardou. Bernhardt was as renowned for her eccentric lifestyle as she was for her elaborate, dramatic death scenes. She was known for her many lovers, wearing a dead bat as a fashion accessory, and sleeping in a coffin. She was less well known for her Catholic faith.
*Special thanks to Steven Rosenthal for inspiration on this piece.*
Early Years
Sarah Bernhardt was born in 1844 in Paris. Her mother was a high-class courtesan and her father was a wealthy patron. He was involved in Sarah's life, but his name was never recorded. He paid for Sarah's education, and also insisted that she be baptized Catholic. Sarah's mother was Jewish, but she agreed. Sarah was sent to Notre Dame du Grandchamp, an Augustine convent school near Versailles, to be educated.
While there, young Sarah decided that she wanted to be a nun when she grew up. When her beloved pet lizard died, she arranged an elaborate funeral, complete with a procession and high mass. The horrified nuns accused her of gross sacrilege. Not long after that, her father wisely decided to put her on a path of a life in the theater. Her dreams of the religious life were over.
Theatrical Career
It's impossible to stress the breadth and impact of Bernhardt's theatrical career. From her debut at the famous Comedie-Francaise, to her numerous Shakespearean roles – including male roles such as Hamlet – to the more than one-thousand times she appeared in La Dame aux Camelias, to her transition to early film, and her many, many death scenes, Lady Sarah was everywhere. She was a woman who never stopped working. She refused to be limited by age and gender, which continue to impact women's roles on stage and in film today. When she couldn't act, she moved to art and sculpture, and even wrote a textbook on the art of acting. She was an artist in the truest sense of the word, where every moment of her life was one of either creation or performance.
Scandal and Faithfulness
Like Madonna or Lady Gaga, Sarah Bernhardt's style and persona were as essential to her fame has her talent. Sarah had bronchial problems and did not not expect to live past age 25. As a result, she wholeheartedly embraced the Catholic tradition of memento mori, or remembering one's own death. She visited the Paris morgue regularly and commissioned a coffin for herself to sleep and prepare her roles in. (Contrary to popular myth, she did not travel with it.) She encouraged rumor and exaggeration surrounding her personal life and was open about her many affairs. Still, she was married only once, to Jacques Damala. It was an unhappy marriage, because Jacques was frequently drunk and unfaithful. But Sarah cited her Catholic faith in her refusal to divorce him. Upon his death, Sarah lovingly carved his funerary sculpture herself.
When a reporter asked her if she was Christian, she famously responded:
"No, I'm a Roman Catholic and a member of the great Jewish race. I'm waiting until Christians become better."
Sarah Bernhardt and Catholic Art
As a Catholic theater artist myself, I can't help but identify with Bernhardt. (I also put on elaborate rituals in my bedroom as a child, although no one accused me of heresy.) She embodies the strange tension between the desire to live your faith and the need to submerge oneself in the fullness of human experience. The same impulse that drives me to God drives me to art, and yet my shortcomings as a person of faith continue to inform my work. There's the same fascination with what comes next, and the knowledge that what is ugly can also be beautiful.
And, as an artist, I find myself compelled by the hope that Christians can do better and that, perhaps, I might play some small part in that.