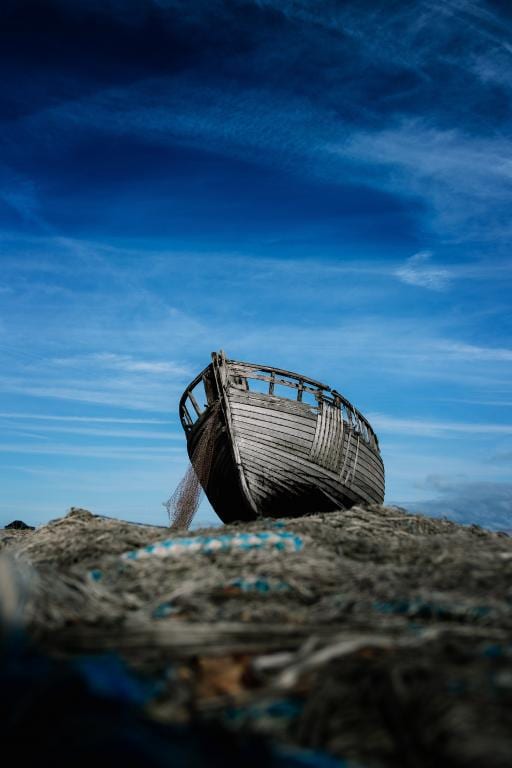 Well I am coming off of Snowmageddon 2021, where being snowed in for four days with on and off electrical problems and no shower for three days did a sanctifying work in my life. It was like living in the 1800's. Little House on The Prairie stuff.
It could have been much worse. But with a pellet stove, a backup generator, and a gas grill for cooking, we fared okay. Not once was I hungry or cold, which is very unlike Little House.
The snow, wet and heavy, circled around us for days straight out there on the prairie, then off and on, with snow drifts as high as (I'm guessing) five feet. In other places, it only reached a three foot height, and in others, just inches. Off the roof, several waves of snow froze in time, giving it a feel that perhaps Noah and his family had of living on an ark, amidst a promised forty day, forty night rain – well, minus the rocking and stinky animals.
Okay, so maybe Snowmageddon wasn't much like Little House or Noah's ark, but work with me here.
Cooped up is what I mean to say we were, amidst a blustering storm that could have very well taken our lives had we not been prepared.
The reason for the building of the ark was that God's judgment, in the form of rain for forty days and forty nights, was coming. God instructed Noah to build the ark, so that anyone who would repent might be spared. Turned out, the people were so steeped in their sin, they didn't even believe God when He (essentially) said "Rain's coming. I'm destroying the earth because of the wickedness of all y'all, and I'm starting over. Repent and get in the ark I've instructed Noah to build, or stay and perish. Your choice."
Rain, of course, had never existed. So to believe a God they were in rebellion against, and a crazy man (Noah) who did believe God – enough to take the time year after year to build a massive ark in preparation for a never before seen rain storm – wasn't going to happen. It would be like God telling southern Texans who had never even heard of snow that a gazillion bajillion icy flakes that would kill everyone was coming. Not like the snow storm Texas just had, but one far worse, leaving no survivors. So, they laughed at Noah's gullibility, never did get in the boat … and perished. Only Noah and his family were saved (along with the animals).
I find it interesting that God saved the one righteous man still living, and his family, from His own judgment.
I was reading John Owen this week, and he speaks of how his troubled country was undoubtedly about to see and experience the judgment of God. He says this:
In the second chapter of Habakkuk, when the prophet on his watchpost asks God what to do as the overwhelming flood of the Chaldeans approaches, he is told, "The righteous shall live by faith." What is that? It's to look for righteousness by Christ; to seek afresh for justification and life by Christ. There is no other way, no other ark. And he is described as this ark in that well-known passage: "A man (that is, Jesus Christ) shall be as an hiding place from the wind, and a covert from the tempest; as rivers of water in a dry place, as the shadow of a great rock in a weary land." (Is. 32:2) That is the ark. I do not know any better way to describe what I mean by securing ourselves in the ark than this description given by the prophet, though expressed in such metaphorical language.
Here in America, we are beginning to see the judgment of God. Sure, we've had some funky storms, a pandemic, and much political uproar. But more than that, I think His judgment is (at present) coming in the form of simply giving us over to ourselves. The book of Romans talks about this …
Wherefore God also gave them up to uncleanness through the lusts of their own hearts, to dishonor their own bodies between themselves: Who changed the truth of God unto a lie, and worshipped and served the creature more than the Creator, who is blessed forever. Amen. For this cause God gave them up unto vile affections: for even their women did change the natural use unto that which is against nature: And likewise also the men, leaving the natural use of the woman, burned in their own lust one toward another; men with men working that which is unseemly, and receiving in themselves that recompense of their error which was meet.
This is speaking of homosexuality. But it goes on …
Fornication, wickedness, covetousness, maliciousness, envy, murder, debate, deceit, backbiting, haters of God, proud, boasters, disobedient to parents, without natural affections, implacable, unmerciful …
These are the types of behavior, if ongoing, is evident of a godless society and one which is worthy of death (so says the Word of God).
Sobering and disheartening, really.
If one cannot see that America has just been described in Romans 1, one is blind. We are there. We've been there for many moons. We show no signs of repentance. And so, God is beginning to judge.
We can find evidence of God saving the righteous in the Word, while destroying the wicked. Noah and the ark is such a story. But we can also see that at times, He destroys everyone. And while He promised to never destroy the earth again as He did in Noah's day, via a flood, the fact remains that He does judge wicked nations. And we may be able to choose our sins, but we do not get the benefit of choosing our punishment.
So what are the righteous to do?
Well, praying comes to mind. But in a strictly practical sense, as Owen would say, it's not shameful, but rather prudent, to hide and escape the Lord's judgment. For those who cannot manage an attempted escape, the Lord is their ark. In fact, for those who can manage a way of escape, the Lord is their ark. For a physical escape is no promise of ongoing safety. And in today's world, a true escape from anything the government wants to subject us to is highly unlikely considering modern technology. We can take precautions against Snowmageddons, other natural disasters, and a wicked government, but there is never any guarantee.
The only hiding place that is one hundred percent safe is found in Christ. Man and nature may destroy the body, but nothing can destroy the soul, and for those of us who are Christians, our souls belong to Him. Nothing can pluck us from His hand. Nothing can separate us from the love of Christ. Neither death, nor life, nor angels, nor principalities, nor powers, nor things present, nor things to come, nor height, nor depth, nor any other creature, shall be able to separate us from the love of God, which is in Christ Jesus our Lord. Also from the book of Romans.
So, say Noah disobeyed and didn't build the ark, and was destroyed by the flood. The truth is, since the Lord was his ultimate Ark, he would've been safe. Not physically. He would've perished. But eternally, Noah was and is God's, forever.
Likewise, Jesus is our Ark. He is our Hiding Place, even if His judgment on our homeland ends in the destruction of both the wicked and the righteous.

This was my epiphany this week, this truth that Jesus is the Ark. My Hiding Place. I've read Corrie ten Boom's The Hiding Place several times, but Owen's excerpt made the light Corrie shone in my heart burn brighter.
PC: https://unsplash.com/@alex_andrews