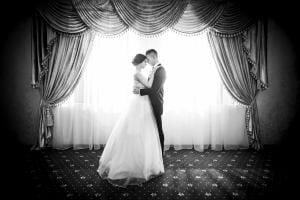 I don't write about marriage much, mostly because in spite of 32 years of being wed to one person, I still don't consider myself an expert on the subject.
I got married young. Real young. Just barely age 17. Many, including some family members, said it wouldn't last. Those who didn't say such things probably thought them. But I was dedicated, committed, and serious, and so I figured others could despise my youth if they wanted to, but I was going to do what I felt was best for my life. God knew my heart.
I have not been fortunate enough to observe many good marriages. I didn't grow up in a home where two people were happily married … or even semi-contentedly married. Miserably married was more like it. Both sets of Grandparents remained married until death (radical, huh?), but were they happily married? It was difficult to tell. It mostly seemed like a lot of truces had been declared and lived by. There was quiet understanding of one another, but not necessarily acceptance of one another. Someone had waved the white flag of surrender and someone had ceased fire, and that's truly all I know about the marriages of my grandparents.
And so I wonder …
Is "happily married" an oxymoron? Is there such a thing?
When I am happy and married simultaneously, does that qualify as happily married?
What is the definition of "happily married", exactly?
In today's world, it would seem that most think it means both husband and wife remain "in love" and don't want to step outside the marriage and explore other partners.
Gladly willing to stay, you might say, because each person has their emotional and physical needs met? Would that be a good definition?
Let's go deeper and ask another question:
Does the Bible even talk about a happy marriage?
Happy is the man who trusts in the Lord.
Happy is the man whose God is the Lord.
Happy is the man who finds wisdom and gains understanding.
Happy is the man who is married? I don't find it. I actually find "Hey, marry if you must, but if you can manage staying both single and sexually pure, do that instead." (Anna's paraphrase)
Happy is the man whose happiness comes from being married? I don't find that either. Even in the Song of Solomon, where the happiness of lovemaking is discussed, there is some level of discord that occurs.
The Bible does offer wisdom where marriage is concerned, but I don't find where the Bible even mentions happiness in conjunction with marriage, let alone requires or suggests happiness is a must to remain married.
"Happily married", then, is a manmade phrase, and therefore a manmade goal or expectation.
A man or a woman is incapable of making another man or woman happy. A couple may have their moments, but happiness is not to be found in another flawed human being. Happiness is to be found in, as the Word says, making God (rather than your spouse) your God, trusting God, and and finding wisdom and understanding in the ways of God.
I've always thought the love triangle was helpful. No, not that love triangle. The love triangle that puts Christ at the top point of the triangle, the husband and wife at the bottom points of the triangle. While both husband and wife climb upward toward Christ, they naturally move closer to one another.
That's the secret, I think, to a successful marriage. For both husband and wife to strive toward knowing Christ better, emulating Him more, and as a result, naturally growing closer, more lovely, more able to love and be loved.
The short of it is that a long marriage requires work. It takes moving past not feeling too great about yourself or your spouse or the two of you together and putting in the hard work of acquiring wisdom from above so that you each know what you're supposed to be doing during the bumpy parts.
It is no wonder that marriages of today don't last long, if, once our emotions of lovey dovey feelings pass away, so does our resolve to remain married. Emotions are fleeting, fluctuating, and even fake at times. Wisdom says to not rely on them, but also not to ignore them, for they are gauges. They alert us to incoming problems or problems that lie under the surface and have the potential to destroy if not promptly excavated and dealt with.
Short marriages don't deal. They ignore the gauges and turn to some false hope that the world offers but that the Bible says is folly. An affair. Food. Drink. Pornography. Drugs. Or some other vice that soothes for a time but wreaks havoc in the long run.
Long marriages deal. They embrace the pain of the present and the past (because we all have one), and they are dedicated to applying Biblical wisdom to every situation. Happy is the man (and woman) whose God is the Lord. And happy is the couple who realistically look at marriage as a blessed, yet sanctifying union that has infinitely more potential for real love than any fleeting, fake feeling the world seeks.
Long marriages ride the waves of discord until they reach the calm waters of unity. Short marriages fight the waves of discord until both husband and wife drown. This is not to say that one must stay in any truly abusive situation, but it is to say that not every wave should lead to a drowning. Marriage is a dance, and toes get stepped on in a dance. It is also an art, and any artist will tell you that an eraser is a valuable tool in an artist's kit.
Long marriages forgive. Short marriages hold grudges. Long marriages get to work. Short marriages laze about. Long marriages are radical and satisfying. Short marriages are common and leave a bitter taste.
Even after 32 years, I still want a long marriage. Are some truces being called? Probably. Are there benefits? Absolutely. It can be painful to be so understood and known. It's not as easy to hide when you're living with someone who can guess your thoughts and knows you better than you know yourself in some respects. But it can also be a comfort. We are two who have become one, and for us to be torn asunder at this point would be more painful than anything I can imagine.
It's not uncommon for me to get propositioned to leave my husband and hook up somewhere else. Such is the day in which we live. But I've had a long marriage, and desire a longer marriage. 'Til death do us part. Not 'til I'm tired of working on my marriage do us part.
God has helped us the last 32 years. He will help us the next 32 years, or however long it will be until one of us dies. He is faithful, and as we look to Him, we become faithful as well. And that makes me happy.
**Thanks to Marius Muresan @muresan113 for making this photo available freely on Unsplash