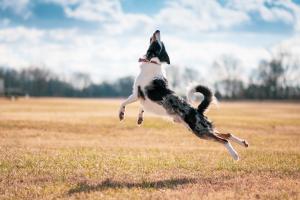 On this ordinary day, he woke with a terrible sense that something was missing. He dressed and sipped his coffee, but couldn't shake the stir in his stomach. How could he find it if he didn't even know what was missing? As he drove to work, he looked for it everywhere: in the birds on the wires, in the steady blink of every red light, in the steps of others in the parking lot. Just what was missing? At lunchtime, he sat on a bench in the park as a young woman kept tossing a Frisbee to her dog. He couldn't stop watching the Frisbee float between them. That was it. He lacked this sense of being near things but off the ground. When he told his dearest friend, she said, "So it's a sense of peace that you long for." This made him cry. And every day for weeks, he went to the park and watched the Frisbee float until the dog jumped in glee to snatch it. This was what he wanted, to snatch peace as it was floating by. 
A Question to Walk With: Describe your own efforts to experience peace. 
This is from my book in progress, The Signature of Being. 
---
You can follow Mark on Facebook and Instagram.  
For more information about Mark's books and upcoming events, visit MarkNepo.com and ThreeIntentions.com.  
Information about his upcoming webinars, including Mark's new webinar, Falling Down and Getting Up: Discovering Your Inner Resilience and Strength, that starts October 29th can be found at Live.MarkNepo.com. 
This is the first official event for Mark Nepo's new book, Falling Down and Getting Up: Discovering Your Inner Resilience and Strength (St. Martin's Essentials, September 6, 2023). Joining Mark is his publisher and editor, Joel Fotinos. We hope you enjoy!  (web link) 
Nov 9-12: Santa Sabina Center, San Rafael, CA, Four-Day Retreat, Surviving Storms: Finding the Strength to Meet Adversity. (web link) 
Jan 7-13, 2024: Global Journeys, Guanacaste Costa Rica, Saying Yes to Life: The One Life We're Given — A Weeklong Retreat. (web link ) 
Feb 5-10, 2024: Modern Elder Academy, Baja, Mexico, Falling Down and Getting Up: Discovering Your Own Resilience and Strength (web link) 
2024-2025 Yearlong Journey: 4 Weekends in Kalamazoo, MI, The One Life We're Given: Finding the Wisdom That Waits in Your Heart (web link)