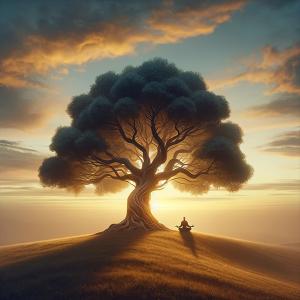 It is natural to want to improve, to work toward excellence and mastery of what we love. But at some dark edge, we can slip into the reaches of what-is-not over the improvement of what-is. Then the inner critic begins to measure all we do against an impossible standard, and we in turn begin to live in the breach.
I'm thinking of an early Zen parable about a master calligrapher who is asked to design the signage to the entrance of the city of Kyoto—a great honor. He enlists his best student, now a teacher himself, to aid him. The student criticizes every attempt by the master, wanting to ensure that what the master offers is worthy of this honor. The master is particularly frustrated because it is he who empowered this critical sensibility in his best student. Finally, after a day of criticizing, the student leaves. Once alone, the master consults the authority of his own soul. He closes his eyes and in one stroke brushes the perfect signage which now stands above the entrance to Kyoto.
The press of the inner critic is ancient and deep. For there is something bottomless about our striving to please, which cannot be satiated, only set aside. The meditation practices from all traditions recognize this and ask that we enter silence, long enough that the inner critic has nothing to grab on to. If we are still enough, long enough, we can disempower the voice of the inner critic by accepting the completeness of things as they are. I've come to believe that we must move through this struggle with our self-consciousness in order to find and inhabit our true voice.
A Question to Walk With: Describe your relationship with your inner critic. How can you right-size this critical voice?
This excerpt is from my book, Drinking from the River of Light.
---
You can follow Mark on Facebook and Instagram.  
For more information about Mark's books and upcoming events, visit MarkNepo.com and ThreeIntentions.com.  
Information about his upcoming webinars, can be found at Live.MarkNepo.com. 
Upcoming Events
Dec 8-10: St Andrews, Jackson, MI, Weekend Retreat, Falling Down and Getting Up, (Register Here)
2024
Feb 5-10: Modern Elder Academy, Baja, Mexico, Falling Down and Getting Up: Discovering Your Own Resilience and Strength (web link)
May 18 – 24:  River Cruise in France, The Gift of Deepening and The Radiance in All Things (web link)
Dec 8-14: Guanacaste, Costa Rica, Saying YES to Life: The One Life We're Given (web link)
2024-2025 Yearlong Journey: 4 Weekends in Kalamazoo, MI, The One Life We're Given: Finding the Wisdom That Waits in Your Heart (web link)
If you'd like to order Mark's new book, Falling Done and Getting Up: Discovering Your Inner Resilience and Strength, click here