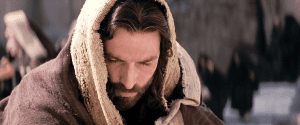 CONFOUNDING the expectations of its foes and even some of its fans, Mel Gibson's self-financed movie about the death of Jesus has become one of the biggest box-office hits of all time.
The Passion of the Christ, released across North America on February 25, has earned $317 million in its first five weeks and has already set records for top-grossing R-rated film, independent film and foreign-language film (beating The Matrix Reloaded, My Big Fat Greek Wedding and Crouching Tiger Hidden Dragon, respectively).
And while there is no word yet on whether any sequels, spin-offs or remakes are in the works, several studios have cashed in on the film's success by dusting off older Jesus films that were lying in their vaults.
On March 8, ABC broadcast a film about Judas that had been sitting on the shelf for three years, while on March 28, CBS re-ran the second half of their 1999 mini-series Jesus — that is, the half concerned with the last days of Jesus' life. Both films averaged just over an underwhelming seven points in the ratings.
Meanwhile, the Rainbow Film Company said it would re-release Monty Python's Life of Brian, a satire of Bible epics and religious politics, in time for the film's 25th anniversary; trailers will start appearing in theatres on Good Friday.
The success of The Passion has also spilled over into Christian evangelism. Bob Kraemer, director of special projects at Campus Crusade Canada, said the evangelistic tie-in website TheLife.com had received over 400,000 visitors in the month since the film's release, and was still being checked by 5,000 visitors a day.
Kraemer acknowledged the film had emphasized some of the sharp differences of opinion among and between Christians and Jews, but he said it had also fostered a great deal of church unity: "It's really a polarization that has taken place. Having said that, I think churches that embrace the gospel and want to present Jesus as the solution are united around this, and there have been some very good things that have come out of that."
Mike van Zanten, director of evangelism at South Side Community Church, said the evangelical churches in Surrey were inspired by the film as they planned to commemorate Good Friday together this year at the Chandos Pattison Auditorium. "We have decided to make this a very stong evangelism event because of The Passion," he said.
Industry experts note that Canadian audiences have been less receptive to the film than American audiences, especially in Quebec. The Montreal Gazette reports that Canada usually generates about 10 percent of the American box-office total, but represents only about 7 percent of The Passion's grosses.
The film is now being released on other continents. Reports indicate there is a surprisingly high interest in the film in Muslim countries, reportedly because people heard it depicted the Jews negatively; however, Christian missionaries in those countries have said the message the film's Muslim viewers are hearing is one of forgiveness, instead.
In addition, a spokesman for Yasser Arafat said he had seen the film and found it moving but did not believe it was anti-Semitic.
— A version of this article was first published in BC Christian News.