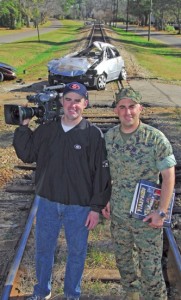 How Sherwood Baptist Church became a hot spot for making Christian movies — including Facing the Giants and the upcoming Fireproof, starring Kirk Cameron.
The regular film world has the Coens, the Wachowskis, and the Farrellys — brothers who collaborate on producing and directing both blockbusters and arthouse flicks.
The Christian film world has the Kendricks — a couple of associate pastors in Albany, Georgia who made a couple of ultra-low-budget movies with a mostly volunteer cast and crew as part of their church's outreach program, and then hit it big when the second film, Facing the Giants, grossed just over $10 million at the box office.
Now they're putting the finishing touches on their third film, Fireproof, due for a theatrical release on September 26. The film concerns a firefighter whose marriage is on the rocks, and whose father challenges him to take "the Love Dare" — a series of recommended activities that might, just might, help patch things up.
In some ways, the Kendricks' films, all produced through Sherwood Pictures, have gotten bigger and better. The budgets have increased exponentially — from $20,000 on their first film, Flywheel, to $100,000 on Facing the Giants and now $500,000 on Fireproof. The sounds and visuals show more technical polish. And their newest film even has a professional Hollywood actor — Kirk Cameron — in the lead role.
But Fireproof remains a ministry, produced almost entirely by members of Sherwood Baptist Church in Albany. And the Kendricks wouldn't have it any other way.
"We love each other, we love being together," says Stephen Kendrick — co-writer and co-producer of the Sherwood films — of his fellow churchgoers. "When we're done shooting, we want to go share life with them, we want to go catch a movie with them, we want to go hang out, we want them to come to our Christmas party. There is a family kind of theme there that God has built, where we're not just trying to put on some cool Hollywood face when we're in front of the camera."
The church has used the unexpected success of Facing the Giants to reach out to the wider community, too. Alex Kendrick — who co-writes and directs all of Sherwood's films — is quick to note that, after the movie theaters and the distributor got their cut, only a small portion of the grosses went to the church itself. But even that small portion was enough to allow the church to move ahead much more quickly than expected on an 82-acre sports park that will be open to the community.
And then there are the thousands of responses from people all around the country, and even the world, who say their lives have been touched by their films. "So spiritually we've had the ministry we were hoping for," says Alex. "It's built morale among our church members, doing something as an entire body. Financially, it's been worth it. Ministerially, it's certainly been worth it."
Better art, better stories
Where do they go from here as filmmakers? The Kendricks say they are eager to get better as artists and storytellers, and they even recently released a slightly improved and slightly shorter "director's cut" of their first film, Flywheel, on DVD. (The original version was put together in just ten days, after the hard drive with all the edits was accidentally destroyed just a couple weeks before the premiere.)
Some people would say the Kendricks should start hiring professionals — and indeed, they have hired a handful of people to oversee some of the more technical aspects of their more recent films, such as the sports footage in Facing the Giants. But for the most part, they want to continue relying on volunteers, both in front of the camera and behind it — though they know they face certain challenges in doing so.
"Although we would like every aspect of our movie to be excellent, the number one priority for us is the ministry," says Alex, who starred in the first two films and has a small role in Fireproof. "The most important message we could ever share with the world is the message of the gospel. For us, we do not want to put somebody in front of the camera who proclaims it in the movie and doesn't believe it themselves."
He cites End of the Spear, which cast a gay man as martyred missionary Nate Saint, and The Nativity Story, the teenaged star of which became pregnant shortly after playing the Virgin Mary, as examples of Christian films that got "hit hard" by casting lead actors who "play the person who gives that message in the movie but doesn't believe it himself or is living a life completely contrary to that."
At the same time, relying on little more than friends and family does give the Kendricks some extra hurdles to overcome. "It's kind of a two-sided coin," says Alex, "because we love the novelty and the nature of what we're doing with a church making a movie. But the flip side of it is, it's much more difficult to shoot and edit bad acting. Because you're left with wonderful people doing it for the right reasons, pouring themselves into it, but they're not experienced Hollywood actors."
The solution, he says, has been to cast people in roles that are very similar to their actual selves. "In all three of our movies, [the actors] are basically playing somebody very similar to themselves, so it's less of a stretch," he says. On Fireproof, they got a couple of acting coaches and spent more time on rehearsals — and, of course, they cast Cameron in the lead.
Cameron worked for free
Cameron — the former Growing Pains star who has since worked on such Christian films as Miracle of the Cards and the Left Behind trilogy — had seen Facing the Giants with his family and liked what he saw. He then surprised the Kendricks by asking if he could be in their next movie — he even auditioned — and, like all the other actors, he essentially worked for free. (Instead of paying Cameron a fee, the church made a donation to Camp Firefly, the non-profit camp he founded.)
"We were so grateful for Kirk, because he strongly believes in this movie and what it's about — the principles and the message," says Alex.
"And he's trying to model and live it in his own personal life," adds Stephen.
For the Kendricks, the fact that they got a Hollywood actor in their newest film — and one who shares their vision for ministry — is just one of many ways in which God made it possible for them to make an ambitious movie on a shoestring budget.
When they asked a fire chief for permission to use his reserve trucks, he offered them the free use of some brand new vehicles that hadn't even been used by any of the fire crews yet. ("We had trucks as nice as a $200 million Hollywood movie," says Stephen. "Oh yeah, nicer than Backdraft," Alex concurs.) And when they asked if they could shoot some scenes in a hospital, they were given free rein of a wing that was about to be remodelled and was thus free of patients and hospital staff.
"Does it make sense that everybody rolls over and says, 'Here's our best stuff, for free. What can we do to help you?' Does that make any sense?" asks Alex. "We didn't pay a dime for any of that. So we saw the favor of the Lord go before us in every aspect."
So many things "should not have worked" the way they did, he says, "but we've learned that therein lies the reason that God is glorified, because when you're in a position where he has to come through for it to work, then he gets the credit."
Artistically, 'we're learning'
Thanks to DVD and their distribution deal with Provident, which is owned by Sony, Facing the Giants is now available in 13 languages, in 57 countries, and is spreading the ministry of Sherwood Baptist Church much further than any of its makers could have imagined. Time will tell if Fireproof gets that kind of recognition, but for now, the Kendricks are enjoying the opportunity to learn about color tones and the other various subtleties that give their efforts the look and feel of a regular movie.
"Hopefully, on a storytelling level, we're engaging. Hopefully, on a spiritual level, the Lord's speaking to hearts," says Alex. "From an artistic level, we're learning. If you look at Flywheel and then Facing the Giants and then Fireproof, you will see some progression.
"And we're not content to stay where we are. We want to continue to get better in that regard. But there's something fun, too, about this. There is a blessing in being able to use church people. They're doing it for the right reasons."
For more info, go to FireproofTheMovie.com. See also FireproofMyMarriage.com.
— A version of this article was first published at Christianity Today Movies.