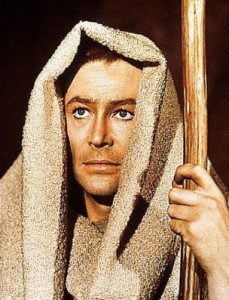 Peter O'Toole announced his retirement from acting yesterday, and I must admit I've been dwelling on Bible movies enough these past few days that my first thought was, "Well, I guess that's another part that the makers of Mary Mother of Christ will have to re-cast!" O'Toole had been attached to play Symeon, the old man who was informed by the Holy Spirit that he would not die until he had seen the Messiah (as per Luke 2).
It wasn't the first time O'Toole had agreed to play a small part in a Bible movie. In the early days of his movie stardom, he played the angels who bring condemnation to Sodom and Gomorrah in The Bible: In the Beginning… (1966), which I've always been inclined to see as sort of a meta-sequel in which O'Toole gets revenge for the rape his character endured in a similar Middle Eastern town in Lawrence of Arabia (1962). More recently, he played the prophet Samuel in the prologue to the Book of Esther adaptation One Night with the King (2006).
But of course, these were all minor footnotes to a long and storied career. And, as big a fan of Lawrence of Arabia as I am, I have to say that nothing may underscore the talent O'Toole showed in his prime like a double-bill of the two movies in which he played Henry II. Becket (1964) and The Lion in Winter (1968) were made only four years apart, but O'Toole's character is a decade or two older in the latter film than he was in the former — and O'Toole really convinces you that he has aged in the interim. I wrote about the two films, and O'Toole's performances in them, here.
O'Toole holds the dubious distinction of being the most-nominated actor who has never actually won an Academy Award; in addition to Lawrence of Arabia, Becket and The Lion in Winter, he was also nominated for Goodbye, Mr. Chips (1969), The Ruling Class (1972), The Stunt Man (1980), My Favorite Year (1982) and Venus (2006). He did, however, receive an honorary Oscar in 2003 — though he was initially somewhat reluctant to accept it. At the time, he said accepting the honorary Oscar might indicate that he was no longer in the running for the competitive awards, and he said he still wanted a chance to "win the lovely bugger outright."
No longer, though, alas. Like Gene Hackman and Sean Connery (the latter of whom famously declined to appear in the last Indiana Jones film), O'Toole has, to use his own amusing turn of phrase, "chucked in the sponge." May he enjoy his retirement.
(Oh, and while we're on the subject, I mentioned a few years ago that I would honestly be interested in seeing a 3D version of Lawrence of Arabia, so I was intrigued to see that Ridley Scott's Prometheus actually includes a brief glimpse of a scene from that film that has been converted to 3D. Alas, it is one of the indoor scenes, not one of the majestic landscape shots, but hey, a taste is still a taste. More, please.)