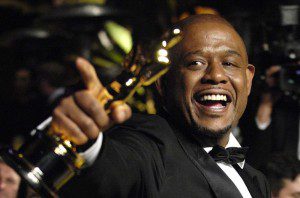 The on-again, off-again film adaptation of Black Nativity seems to be on again, now.
Two months ago, it was reported that the film, which is based on a 1961 musical and concerns a young black teen who spends Christmas with his grandparents, had been shelved because Samuel L. Jackson dropped out of the project.
But now
BlackFilm.com
reports that Forest Whitaker has stepped into the role — playing both the grandfather, a pastor who delivers the Christmas Eve sermon, and "multiple characters" who re-enact the Christmas story when the sermon is brought to life in a Nativity sequence — and that the film will start shooting in January.
The site notes that Whitaker, who won an Oscar for playing Idi Amin in The Last King of Scotland (2006), has worked with his Black Nativity castmates Angela Bassett and Jennifer Hudson before: he directed Bassett in Waiting to Exhale (1995) and co-starred with Hudson in Winged Creatures a.k.a. Fragments (2008). In the latter film, the 51-year-old Whitaker played the 31-year-old Hudson's father, which is what he will do in the new film, too; Bassett, who will play Hudson's mother, is 54.