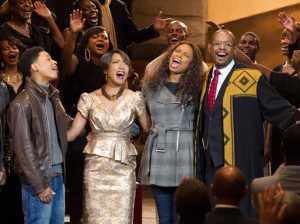 Four years after I first mentioned that a film version of the Langston Hughes musical Black Nativity was in the works — and three months after cameras finally started rolling on the adaptation — we now, at last, have some images from the film, courtesy of USA Today. Alas, all four of the pictures in question seem to be set pretty firmly within the real world, so we'll just have to wait to see the "dream sequence" that re-tells the story of the birth of Jesus. The article that accompanies the new images does describe at least one part of that sequence, though:

HARLEM, N.Y. — On a frigid Saturday in early March as the midnight hour draws nigh, Mary J. Blige materializes on an outdoor basketball court sporting a blond mushroom-cloud of an Afro wig, a white leather maxi-coat and matching stiletto-heeled boots — along with a pair of giant wings perched on her back.

Among her audience: three goats hanging out by the bleachers.

This angelic queen of hip-hop soul is busy proclaiming the arrival of baby Jesus in song, exhorting a chorus of inner-city shepherds to rise and follow the star to the manger. It is all part of a dream sequence in the film Black Nativity, due Nov. 27, a visual mash-up of a preacher's Christmas Eve sermon and his napping grandson's dream of a Times Square Bethlehem. . . .
The USA Today story also mentions that Jacob Latimore, the 16-year-old actor who plays the grandson in question, will get to sing a "fresh take" on the classic spiritual 'Motherless Child'. As it happens, this would not be the first time that a Nativity-themed film made use of that song; Pier Paolo Pasolini put it on the soundtrack for the scene in The Gospel according to St. Matthew (1964) in which the Magi pay homage to the Christ child and his parents. You can watch that scene below: