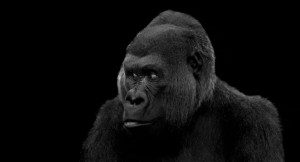 You don't need stories or dialogue to make a movie. Sometimes you just need some really interesting images set to some really good music.
This point was proved for me almost a quarter-century ago, when I discovered Godfrey Reggio's Koyaanisqatsi (1983), a sort of 86-minute docu-poem that explores the relationship between nature, technology and human society. It quickly became one of my five favorite films of all time, and it made me an instant fan of composer Philip Glass; seven years ago, I even had the joy of attending a screening that was accompanied by Glass himself.
Oddly enough, I was not all that impressed by the film's sequels, Powaqqatsi (1988) and Naqoyqatsi (2002) — though I love the soundtracks for both films — but I do admire a half-hour short that Reggio and Glass produced outside of that trilogy for the World Wildlife Fund, called Anima Mundi (1992). You can watch it here:
http://www.youtube.com/watch?v=YOGrONG4WyY
Reggio also produced a short film called Evidence (1995) that made use of one of Glass's existing compositions:
Now comes word that Reggio and Glass have collaborated on their first feature-length film since the
Qatsi
trilogy — and according to
Deadline
, the film, called
Visitors
, will get a big premiere at the Toronto International Film Festival in September, complete with live accompaniment by the Toronto Symphony Orchestra:
According to TIFF, "those filmmakers advance their previous work by incorporating body language as non-spoken narrative to join with image and music. Footage of nonverbal human portraits and communication reveals a constant stream of unconscious emotions, barely noticed by most people. Visitors reveals humanity's trancelike relationship with technology, which, when commandeered by extreme emotional states, produces massive effects far beyond the human species. The protagonist, a wise gorilla, sagely witnesses the antics of homo sapiens. The film is visceral, offering the audience an experience beyond information about the moment in which we live."
Visitors seems to be identical to another Reggio-Glass collaboration called The Holy See, a trailer for which was posted online at least as far back as December 2011. That particular YouTube clip was taken down today — after I started writing this post, in fact — but another copy, posted in November 2012, is viewable here, for now:
http://www.youtube.com/watch?v=6ZnR4xH2eMo
The film's new distributor is reportedly planning on releasing the film in 4K shortly after its Toronto premiere, similar to how Ron Fricke's Samsara (2012) was distributed last year, so I'm definitely putting this on my to-see list.