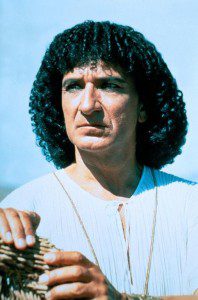 I haven't seen it in years, but of all the movies that have been made about the life of Moses, one of my favorites is the Lux Vide production Moses (1995), starring Ben Kingsley. As I said in my review of the film at the time:
For sheer human realism, Kingsley's is probably the best interpretation of Moses any film has offered to date. He stutters nervously in the Egyptian courts; he wrestles with his doubts when God's plans seem to fail; he rejoices ecstatically when the Pharaoh's chariots drown; and he sheds painful tears when the Levites kill their fellow Hebrews for worshiping the golden calf.
So I'm feeling a bit of déjà vu now that Kingsley has reportedly joined the cast of Ridley Scott's life-of-Moses movie Exodus. Admittedly, he will not be playing the part of Moses himself this time; that role has already gone to Christian Bale. Instead, according to Deadline, Kingsley will play "a Hebrew scholar".
This is not the first time Kingsley has returned to the Moses story; he previously narrated a low-budget computer-animated version of The Ten Commandments (2007). In addition to that, he also played Potiphar in Joseph (1995) and, a year ago, he was said to be "circling" the part of King Herod in Mary Mother of Christ.
Kingsley is actually one of four actors whose involvement in Exodus was announced today. John Turturro has been cast as Seti, the Pharaoh who orders the death of the Hebrew newborns when Moses is a baby, and Sigourney Weaver will play his wife Tuya. (John Turturro and Sigourney Weaver as a married couple…?)
Weaver, of course, got her big break in an earlier Ridley Scott film, Alien (1979), and she later played Queen Isabella in Scott's Christopher Columbus movie 1492: Conquest of Paradise (1992). So Tuya would be the second queen that Weaver has played in one of Scott's historical epics.
Finally, Variety reports that Breaking Bad co-star Aaron Paul is in talks to play Joshua, the Hebrew slave who leads the Israelite armies under Moses and goes on to lead the people into the Promised Land after Moses dies.
I see that, according to the IMDb, Paul's father is a retired Baptist minister, so presumably that will come up on the Exodus junket at some point.
Speaking of people named Aaron, there is no word yet on who will play Moses' brother — or, for that matter, who will play his sister, Miriam. So there is plenty of casting news yet to come. Personally, I'm still hoping that Russell Crowe, a frequent collaborator of Scott's, will get to play Moses' father-in-law Jethro.