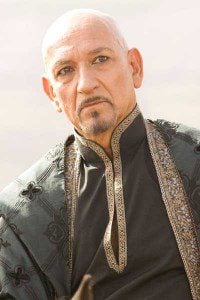 Three months ago, the producers behind Mary Mother of Christ — a sort of "prequel" to The Passion of the Christ co-written by that film's Benedict Fitzgerald and my fellow Patheos Movies blogger Barbara Nicolosi — said they were thinking of casting "one of England's most famous Academy Award winners" as King Herod.
At the time, I noted that there are currently nine actors alive who are both (a) British and (b) Academy Award winners — and although I didn't say so at the time, I had a feeling that the filmmakers might be talking to Ben Kingsley. For one thing, he is still quite active, unlike, say, the retired Sean Connery; for another, he has been involved with a number of modestly-budgeted Bible movies before, from the two-part TV-movies Joseph (1995) and Moses (1995) to the animated version of The Ten Commandments (2007).
And so, I was not at all surprised when The Wrap reported this week that Kingsley is, indeed, "circling" the part of Herod.
Interestingly, The Wrap also reports that the producers are considering Judi Dench for the part of Anna the Prophetess and Hugh Bonneville for the part of Satan. Three and a half years ago, it was said that Jonathan Rhys Meyers had been cast as both Satan and the angel Gabriel, but The Wrap does not say whether Bonneville would similarly be expected to play both roles.
And speaking of parts that have been recast, it may be worth noting that the part of Herod once belonged to Al Pacino, while the part of Anna once belonged to Jessica Lange. If the producers really are talking to Kingsley and Dench now, then the movie would seem to be moving in a more British direction.
Curiously, one part that does not seem to have been recast, as far as The Wrap is concerned, is that of Symeon. Peter O'Toole was attached to play this character years ago, and The Wrap still lists him in the role even though O'Toole announced his "retirement" from acting over two months ago.
Other actors attached to the film include Odeya Rush as Mary and Julia Ormond as Mary's cousin Elizabeth.