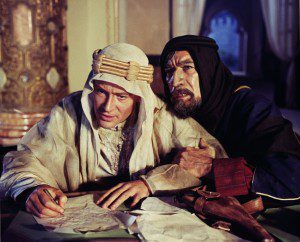 Apart from the fact that Alec Guinness played an Arab prince living in the desert in Lawrence of Arabia (1962) fifteen years before he played a Jedi Knight living in the desert in Star Wars (1977), we don't normally tend to associate T.E. Lawrence with outer space. After all, Lawrence, who famously led the Arab revolt against the Turks during World War I, died in 1935, two decades before the launch of the first artificial satellite in 1957. But a new video about the Hubble telescope and the previously-unknown galaxies discovered by it brought a passage from one of Lawrence's memoirs to mind.
First, you can see the video below:
http://www.youtube.com/watch?v=hl3fOaF0xOY
And now, here is the passage in question from Seven Pillars of Wisdom, the 1922 book in which Lawrence described his role in the Arab revolt:
Nasir rolled over on his back, with my glasses, and began to study the stars, counting aloud first one group and then another; crying out with surprise at discovering little lights not noticed by his unaided eye. Auda set us on to talk of telescopes — of the great ones — and of how man in three hundred years had so far advanced from his first essay that now he built glasses as long as a tent, through which he counted thousands of unknown stars. 'And the stars — what are they?' We slipped into talk of suns beyond suns, sizes and distance beyond wit. 'What will now happen with this knowledge?' asked Mohammed. 'We shall set to, and many learned and some clever men together will make glasses as more powerful than ours, as ours than Galileo's; and yet more hundreds of astronomers will distinguish and reckon yet more thousands of now unseen stars, mapping them, and giving each one its name. When we see them all, there will be no night in heaven.'

'Why are the Westerners always wanting all?' provokingly said Auda. 'Behind our few stars we can see God, who is not behind your millions.' 'We want the world's end, Auda.' 'But that is God's,' complained Zaal, half angry. Mohammed would not have his subject turned. 'Are there men on these greater worlds?' he asked. 'God knows.' 'And has each the Prophet and heaven and hell?' Auda broke in on him. 'Lads, we know our districts, our camels, our women. The excess and the glory are to God. If the end of wisdom is to add star to star our foolishness is pleasing.' And then he spoke of money, and distracted their minds till they all buzzed at once. Afterwards he whispered to me that I must get him a worthy gift from Feisal when he won Akaba.
Make of all that what you will.
(Incidentally, the picture at the top of this post shows Lawrence and Auda as they were played in the film by Peter O'Toole and Anthony Quinn.)