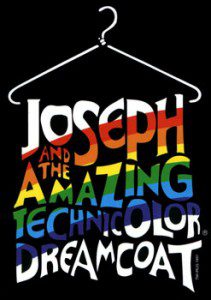 I've seen a lot of Bible movies, and I have even seen or listened to a few Bible-themed plays and cast recordings and whatnot, but there's one production that I have never experienced in any way, shape or form, and it's a biggie: Joseph and the Amazing Technicolor Dreamcoat, which Andrew Lloyd Webber and Tim Rice first composed in the 1960s, a few years before they wrote Jesus Christ Superstar.
I should probably familiarize myself with it fairly soon, though. In addition to some research I'm doing on Genesis movies right now, it was also announced today that Elton John, who has experience producing family films based on classic pop hits, is collaborating with Webber and Rice on an animated adaptation of the musical, which is apparently the most-produced musical in history and especially popular with schoolchildren.
Elton John, of course, has worked on animated films before — and has worked with Tim Rice before! — having collaborated with him on the songs for Disney's The Lion King (1994) and DreamWorks' The Road to El Dorado (2000). Through Rocket Pictures, he has also produced Gnomeo & Juliet (2011), an animated film based on his songs, and he is currently working on a sequel to that film, among other things.
A number of Webber's musicals have been turned into feature films over the years — starting with Jesus Christ Superstar (1973) and continuing with films like Evita (1996) and The Phantom of the Opera (2004) — but not Joseph, until now, though an adaptation starring Donny Osmond was released straight to video in 1999.
The story of Joseph and the coat of many colours has been adapted many times, of course; one of the higher-profile animated films was Joseph, King of Dreams (2000), a straight-to-video prequel of sorts to DreamWorks' The Prince of Egypt (1998). It came out just a few years after one of the better live-action adaptations — the two-part TV-movie Joseph (1995), starring Paul Mercurio as Joseph, Martin Landau as Jacob and Ben Kingsley as Potiphar — won an Emmy for Outstanding Miniseries.