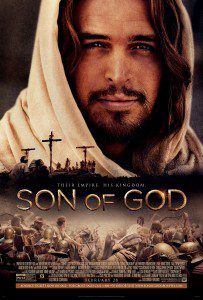 The makers of Son of God promoted the film quite heavily during the run-up to its release two weeks ago, and they kept at it during the film's first week in theatres — but the publicity machine has slowed down considerably since then, and now, in its third weekend, Son of God is estimated to have grossed about $5.4 million, which puts it in 7th place for the week.
That figure is down 48% from last weekend, which, percentage-wise, is the second-largest drop in this week's top ten (the biggest is the 57.6% by which 300: Rise of an Empire fell from its opening last week). With a weekend take of $1,806 per screen, Son of God also had the second-lowest per-screen average in the top ten, ahead of only the $1,444 per screen taken in by Frozen, the Oscar-winning Disney cartoon that has been playing in theatres for almost four months now.
But the film has still done remarkably well, considering that it has no major stars and had already been seen on television by many in its target audience. Its total North American earnings to date now stand at $50.9 million, which puts it solidly in third place among Bible-themed movies released on the big screen over the last 40 years (behind 2004's The Passion of the Christ and 1998's The Prince of Egypt).
In two weeks, of course, Son of God will have a little competition, because that's when Darren Aronofsky's Noah comes out. The question is, how many multiplexes will still be showing Son of God by then? How many theatres will be in a position to allow for a sort of Bible-movie double bill, where audience members can catch one film in one screening room and then walk to another room to catch the other film?
To put this another way: how many theatres will have two movies playing at the same time that feature Eve eating the forbidden fruit in an opening montage?
In other news, while the publicity campaign for Son of God may have died down, the film still makes the occasional headline.
Peter Bart of Variety magazine wrote an open letter to Son of God producer Mark Burnett on Thursday, suggesting that he had engaged in a form of "spiritual bullying" by encouraging pastors to buy out entire theatres for his film.
Bart's comments ultimately have nothing to do with the content of the film or the way it was promoted; instead, his real concern seems to be "elements of the faith-based community" who "seem insensitive to the priorities of dissenters" on such "culture war" issues as same-sex marriage and the legalization of marijuana.
Since Burnett made a film that the "faith-based community" likes, it apparently naturally follows that Burnett is responsible for inflaming the more politically-minded members of that community. Or something like that.
It's all very guilt-by-association, but the basic point Bart seems to be making is that Burnett, by giving this community a movie to rally around, has thereby made it easier for them to rally around other things. And we can't have that, apparently.
Now, I'm sympathetic to the idea that the producers of Son of God may have played on religious sentiments a little too strongly.
At the screening for pastors that I attended a few months ago, Burnett told everyone that the Holy Spirit would be in the room as we watched the film, and there was a lot of talk (though I can't recall how much of it Burnett engaged in himself) about Christians standing "as one" behind the film and "occupying" movie theatres etc.
Burnett also said the church had moved west over the years, as the "power centres" of the world have moved from Rome to Britain to America to China, and this was why he had made a point of showing The Bible on Chinese television recently. (Burnett's emphasis on the "western" movement of the church did cause the Eastern Orthodox priest with whom I saw the film to give me a "What is he talking about?" look.)*
So there is certainly, one might say, something Constantinian about the way this film and the series it is based on have been promoted. And one could certainly argue that it has been promoted in a way that encourages a culture of conformity.
But unless Burnett himself was actively politicizing his film, there is no need to go tarring him or his film with that brush. And as far as I'm aware, he hasn't done that. Instead, he has kept the focus on Jesus — which is precisely where it should be.
Finally, on a completely unrelated note, the Associated Press had an article asking if the Jesus of this film is "too good-looking", and Georgia Public Broadcasting blogger Rosemary Jean-Louis extends this question to include other "sexy" Bible-movie characters such as Russell Crowe's Noah and Christian Bale's Moses.
–
* Ironically, The Bible mini-series itself does incorporate the tradition which says the apostle Thomas took Christianity to India — so it's aware that the church grew in an eastward direction, too.