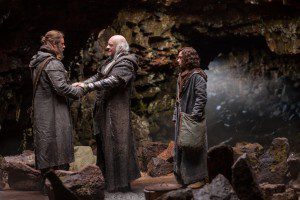 As expected, Noah fell to the #2 spot at the box office this weekend, coming in way, way behind Captain America: The Winter Soldier, which opened to $96.2 million: a record for a movie released in April and one of the biggest openings ever for a Marvel Comics movie that doesn't feature Iron Man or Spider-Man.
Noah earned an estimated $17 million in North America this weekend, bringing its domestic total up to $72.3 million. That represents a 61.1% drop from last week, which is only slightly higher, percentage-wise, than the 59.5% drop that Son of God had in its second weekend, four weeks ago.
Noah raked in another $31.5 million overseas this weekend, benefiting from its release this week in various European and Latin American territories. Its foreign total now stands at $106.2 million, and its worldwide total now stands at $178.5 million.
The film will open in France and Italy next week, and in Japan on June 13.
In other box-office news, God's Not Dead continued to surprise by dropping only 12.2% and grossing $7.7 million in this, its third week of release.
After just 17 days, the film has earned $32.5 million and will soon pass Courageous (2011, $34.5 million) to become the top-grossing movie made by and for evangelical Christians — though it should be noted that God's Not Dead expanded to 1,758 theatres this week, whereas Courageous never played in more than 1,214.
Finally, Son of God — which is still playing in 481 theatres — earned another $308,000 this week, bringing its domestic total up to $58.5 million.
The film does not seem to have been released overseas yet, though it was reported back in February that Son of God had been picked up by distributors in 60 different territories. Latin America will reportedly get the film on Easter weekend — i.e. two weeks from now — and presumably other territories might get it then too.