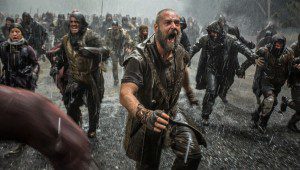 As expected, Noah is faring quite better overseas than it is in North America.
The film, which opened two weeks ago, is estimated to have earned $7.5 million in North America between Friday and today, bringing its total up to $84.9 million.
That represents a slip of 56.3% since last weekend, which is a steeper drop than Son of God had in its own third weekend last month. Both films dropped about 60%, give or take a percentage point, in their second weekends; but Son of God dropped only an additional 46.7% in its third weekend.
There is now a distinct possibility that Noah could fail to gross $100 million in North America when all is said and done, which would be a first for a film that made over $43 million in its opening weekend.
The news is better overseas, where the film has grossed an additional $56 million since last weekend, bringing its foreign haul up to $162 million.
Noah has grossed $246.9 million worldwide so far, and has not yet opened in several countries, most notably Japan, which will not get the film until June.
The film currently ranks as the third-highest-grossing Bible adaptation of all time domestically, behind The Passion of the Christ (2004, $370.8 million) and The Prince of Egypt (1998, $101.4 million) — though of course, when you take inflation into account, several of the epics produced in the genre's heyday, between Samson and Delilah (1949) and The Bible: In the Beginning… (1966), did way better.
The film also ranks as the second-highest-grossing Bible adaptation of all time both overseas and worldwide, behind only The Passion of the Christ, which grossed $241.1 million overseas and $611.9 million worldwide. (The Prince of Egypt topped out at $117.2 million overseas and $218.6 million worldwide.)
God's Not Dead, meanwhile, expanded to Canada in its fourth week and grossed $5.5 million for the weekend, a drop of only 29.3% from last week. With $40.7 million in the till so far, it is now the top-grossing movie made by and for evangelicals.
Son of God, for its part, earned about $300,000 this Palm Sunday weekend, bringing its domestic total up to just a hair under $59 million. The film does not seem to have been released overseas yet, but it was said back in February that the film would open in some Latin American countries, at least, in time for Easter next weekend.